Manchester City vs Arsenal: Five things we learned - Gunners and City too frail at the back, Leroy Sane decision was right
Arsenal need Özil and Sanchez to attract better players, Wenger fails to drill complacency out of side and why their defensive record proves they won't win the title this season
Jack de Menezes
Sunday 18 December 2016 19:02 Comments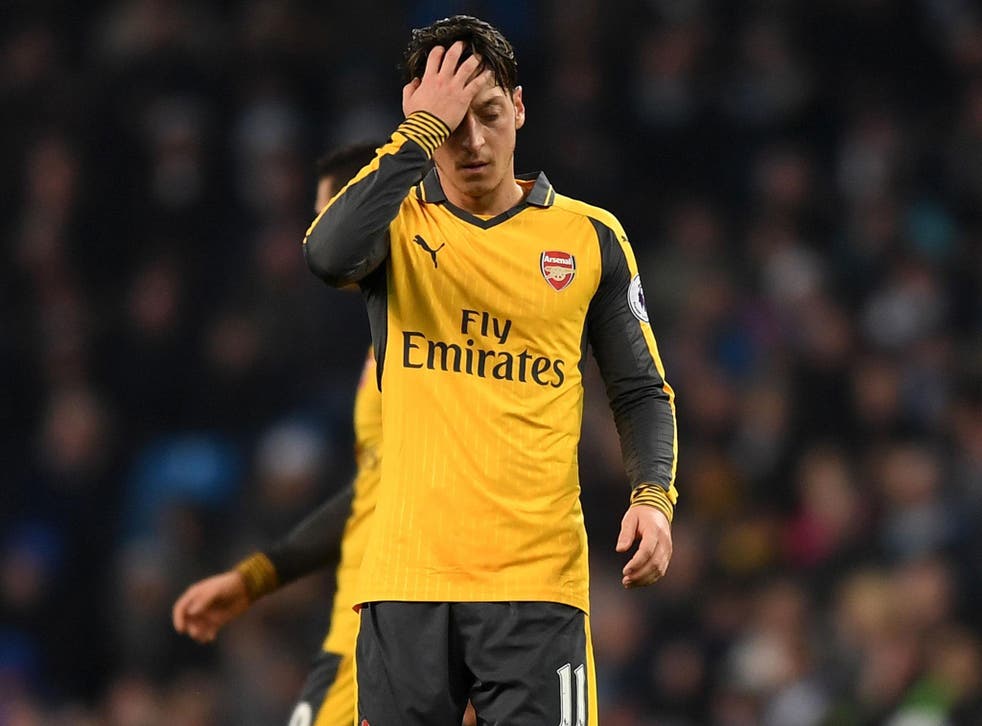 City's gung-ho attack leaves them frail at the back
Within a minute of the kick-off, City had already committed men forward in their first real attack. More followed as David Silva and Kevin de Bruyne found space in-between the midfield and defensive lines. Minutes later they were behind, and it was unsurprising to see Arsenal hurt them on the counter. If City are to cope with their defence in its current state, they can't repeatedly commit up to eight players forward and expect to get away with it.
Vincent Kompany remains absent for an undetermined period due to the psychological troubles he is having with his recovery from injury, John Stones has been dropped and Aleksandar Kolarov simply isn't a centre-back. If Pep Guardiola doesn't ease back on the gas slightly, City will continue to remain exposed.
Arsenal need to meet Özil's and Sanchez's demands
No player is bigger than a club, but two might be. That's an exaggeration of course, but the understanding that Mesut Özil and Alexis Sanchez have is almost telepathic. They repeatedly linked up and looked lethal moving forwards, with one knowing immediately where the other would be without lifting their head up.
Arsenal are reluctant to increase their wages to around £250,000-a-week, and understandably so. It will create a huge gulf, with the next best paid player in the squad being Theo Walcott on £110,000-a-week. However, it is Özil and Sanchez that will not only lead this side to any success they enjoy, but also attract similar quality players to the club.
Gunners punished for complacency
Arsenal must have found the first half so easy that, in their minds, the game was won even though they only led 1-0. Why else would they come out for the second half and attempt to play out from the back in situations that really required the ball to be cleared to safety. Both Gabriel Paulista and Francis Coquelin gave possession away on the edge of the area by trying to keep the ball, and wave after wave of City attacks came in the second half as Arsenal struggled to keep the ball.
Guardiola elected to make a change at the break, but bringing on Bacary Sagna for Pablo Zabaleta was hardly the gamechanger and something was clearly wrong with the mentality of the Arsenal players from the restart. Two minutes later, they had conceded.
Manchester City vs Arsenal player ratings

Show all 23
Sane decision close enough to consider it right
The moment David Silva played his pass through for Leroy Sané to run on to, the German was almost perfectly in-line with the last Arsenal defender in Laurent Koscielny. It was a decision that had Arsenal fans screaming for offside and the home supporters happy to wave play on. Replays were still inconclusive, and it took a freeze frame to show that the City midfielder was millimetres offside.
With assistant referees required to look at the line as well as where the ball is being played from, decisions like these can go either way. Arsenal may not like it as Sané held his nerve to tuck the ball past Petr Cech, but in these situations it should be right to give the attacker the benefit of the doubt.
Arsenal's problem lies at the back
Arsenal have not kept a clean sheet since the 2-0 EFL Cup win over Reading on 25 October, and you have to go back three days' further to find the last game where they did not concede in the league. Chelsea meanwhile have conceded just two goals in the league since they last lost a game, which came in September's thrashing at Arsenal, and they are proving once again that strong teams are built on stern defences.
That kind of form will cost you a top-four finish, let alone the chance to win the title, and the loss of Shkodran Mustafi has only hindered the Gunners further. In his absence, Arsenal have conceded five goals in three games. Nacho Monreal continues to prove why he is not good enough for a side of Arsenal's aspirations, with the Spaniard showing Raheem Sterling inside onto his left foot and the winger duly striking home the winning goal.
Register for free to continue reading
Registration is a free and easy way to support our truly independent journalism
By registering, you will also enjoy limited access to Premium articles, exclusive newsletters, commenting, and virtual events with our leading journalists
Already have an account? sign in
Join our new commenting forum
Join thought-provoking conversations, follow other Independent readers and see their replies