Manchester City vs Arsenal match report: Raheem Sterling goal caps shocking capitulation as Gunners lose again
Manchester City 2 Arsenal 1: Theo Walcott's early opener was cancelled out by Leroy Sane before Raheem Sterling's fiercely struck effort beat Petr Cech at his near post to secure victory
Ian Herbert
Etihad Stadium
Sunday 18 December 2016 18:43 Comments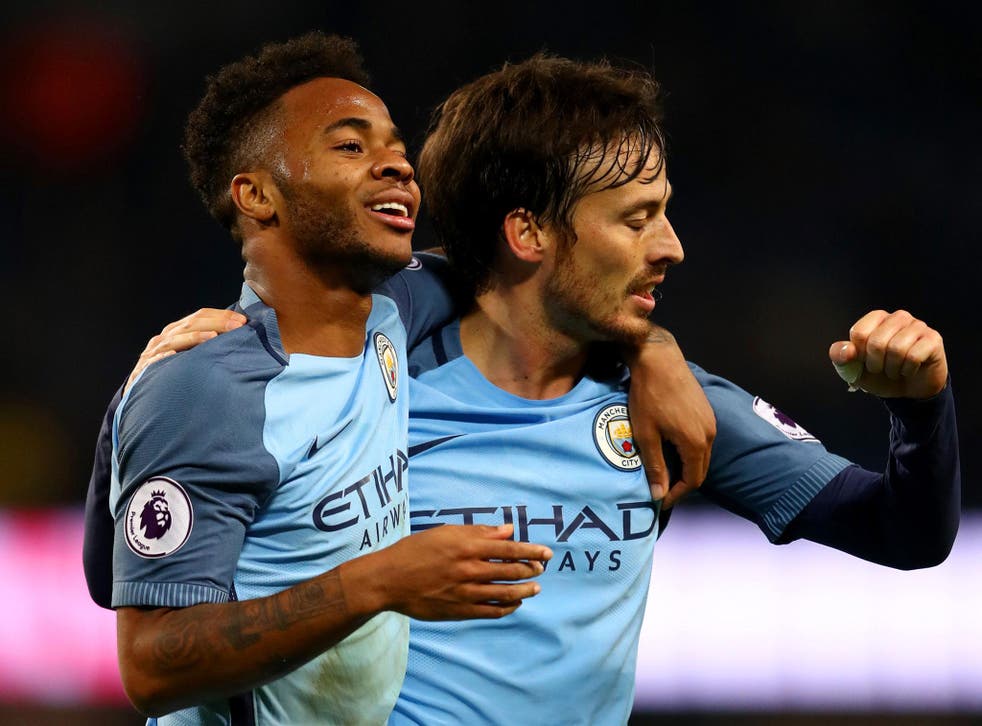 There was a moment a little less than half an hour in when Pep Guardiola, shaped to pass a ball back into play, fell flat on his backside, to the collective mirth of the visiting contingent and, rather self-consciously, waved to them. Though he resumed his usual immaculate poise, the fall left a small stain of whitewash on the bottom of his coat.
We seemed to have witnessed an emblem of the fallibility of the manager who was supposed to walk on water and whose Manchester City side at that stage were a goal behind and threatening to suffer defeats to Chelsea, Leicester and Arsenal in the space of 18 days.
All excitement about the subsequent turnaround must be tempered by an acknowledgement that they happened to be playing a side who now have sacrificed leads twice in five days and whose manager, Arsene Wenger, made the shocking admission on Sunday night that his side "dropped physically" in the second half – as if that was actually acceptable. City's defence also looked profoundly vulnerable as they fell behind.
But the win revealed a steel which has not often been visible in City these past four or five years. It was the first time since the 2-1 win over Tottenham Hotspur here in November 2012 that they have overturned a losing half-time deficit to win. At the heart of the shift was Guardiola, making the almost imperceptible tactical shifts, such as withdrawing Kevin de Bruyne from the spear of the attack to overload the midfield and deploying both Raheem Sterling and Leroy Sane in the pocket of space between the lines.
A squeeze on the accelerator pedal was really all Guardiola's players needed to drive their opponents into the dust and transform a game in which they had no shots on goal in the first half and allow Arsenal, who should have taken confidence from that, none in the second.
Guardiola offered emotional thanks to the supporters for staying until the end, though the way his players started made the notion of them making it to the interval look a struggle. The players were distracted, arriving on the field sporting Ilkay Gundogan shirts worn back to front in recognition of his prolonged absence with cruciate damage of their teammate, who was injured on Wednesday. Was this necessary? All sense of perspective had seemingly vanished. "Awful start by City. Gundogan will be turning in his grave," was one of the many memorable responses on social media as the game got under way.
Manchester City vs Arsenal player ratings

Show all 23
Guardiola's players could have done with saving their thoughts for how to shore up a defence that looks porous. The manager had retained the same back four for the first time this season, with John Stones still carrying the can for what happened at Leicester last weekend, yet there was a very familiar vulnerability when Arsenal scored, five minutes in.
Hector Bellerin was able to take a ball rolled out to him from Petr Cech, advance unchecked, to the half way line beyond the jogging de Bruyne and locate Alexis Sanchez, who had time to execute a reverse pass of the finest geometry, which Theo Walcott, advancing unhindered from a position behind him, was able to take on and sidefoot past Claudio Bravo with minimum power. "Sometimes you can't control talent," Guardiola reflected. But he goalkeeper committed himself dreadfully early and Nicolas Otamendi was pitifully unaware of Walcott's run.
After Raheem Sterling criminally headed de Bruyne's well weighted cross over, we witnessed an impressive Arsenal muscularity. Bellerin halted a Sterling run, Alex Iwobi quelled an advance from Leroy Sane, a Francis Coquelin tackle on Yaya Toure was timed to perfection and Laurent Koscielny demonstrated what good central defending looked like.
All this made Arsenal's second half capitulation shocking to behold. The equaliser offered grounds for complaint. Sane, was fractionally offside when - after Arsene Wenger's players had failed to gather a Cech clearance - David Silva seized the ball and played him in to run through and score.
Wenger was unhappy about the winner, too. The 40-yard cross-field pass from Kevin de Bruyne which supplied Sterling was even better than the Englishman's dead-eye finish: a shot on the inside Cech's post. Silva, in an offside position, ran in front of the goalkeeper at around the moment Sterling released his shot and though it was a very close call, Cech said on Sunday night that he was unsighted.
City ran amok after that, with Sane repeatedly running at the visiting defence with a pace that it could not deal with and it took Cech to keep the deficit respectable. The goalkeeper saved sharply from Sane just beyond the hour and palmed wide a De Bruyne shot which was deflected by Granit Xhaka.
The display left Guardiola talking of "fighting for the title," though only when the defence is sorted out will the risk of falling on their backsides be fully removed.
Teams
Manchester City (4-1-4-1): Bravo; Zabaleta (Sagna HT), Otamendi, Kolarov, Clichy; Fernando; Sane (Navas 76), Toure, Silva, De Bruyne ( Iheanacho 84); Sterling. Substitutes: Caballero, Nolito, Stones, Iheanacho, Garcia
Arsenal (4-2-3-1): Cech; Bellerin, Gabriel, Koscielny, Monreal; Coquelin (Girond 75), Xhaka; Walcott, Ozil, Iwobi (Oxlade Chamberlain 65, subbed by Elneny 76) Sanchez. Substitutes: Ospina, Gibbs, Perez, Oxlade-Chamberlain, Holding
Referee: M. Atkinson (West Yorkshire)
Star man: Silva (Mnachester City)
Match rating: 7
Register for free to continue reading
Registration is a free and easy way to support our truly independent journalism
By registering, you will also enjoy limited access to Premium articles, exclusive newsletters, commenting, and virtual events with our leading journalists
Already have an account? sign in
Join our new commenting forum
Join thought-provoking conversations, follow other Independent readers and see their replies