Manchester City vs Arsenal: Mesut Özil the epitome of Arsenal's collapse as stubborn Arsene Wenger fumes again
By the end of Arsenal's second defeat in six days you questioned if Özil was still on the pitch, and his farcical final free-kick summed the day up for the same old Arsenal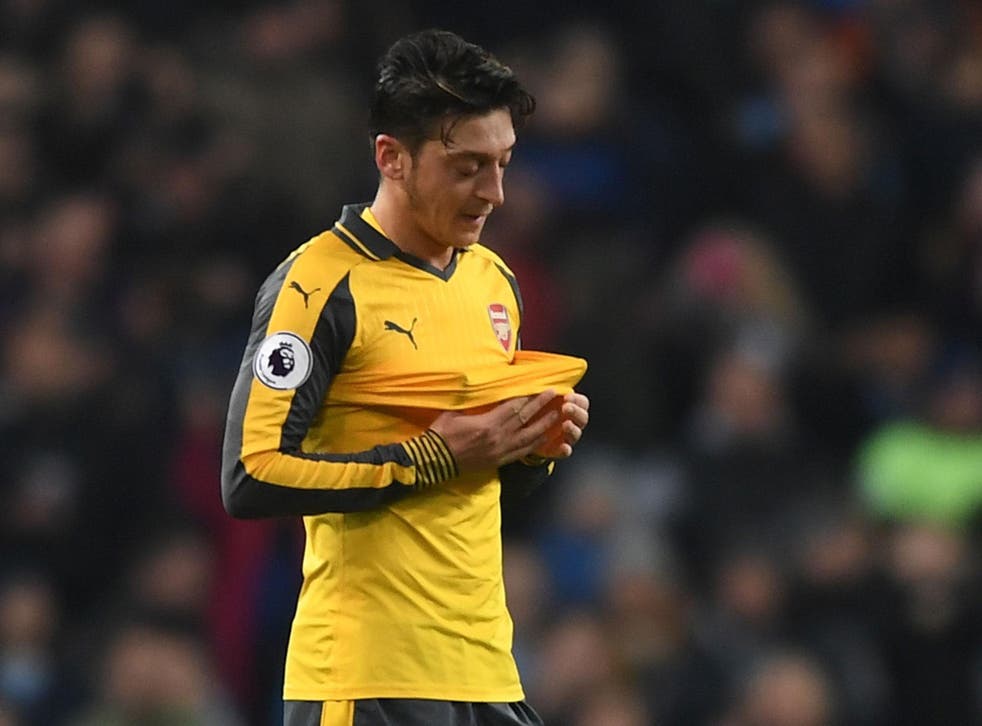 Before what was a significant victory, Pep Guardiola revealed that he calls Arsene Wenger "the commander in chief" and it is not hard to imagine why.
Guardiola was playing for Barcelona under Bobby Robson when Wenger took over at Arsenal and, watching from Catalonia, he would have admired the way be got a nation that always thought of football in terms of fight and slogging through January mud interested in the fine detail of its tactics.
Later, when Guardiola was taking those tactics to ever more rarefied levels at the Nou Camp, he would have admired Wenger's refusal to change tack, his stubborn determination to back the football he believed in. It would not have sustained him in Spain – Robson was sacked in 1997 after a season that saw Barcelona win three trophies but not, crucially, La Liga – but it was enough for Arsenal.
But when, in the same press conference, Guardiola remarked that he would never change his way of playing football merely to appease his critics, they were sentiments Wenger would have agreed with. It is, of course, far too late for Wenger to change, which is why the journey back to London would have carried with it such disillusion for Arsenal's supporters.
As he assesses a week which saw Arsenal lead at first Everton and then Manchester City before losing both matches, Wenger could point to the marginal decisions that cost him points.
The corner that produced Ashley Williams's winner at Goodison should not have been given. Leroy Sané was a few inches offside when he ran through to convert David Silva's gorgeous through ball.
Just after the ball struck the back of Petr Cech's net, ensuring the goalkeeper had failed to keep a clean sheet in eight consecutive matches for the first time in his career, Field Commander Wenger, wrapped in a dove-grey jacket, turned to make some familiar, futile protests to the fourth official.
Manchester City vs Arsenal player ratings

Show all 23
There were echoes of Goodison in the way Arsenal lost a game in which they were ahead. Everton had outfought them and, as the old stadium grew ever louder, ever more raucous, it felt as if Arsenal were being bullied. After Sané's equaliser, as Cech was tested ever more to his limits, you wondered if Mesut Özil was even on the field.
There was a time, which lingered after Wenger's accession at Highbury, when 'one-nil to the Arsenal' was a boast that what was theirs would not be given up. Now it is just a scoreline; a flimsy, temporary statement.
A second half that spun increasingly out of control saw Arsenal fail to offer a single shot on target. When Hector Bellerin sent a wild effort from distance into the crowd, Wenger turned to his bench and flapped his arms in what has become, over the years a familiar gesture.
Even before the interval, there were signs they would crack. Laurent Koscielny, at full stretch prevented a wayward ball from Nacho Monreal dropping straight to the tips of Raheem Sterling's boots. A clearance that rebounded from Bellerin's forehead had to be acrobatically saved by Cech.
And yet this was a game that Arsenal might have fancied themselves to win. Manchester City, without Sergio Aguero, did not field a recognised striker. Fernandinho, whom Guardiola might have expected to shield a very questionable defence from the speed of Alexis Sanchez and Theo Walcott, was also suspended.
The way they combined for the evening's opening goal, the way Sanchez's pass split the Argentine pairing of Nicolas Otamendi and Pablo Zabaleta, suggested Manchester City would be picked off in the way first Chelsea and then Leicester had overcome them.
The game that had opened with Walcott finishing off a move that even Guardiola would have admired finished with a farcical free kick. With literally seconds remaining, Özil stepped up to take it, changed his mind and dawdled over the ball. Cech ran out of his own goal, passed to him. Martin Atkinson then blew for full time. Özil ran straight down the tunnel while the commander in chief contemplated another capitulation.
Register for free to continue reading
Registration is a free and easy way to support our truly independent journalism
By registering, you will also enjoy limited access to Premium articles, exclusive newsletters, commenting, and virtual events with our leading journalists
Already have an account? sign in
Register for free to continue reading
Registration is a free and easy way to support our truly independent journalism
By registering, you will also enjoy limited access to Premium articles, exclusive newsletters, commenting, and virtual events with our leading journalists
Already have an account? sign in
Join our new commenting forum
Join thought-provoking conversations, follow other Independent readers and see their replies