Manchester City vs Liverpool: City left shaken by Klopp and company with interest soaring at Anfield
It helped that Manchester City were so poor, with Sergio Aguero's crisp goal and Joe Hart's rescue work providing the only quality
Ian Herbert
Monday 23 November 2015 00:46 Comments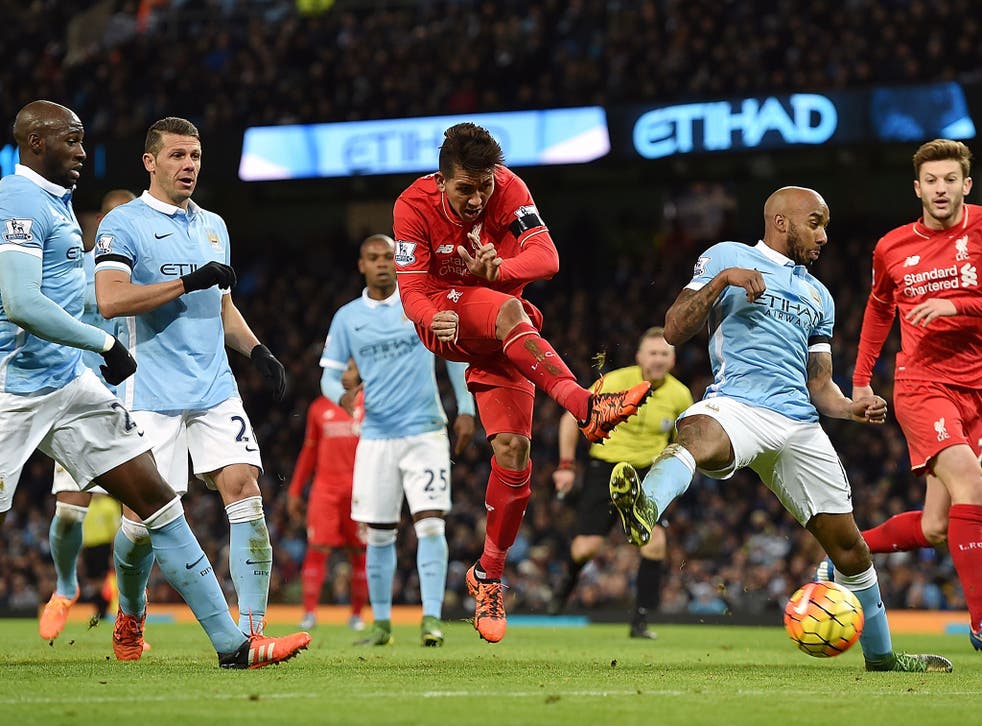 You have to hand it to Jürgen Klopp: he even wears a Liverpool scarf well. It can look like a self-conscious fashion statement around the wrong neck but his was stuffed inside his collar for warmth.
This is the individual whose confidence appears to require no artifice or front. Simply to watch Klopp dispense with the usual rituals on Saturday evening and walk around Manchester City's pitch, shaking hands with the opposition players after his side had defeated them 4-1, was to feel that what lies ahead might be very interesting.
A number of us were similarly taken with his predecessor Brendan Rodgers for a long while, so some circumspection is required. Yet what we witnessed on Saturday evening was the most striking manifestation of Klopp's ability to deploy players in the roles to which they are best suited, convert them to the relentless workload of his gegenpressing football and make them want to run through walls for him.
One picture – Adam Lallana, the ultimate manifestation of the Rodgers ornamental style, in exhilarated embrace with his manager after putting in a shift you associate with James Milner – painted 1,000 words about Klopp as an agent of change.
He is using all his powers of persuasion – and they are considerable – to scramble the notion that a top-four finish is a hugely achievable target for Liverpool, in this beautifully, ridiculously fluid Premier League which, in a period of four hours on Saturday, first City, then Manchester United, then Leicester City, topped.
"It's only OK if you ask this if you ask it as well after we lose. I would love to win a game like this at Anfield," he said, bringing everything back to the defeat by Crystal Palace two weeks ago in which Liverpool were outrun and outplayed.
He also spoke of a psychological deficit: a group of players who at half-time were "surprised" to be 3-0 ahead. When it was put to him that his job might entail telling them, "Believe! Don't be surprised", he indicated it was not as easy as that. "It doesn't work," he said. "If you are stuck in a forest and it's dark and you are afraid and someone tells you not to be, then it doesn't work. It's your own mind. Only you can affect that. We need the confidence in ourselves but we cannot switch the lamp on and off. So tonight it's very good but we have to work."
The speed of adaptation has been extraordinary, though, and implemented by a manager with the clarity of thought not to overthink and overcomplicate, as Rodgers did towards the end.
Klopp said publicly when Roberto Firmino joined Liverpool that it was £29m of good business. His decision to use the player Rodgers started with only four times was vindicated on Saturday. There was an energy not seen in a Liverpool striker since Luis Suarez wore the red No 9. His deployment as a false nine was bold because Christian Benteke, a late substitute, had certainly been fit enough to start. Firmino, who scored, set up Philippe Coutinho's goal, provoked Eliaquim Managala's own goal and missed two more chances, simply works harder.
The ubiquitous Klopp "helicopter" hand gesture tells the story. He whirls his arm above his head to beckon his players to switch flanks. There is none of the complex science of the triangles Rodgers made with his fingers.
"He wants a reaction when we lose that ball and wants to get after it quickly," said Milner. "We press in different ways depending on who we're against and how we play. He wants us to be calm as well. It's one thing going after the ball at 100 miles an hour but when you win it you have to be calm and that bit more patient, which we can do at times a bit better.
"He'll tell you if you're not doing the right things and that helps. He's in the game and you know he's there with you. He wants you to do well. He knows you're going to make mistakes and you'll get a rocket but he'll come up to you after and say, 'Well done'.
"Every manager is different. He's different to the old manager but the longer we're together the better we'll get."
It helped that Manchester City were so poor, with Sergio Aguero's crisp goal and Joe Hart's rescue work providing the only quality. They found Klopp's strikerless system unfathomable and removing the overrun Yaya Touré and Jesus Navas at half-time made no difference.
Manuel Pellegrini looked tired and utterly out of ideas. His utter unwillingness to engage publicly in intelligent tactical conversation is never exposed when City are thumping poor opposition – which they often do. It is lumpen and grossly inadequate on a day like Saturday. The whole world knows that Klopp's team press yet City seemed utterly unprepared. Even Milner was surprised by how cheaply they sacrificed possession. "Yes…" he said.
The promising aspect for Liverpool is that Klopp feels his side have a quality deficit. "They changed the manager here," he said. "It wasn't because of the weather and it wasn't a problem with Brendan Rodgers, because he is a brilliant manager. But they had to change something. I can't say that we are good enough but if you want to write it, you can." Yes. What lies ahead might be very interesting.
Register for free to continue reading
Registration is a free and easy way to support our truly independent journalism
By registering, you will also enjoy limited access to Premium articles, exclusive newsletters, commenting, and virtual events with our leading journalists
Already have an account? sign in
Join our new commenting forum
Join thought-provoking conversations, follow other Independent readers and see their replies