Manchester City vs Middlesbrough match report: Pep Guardiola's side stutter in title race to late Boro goal
Manchester City 1 Middlesbrough 1: Aguero gave City the lead but De Roon equalised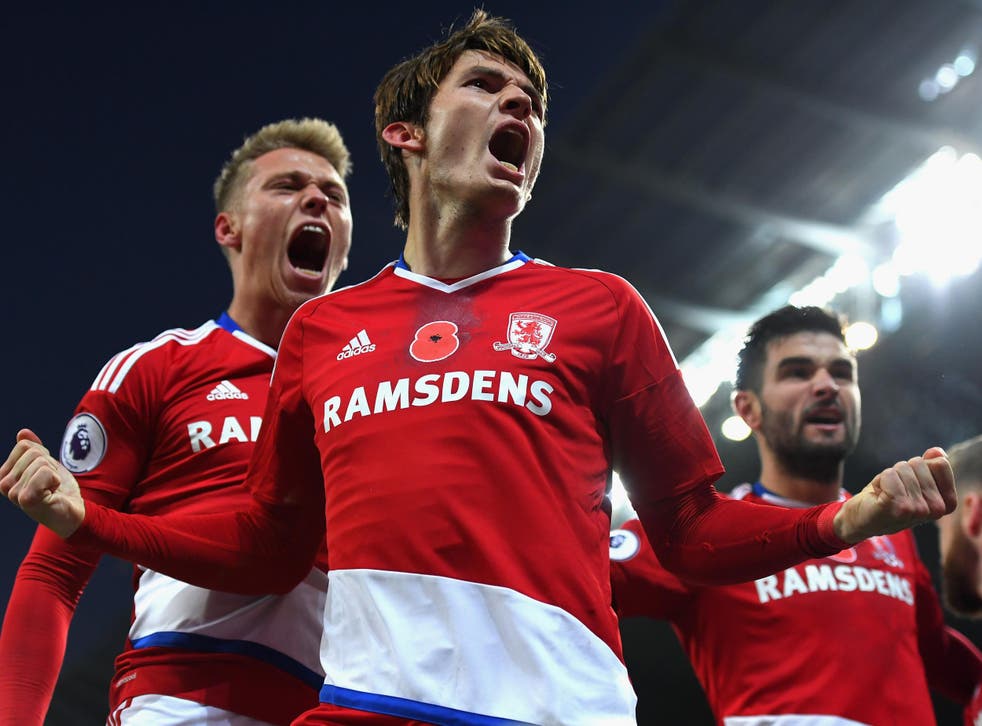 Middlesbrough's last two away games have seen them come away from first Arsenal and now Manchester City with a point. Another week, another modern stadium, sponsored by a Gulf airline and another reason to believe that their return to the Premier League might last longer than a single season.
At Arsenal, they had spoiled the celebrations for Arsene Wenger's 67th birthday and here they pricked the afterglow of Manchester City's fabulous victory over Barcelona on Tuesday night.
Middlesbrough ought to have gone the same way as the Catalans but in stoppage time George Friend sent in a deep cross that Marten de Roon met with a header that powered the ball past Claudio Bravo.
Pep Guardiola, in long, knee-length overcoat, looked flabbergasted to see a game that ought to have been won by a landslide snatched from his grasp. On the final whistle, De Roon flung his shirt into the delirious away supporters while those who wore blue walked away from the Etihad Stadium in the realisation that not all football flows to a consistent pattern – especially when you do not take your chances.
The game turned when Sergio Aguero converted one of the many chances City created because it forced Middlesbrough to alter their tactics.
Bryan Robson, the man who briefly made football in Middlesbrough glamorous, used to say that most futile possible tactic when Manchester United were in their pomp was go to Old Trafford and play for a goalless draw. Sooner or later you would crack.
These days, you try for a 0-0 in the blue half of Manchester at your peril. The wonder was not that Middlesbrough cracked, it was that they held out for so long. When Aguero put Manchester City ahead it was the 18th shot aimed at Victor Valdes's goal. Put another way, City were having a shot at goal once every two-and-a-half minutes.
No team could expect to receive that kind of pounding and survive and, two minutes from the interval, Kevin De Bruyne produced a low, diagonal ball that Aguero ran between Boro's two central defenders to clip past Valdes for his 150th goal for Manchester City. There were two-and-a-half minutes remaining, time enough for another shot which Jesus Navas sent crashing on to the outside of the post.
As someone who was Jose Mourinho's assistant at Real Madrid, the Middlesbrough manager, Aitor Karanka, would have had considerable experience of going head-to-head with Guardiola.
Aguero's goal at least forced Boro out of their own half and within a minute of the restart Alvaro Negredo almost brought them level in extraordinary circumstances.
Negredo was more than a bit-part player during his time at the Etihad and had his wife not wanted to take the family back to Spain, he might have really established himself in Manuel Pellegrini's side.
When he scored twice in the League Cup semi-final against West Ham in January 2014, it was the 23rd goal of the season for a centre-forward who traded under the nickname of 'The Beast'. It was mid-January and, whether or not it was because the need to return home was starting to make itself felt, there were to be no more.
However, he remains a fine player and now he picked the ball up on the halfway line and, spotting the almost unemployed Bravo wandering on the edge of his own area, he launched a shot that but for some furious back-peddling from the Manchester City keeper might have drawn Middlesbrough level.
Tuesday night's fabulous victory over Barcelona manifested itself both in the surging confidence that swept Manchester City forward in the early part of this game and the tiredness that came calling for them as the match wore on.
The first half was played almost wholly in the Middlesbrough half and increasingly in Boro's area, where Victor Valdes, who had kept goal for Guardiola in the Nou Camp, pulled off some fine saves. A fall-out with Louis van Gaal turned Valdes's time at Old Trafford into a wasteland but now he was able to show a part of Manchester precisely what he was capable of.
Manchester City: (4-2-3-1) Bravo; Zabaleta, Stones, Kolarov, Clichy; Fernandinho, Gundogan (Nolito 74); Navas (Garcia 86), De Bruyne, Silva; Aguero (Iheanacho 90). Substitutes: Caballero (g), Kompany, Sane, Maffeo.
Middlesbrough: (4-1-4-1) Valdes; Barragan, Chambers, Gibson, Friend; Clayton; Downing (Fischer 78), De Roon, Forshaw, Traore (Stuani 90); Negredo. Substitutes: Guzan (g), Fabio, Espinosa, Leadbitter, Nugent.
Referee: Kevin Friend
Register for free to continue reading
Registration is a free and easy way to support our truly independent journalism
By registering, you will also enjoy limited access to Premium articles, exclusive newsletters, commenting, and virtual events with our leading journalists
Already have an account? sign in
Register for free to continue reading
Registration is a free and easy way to support our truly independent journalism
By registering, you will also enjoy limited access to Premium articles, exclusive newsletters, commenting, and virtual events with our leading journalists
Already have an account? sign in
Join our new commenting forum
Join thought-provoking conversations, follow other Independent readers and see their replies