Luke Shaw seals victory as Manchester United condemn Man City's streak to a sour end
Man City 0-2 Man United: Ole Gunnar Solskjaer's side remained resolute after taking an early lead as City's extraordinary 21-game winning run was finally broken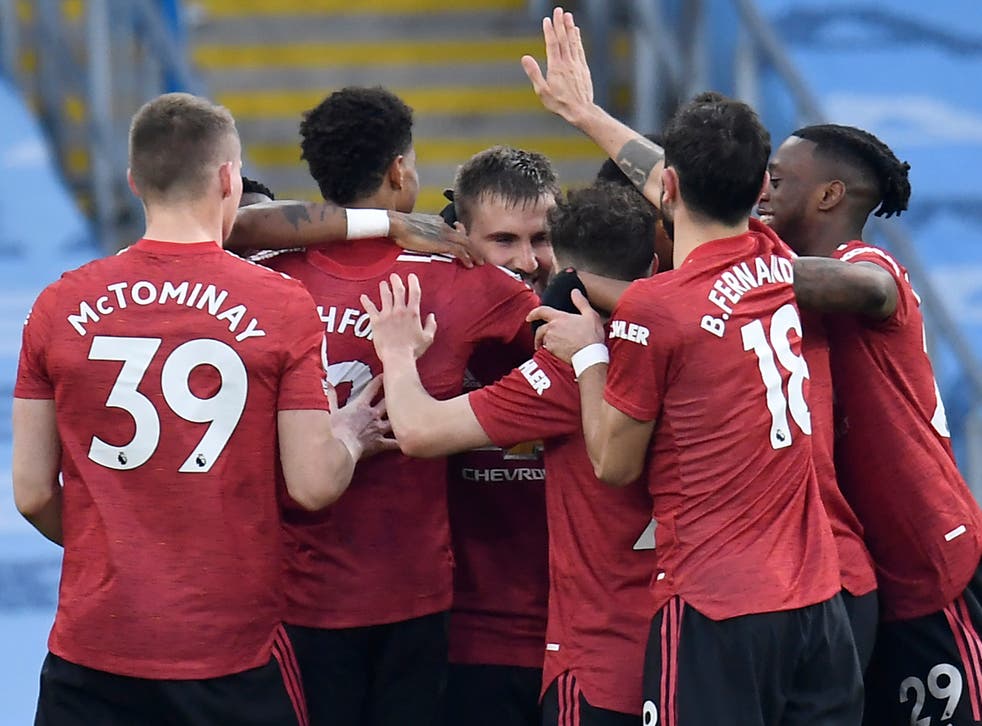 As Pep Guardiola has been openly saying for some time now, this had to happen at some point, but how he and his Manchester City players must wish that the inevitable had not arrived on derby day.
City's extraordinary record-breaking winning streak ends at 21 games in all competitions and their 28-game unbeaten run stops one short of establishing a new club milestone. Manchester United, meanwhile, are building up a streak of their own when visiting the Etihad.
Ole Gunnar Solskjaer's side beat their neighbours in their own backyard for the third successive time with a performance that was as clinical in one box as it was disciplined in the other. The excellent Luke Shaw's second-half strike added to an early Bruno Fernandes penalty and lifted United back into second place.
As memorable a result as this may be for Solskjaer and his players, it does not exactly breathe new life into the Premier League title race. United narrowed the gap but City remain 11 points clear. Yet for Guardiola to write this off an aberration or an inevitability would be a mistake.
The unbeaten run could not last, let alone the long series of wins, but City will be disappointed to have dominated and yet be comfortably held at arm's length.
City could hardly have come into this game in a better place. A clean bill of health meant that Guardiola named what is probably his first-choice, full strength line up. It had no place for Sergio Aguero, who was left among the substitutes. United's absentee list, meanwhile, is growing by the week. A fresh injury to Edinson Cavani brought fit-again Anthony Martial into the starting line-up and he took only 35 seconds for him to make an impact.
It was a thrilling start. Cutting in from the left with his first touch of the ball and skirting along the inside edge of the 18-yard box, United's much-maligned No 9 spread panic through the City defence. Those in sky blue surrounding Martial backed off, knowing he was vulnerable to even the slightest tap on the heels, but then came Gabriel Jesus. A clumsy tangle of legs and trip from behind gave referee Anthony Taylor no choice but to point to the spot.
Much has been made of Fernandes' scoring record against the so-called top six over the past week. Perhaps that was why he eschewed his usual hop, skip and jump penalty technique, instead taking the no-nonsense approach of simply drilling the ball low and hard into the left-hand corner. Ederson guessed correctly and connected but his outstretched hand was too weak to deny Fernandes.
For the first time in 16 league games, City were trailing. Not since the stalemate with West Bromwich Albion in December - the game that Guardiola credits with turning their season around - had they fallen behind. According to the City manager, the biggest difference in the weeks since that game has been that his players have learned to "run less" and show more composure in possession but that quality deserted them as they chased an equaliser.
City's play was rushed, careless and slipshod. Kevin De Bruyne struggled for rhythm, as he often has since his recent return from injury. Even when City attempted to slow the play down, that only bought United time to settle into a compact, disciplined defensive shape. Ilkay Gundogan forced Dean Henderson into action on a couple of occasions and Oleksandr Zinchenko stung his palms but clear-cut scoring opportunities were at a premium.
The closest City came to an equaliser was once both sides re-emerged for the second half and Rodri's attempt kissed the top of crossbar after a neat one-two with Jesus on the edge of the area. On the touchline, Guardiola held his head in his hands. He was growing increasingly agitated with what he was seeing from a City side failing to live up to their recent exemplary standards, and it was not long before his frustrations were compounded.
A quick bit of thinking and powerful throw from Henderson released Shaw down the left and United's rejuvenated left-back advanced 60 yards up field, bypassing Joao Cancelo and De Bruyne in the process.
A simple lay-off to Marcus Rashford would normally have been the end of his contribution to such an attack but he kept advancing into the box, eventually regaining possession and sneaking a low shot out of Ederson's reach and into the far corner.
United looked comfortable once two up, even with City predictably dominating the final stages. Solskjaer's side still had to protect their lead and did so through tireless defensive work, summed up by Rashford's lung-busting 70-yard run to dispossess Riyad Mahrez which resulted in the United forward injuring his ankle and being substituted.
It was that type of courage and endeavour which limited City to only half-chances in the closing stages. Phil Foden's turn and shot skimmed past the far post and Raheem Sterling could have done better in the final five minutes when he miscued his connection with Kyle Walker's cross. Other than that though, Solskjaer's game plan worked to a tee. For City, this was just one lost battle in a campaign that should still end victorious, but that makes it no less of a blow.
Join our new commenting forum
Join thought-provoking conversations, follow other Independent readers and see their replies