Manchester City's room for improvement should worry their title rivals
Pep Guardiola's side have turned it on in recent weeks but there is still more to come ahead of this weekend's match with champions Liverpool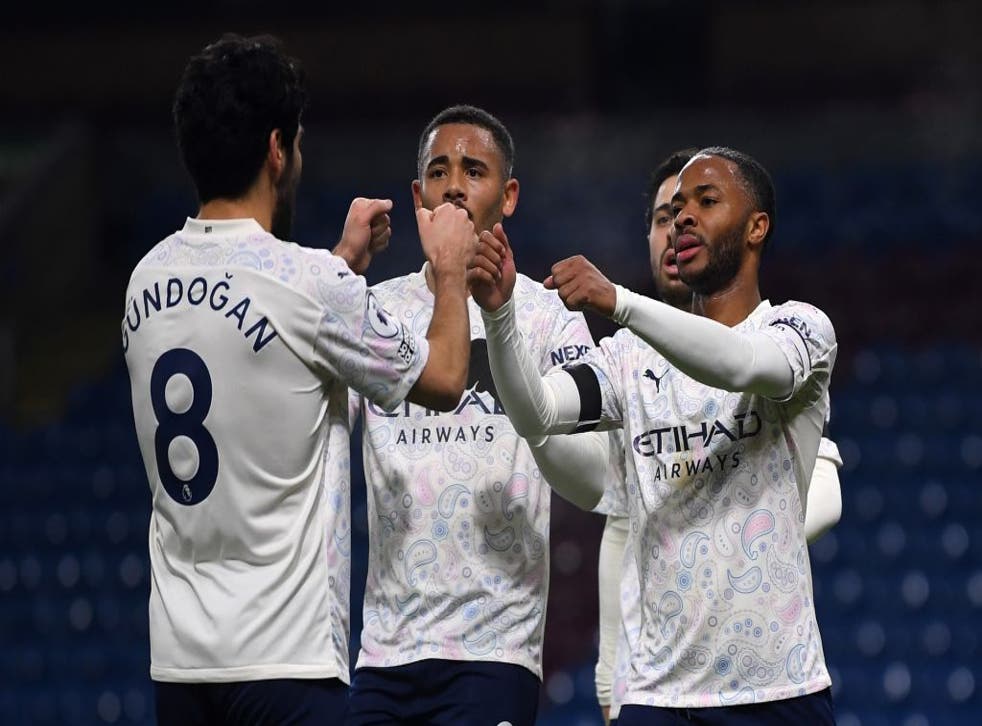 What's the most ominous thing about Manchester City at the moment?
It's not the 13 consecutive wins in all competitions, even though they became the first Premier League side to achieve such a feat since Arsene Wenger's double-winning Arsenal side in 2002.
It's not the defence which has conceded four goals in their last 20 games, even though Ederson only needs another 11 clean sheets between now and May to equal Petr Cech's record of 24.
READ MORE: Premier League fixtures and table — all matches by date and kick-off time
It's not even their three-point advantage with a game in hand at the top of the Premier League table, even though they will hold a double-digit lead over last season's runaway champions if victorious at Anfield on Sunday, while maintaining a game in hand over Jurgen Klopp's side.
It's that despite all that, they may not yet have hit their stride.
When asked whether there was any room for improvement on Wednesday night's effortless away win at Burnley, Pep Guardiola was unequivocal.
"A lot," he said. Guardiola's main problem was that his players had lost too many "simple balls".
"I'm not asking them [to do] the complicated things," he said. "The effort and simple things, do it well. We talk a lot, we'll train a lot and we are trying, we're trying to do it. Today, more than usual we lost simple balls."
That was the only real complaint, though.
READ MORE: Man City manager Pep Guardiola reveals what has surprised him about Ruben Dias
"In general, I am satisfied," he admitted. And how could he not be? A few seasons ago, he compared visiting Turf Moor to visiting the dentist. A winter's evening in east Lancashire fighting Sean Dyche's side for second balls can feel like root canal surgery at the best of times. City made it look like a regular check-up.
From the moment of Gabriel Jesus' third-minute breakthrough, the three points felt secure. That is not an exaggeration or simply said after the fact. City have exerted such total control over matches recently that once they are ahead, you can all but guarantee they will stay ahead.
During this 20-game unbeaten run, only West Bromwich Albion on Slaven Bilic's final night in charge have denied them victory having gone behind. With each passing week, that looks more and more like the freak result of the season.
Burnley would not be so lucky. Instead, they were suffocated in a stranglehold, denied their first shot on goal of any sort until well past the hour mark. It was off target.
City have become accustomed to having things all their own way over the last few weeks. That may not be the case for the next few, as Guardiola pointed out.
"We've won six games in a row against teams in low positions. We know exactly how tough it was to win against many of these clubs, we had to do our best," he said. "Now we have different teams, a different type of play - Liverpool, Tottenham, Everton, Arsenal, West Ham, [Manchester] United and the Champions League. Now comes another tough, tough group of games."
At the same time, they look prepared for their schedule to get a little stiffer. They have very rarely put their foot to the floor in recent games. Most of the time, it has come off the gas early.
Guardiola is openly admitting as much. "The last 15-20 minutes we just passed the ball and passed the ball without the intention to attack, to not waste more energy," he said at Turf Moor, entirely satisfied with how his players had closed the game out.
That only adds to the impression that there is more to come, both domestically in the Premier League title race and when the Champions League returns later this month.
City appear to be back to their best. They look a cut above every other contender and are carrying that imperious air of Guardiola's two previous title-winning seasons.
But the most worrying thing for their rivals is that their manager is certain of one thing, and insisting: "We can do better."
Join our new commenting forum
Join thought-provoking conversations, follow other Independent readers and see their replies