Manchester City boss Pep Guardiola disagrees with Oleksandr Zinchenko over quadruple chances
Zinchenko said City squad have 'hungry eyes' for all four titles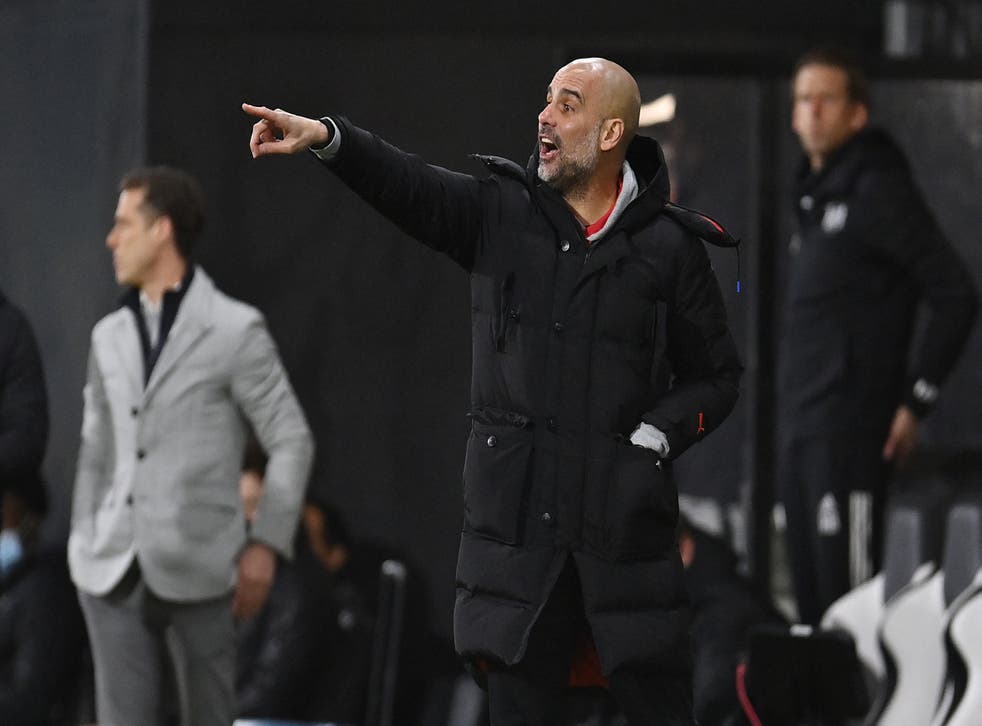 Pep Guardiola has played down Manchester City's chances of winning an unprecedented quadruple and disagreed with Oleksandr Zinchenko's claim that the squad has "hungry eyes" for all four titles.
City return to Champions League action in Budapest on Tuesday night, with a 2-0 lead to protect against Borussia Monchengladbach in order to reach the quarter-finals.
Guardiola's side already have a commanding 14-point lead at the top of the Premier League table and play Everton in the FA Cup quarter-finals this weekend, before the EFL Cup final against Tottenham at Wembley next month.
No English side has ever won all four major honours in one season but Zinchenko claimed it was something City's players are aiming for on Monday.
"With Pep and I think everything is possible," he said. "We have an unbelievable squad, the best players in the world and definitely, why not?
Read more:
"Inside the dressing room or inside the team I can see the hungry eyes, everyone is so hungry for the titles and that is what you want.
"This period right now I would say there is more than two months, the most important two months in our careers and especially these kinds of players like Sergio Aguero and Fernandinho who was here around 10 years each, they deserve it so we are going to try."
Guardiola disagreed, however, describing the prospect of a quadruple as a "utopia" and gently reminding Zinchenko to focus on the task at hand.
"I am older than Mr Zinchenko, I have more experience and I don't agree with him," Guardiola said.
"The only thing he has to be worried about is trying to do a good game tomorrow and try to go through. This is the only way.
"Four titles is a utopia. It never happened before and I think it's never going to happen. We just think about this one, then the next one at Goodison Park, then the international break.
"Hopefully the players can come back safe and well because we play for important things when they come back and this is the only important thing. If you ask me if I'd agree with Zinchenko, I'd say no, completely not."
Guardiola denied that he was simply trying to temper expectations or ease pressure with his comments, insisting that his players had to only concentrate on what is in front of them.
"It's not pressure. They have to handle the pressure, to play in this team, at this club, in this organisation, they have to know it's not nice to lose a game," he said. "We have to win and win, that's for sure. But it's out of the reality and focus.
"I don't know what's going to happen at the end of the season. Normally, it's not going to happen. It never happened before.
"What we have to do, like we have done since day one, is think about the game we are going to play tomorrow against Borussia Monchengladbach. That's the only thing I'm concerned about."
Register for free to continue reading
Registration is a free and easy way to support our truly independent journalism
By registering, you will also enjoy limited access to Premium articles, exclusive newsletters, commenting, and virtual events with our leading journalists
Already have an account? sign in
Register for free to continue reading
Registration is a free and easy way to support our truly independent journalism
By registering, you will also enjoy limited access to Premium articles, exclusive newsletters, commenting, and virtual events with our leading journalists
Already have an account? sign in
Join our new commenting forum
Join thought-provoking conversations, follow other Independent readers and see their replies