Manchester United 1 Manchester City 2: Great burden of history proves too heavy for Ronaldo and Co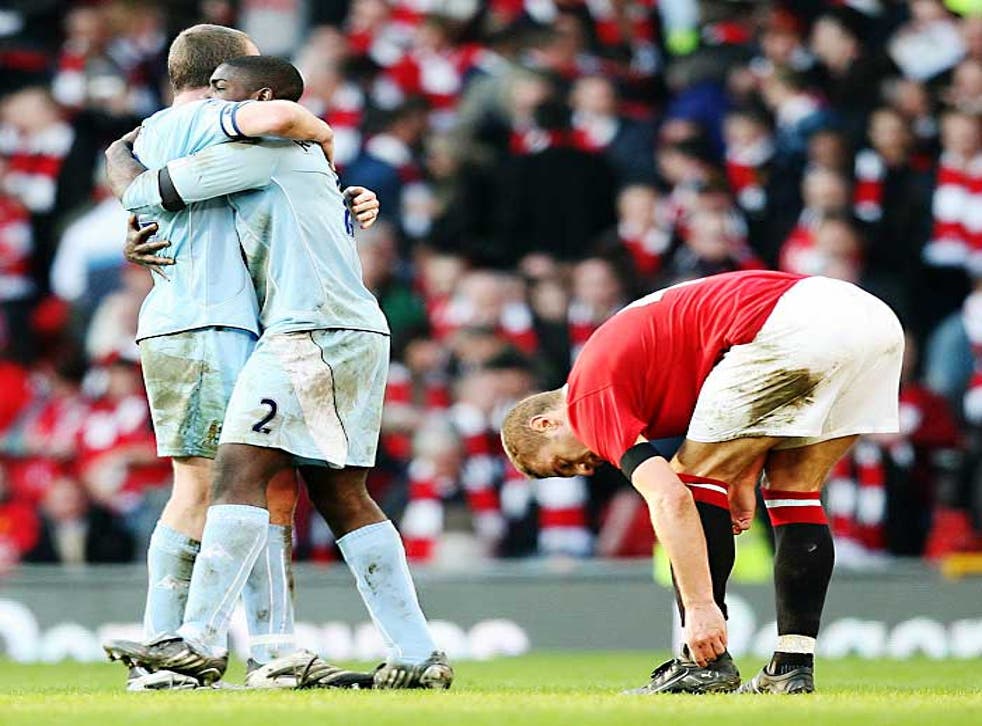 The weight of their club's history is a burden that every great Manchester United team must learn to bear and yesterday – of all days – it bore down on Sir Alex Ferguson's side like an anvil. The tribute to those they lost at Munich 50 years ago was moving, profound and fitting in all but one regrettable respect: the performance of the men in the retro 1958 red shirts.
Regrettable unless you were part of the sky blue enclave in one corner of the stadium who behaved impeccably through the minute's silence and then, in the 90 that followed, were rewarded beyond their wildest dreams. In the derbies of this great football city one man's pain is another's triumph although for 60 seconds they were united in a silence that did both clubs great credit. And then it was business as usual and the joy for those in the away crowd was unparalleled.
The first City victory at Old Trafford in 34 years was also marked by the worst United performance in recent memory. Sven Goran Eriksson may have achieved wonders at his new club but even he, with three straight victories over Ferguson (including his time at Lazio), cannot have imagined United would play so badly. And no one disappointed more than Cristiano Ronaldo, the United player who embodies the spirit of those Busby Babes more than any other.
Ferguson was obliged to leave the stadium immediately after the match in order to catch a connecting flight to South Africa where he will today be promoting the club's summer tour. Club class on the overnight to Cape Town will have been unusually tense last night as the old godfather contemplated the culprits. Wes Brown, Rio Ferdinand, Ronaldo, Nani and Ryan Giggs were all well off the pace. The consequences? The gap to Arsenal in first place could widen to five points if the leaders beat Blackburn tonight.
In some respects this defeat to City was as crushing as the 5-1 thrashing of United at Maine Road in 1989 after which Ferguson, he later admitted, took to his bed with remorse. Then, of course, he did not have the nine Premier League titles and the knighthood but there was something equally catastrophic about how his team unravelled yesterday on such an important day in the history of their club. It was the kind of performance that, for the first time, prompts questions about United's capability to stay the course in the title race this season.
For Eriksson, however, the goals from Darius Vassell and one on his debut from Benjani Mwaruwari were another big step in the rehabilitation of his reputation. It was his eighth victory as a manager at Old Trafford and it was built on the performances of two players whom he inherited. In defence his captain Richard Dunne was at his stoical, immovable best having been passed fit following illness only yesterday morning while in midfield the timeless Dietmar Hamann was outstanding.
But that was not all from Eriksson – in fact there was the lingering feeling that he entirely outfoxed Ferguson with a tactical performance that nullified Ronaldo to the point that the winger became a caricature of his very worst aspects. Hands on hips, eyes to the sky, the Premier League's best player was reduced to a pouting sideshow as City kept United at bay with considerable ease. Michael Carrick's goal in the 92nd minute was much too little and much too late.
This was supposed to be the day in which we saw all that was best about Manchester United and, in the opening ceremony, it was exactly like that. A lone piper led out the two teams through a guard of honour formed by United's academy players and wreaths were laid in the centre of the pitch by Ferguson and Eriksson. The minute's silence was, in Eriksson's words, "absolutely perfect" but then it should never have been anything but. What followed was most definitely not in the script.
It was telling that by the time the City fans hit upon their most cutting chant of the day – "Fergie was right/Your fans are shite" – Old Trafford had no stomach for any response of note. Vassell's goal on 24 minutes followed a litany of defensive errors. Brown's original block fell the way of Martin Petrov who found Stephen Ireland. His shot was stopped by Edwin van der Sar who scrambled up to save again from Vassell before the former England international took his second chance to score.
For Eriksson, victory was a relief after four games in the League and FA Cup without a win. "If you saw our first 45 minutes against Arsenal we were very, very flat," he said. "This week there has been a lot of talking and training and here we are suddenly with the right spirit and attitude and we have done a great job. I am extremely proud of all my team. To come to Old Trafford and win – and to deserve to win – is great."
City's second goal came in the moments before half-time after their third consecutive corner in a period of pressure. Ronaldo's clearing header fell to Petrov on the right who centred again and Benjani got the faintest of touches to put the ball beyond Van der Sar's reach. The new City striker was on his own in the United area and even at half-time City's double over their neighbours this season looked much more than just a possibility.
The excuse offered in absentia by Ferguson, via his assistant Carlos Queiroz, was that too many of his team had been forced to play 90 minutes during the midweek internationals. An interesting point given that the excellent Petrov played 90 minutes for Bulgaria – and scored – against Northern Ireland on Wednesday. It did hint at the anger Ferguson must have felt at Brown and Ferdinand's 90 minutes for England while Rooney, suspended for yesterday's game, played all but the last five minutes against Switzerland.
Carrick's goal – which could in no way be described as a consolation on a day like this – was struck from the edge of the area after a good combination between Owen Hargreaves and Paul Scholes. Shortly before then City's fans had broken into a chant of "There's only one Frank Swift" in memory of their goalkeeper who perished at Munich. Days as glorious as these are rare for City, as rare as Mancunian sun in February, but they had both yesterday.
Goals: Vassell (24) 0-1; Benjani (45) 0-2; Carrick (90) 1-2.
Manchester United (4-4-2): Van der Sar; Brown, Ferdinand, Vidic, O'Shea (Hargreaves, 73); Nani (Park, 65), Scholes, Anderson (Carrick, 73), Giggs; Ronaldo, Tevez. Substitutes not used: Kuszczak (gk), Simpson.
Manchester City (4-1-4-1): Hart; Onuoha, Richards, Dunne, Ball; Hamann (Sun Jihai, 84); Vassell, Fernandes, Ireland, Petrov (Garrido, 87); Benjani (Caceido, 76). Substitutes not used: Isaksson (gk), Geovanni.
Referee: H Webb (South Yorkshire)
Booked: Manchester United O'Shea.
Man of the match: Dunne.
Attendance: 75,970.
Eriksson 'proud' of City fans' silence
Sven Goran Eriksson described the observation of the minute's silence by Manchester City fans as "absolutely perfect" on the day that Manchester United honoured the 23 victims – including the eight players – of the Munich air disaster 50 years ago.
There had been such fears that City fans would spoil the minute that the club's supporters group wrote to United asking for the silence to be a minute's applause instead. However, the minute was observed impeccably. The only noise were what appeared to be fireworks let off behind the South Stand.
Eriksson said: "Everyone who belongs to City, as fans, players and directors should be very proud. It was absolutely perfect. I have never been part of a ceremony like that before with the wreaths and then a silence. They were perfect."
Every fan was given a scarf in the colours of their respective team – placed on their seat and accompanied by a "Munich memento letter" from United chief executive David Gill asking the fans to respect the minute's silence.
Law in '74 City's last Old Trafford victory
The last time Manchester City won at Old Trafford, the home side were undone by one of their former favourites.
United had given Denis Law a free transfer in July 1973 and the Scotsman moved to Maine Road. When the sides met the following April, with United facing the drop, Law instinctively back-heeled the ball into United's net in the 85th minute for the only goal of the game. He trudged off, devastated, and played only one more game, for Scotland in the World Cup in Germany. He did not, however, send United down – results elsewhere meant they were relegated anyway.
Join our new commenting forum
Join thought-provoking conversations, follow other Independent readers and see their replies