Jose Mourinho praises Luke Shaw after defender impresses in Manchester United's win over Sunderland
Shaw has been repeatedly berated by his manager, but the 21-year-old impressed in the routine 3-0 win against Sunderland and earned some hard-fought praise from Mourinho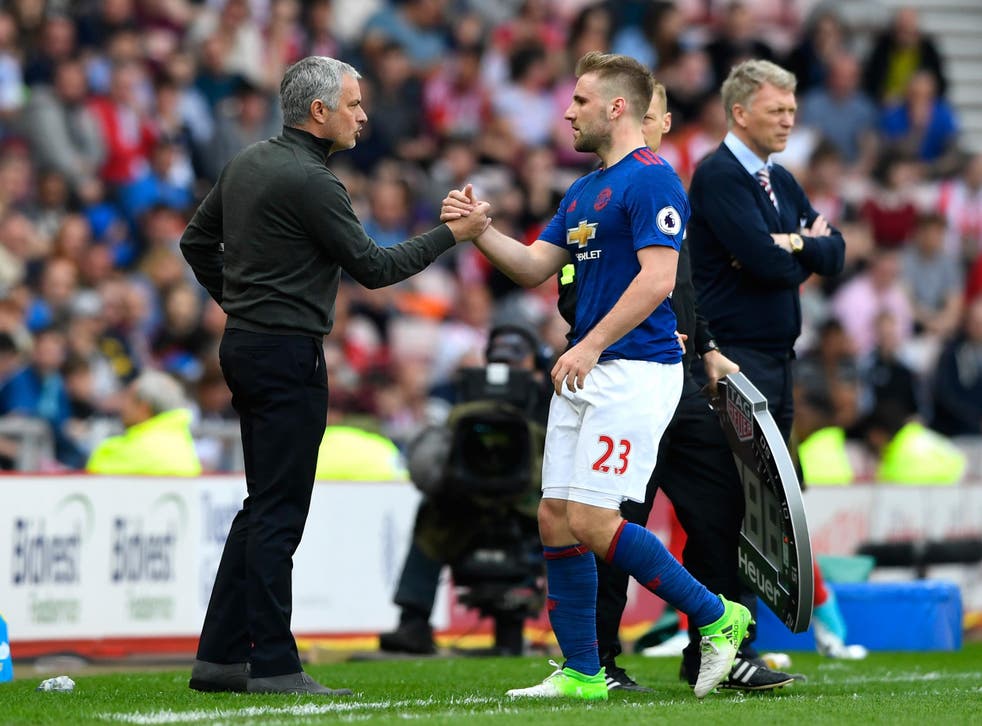 Manchester United manager Jose Mourinho has praised his full-back Luke Shaw, despite withdrawing the 21-year-old in the 61st minute of the club's comfortable 3-0 away win over struggling Sunderland.
Mourinho has repeatedly criticised the defender in recent weeks and recently faulted Shaw's "focus and ambition", claiming he was a "long way behind" United's other defenders.
He also commented after the recent 1-1 draw with Everton that he felt like he was forced to "control" Shaw's brain from the sidelines.
It was therefore a surprise to see Shaw's name in United's starting XI for the match against Sunderland, and even more of a surprise to hear Mourinho praising the defender after the game, especially considering he replaced Shaw with Daley Blind mid-way through the second-half.
"It was good for him to play one hour with a good solid performance and no mistakes, so I'm really pleased for him," Mourinho commented after the easy win.
"I took Shaw off because of the yellow card and the pressure from the crowd," he added. "It was good to protect him."
Predictably, Mourinho was even more effusive when it came to discussing the performance of Zlatan Ibrahimović.
The Swede scored a sublime opening goal, curling home from 20-yards to hand United the initiative.
"It was open at 0-0," said Mourinho immediately after the final whistle. "We were in control without danger. We were playing quite compact and solid. You need these players to break it.
"Every team has a couple of them. Zlatan did that. We felt the game was in our pocket. In this beautiful weather the game was played at a more slow intensity."
Register for free to continue reading
Registration is a free and easy way to support our truly independent journalism
By registering, you will also enjoy limited access to Premium articles, exclusive newsletters, commenting, and virtual events with our leading journalists
Already have an account? sign in
Register for free to continue reading
Registration is a free and easy way to support our truly independent journalism
By registering, you will also enjoy limited access to Premium articles, exclusive newsletters, commenting, and virtual events with our leading journalists
Already have an account? sign in
Join our new commenting forum
Join thought-provoking conversations, follow other Independent readers and see their replies