Manchester United need Alexis Sanchez but battling win at Burnley shows team he's about to join still has plenty to offer
Burnley 0 Manchester United: There remain questions about United's style of play but this win, brought about by Anthony Martial's goal, was an important one
Miguel Delaney
Turf Moor
Saturday 20 January 2018 18:01 Comments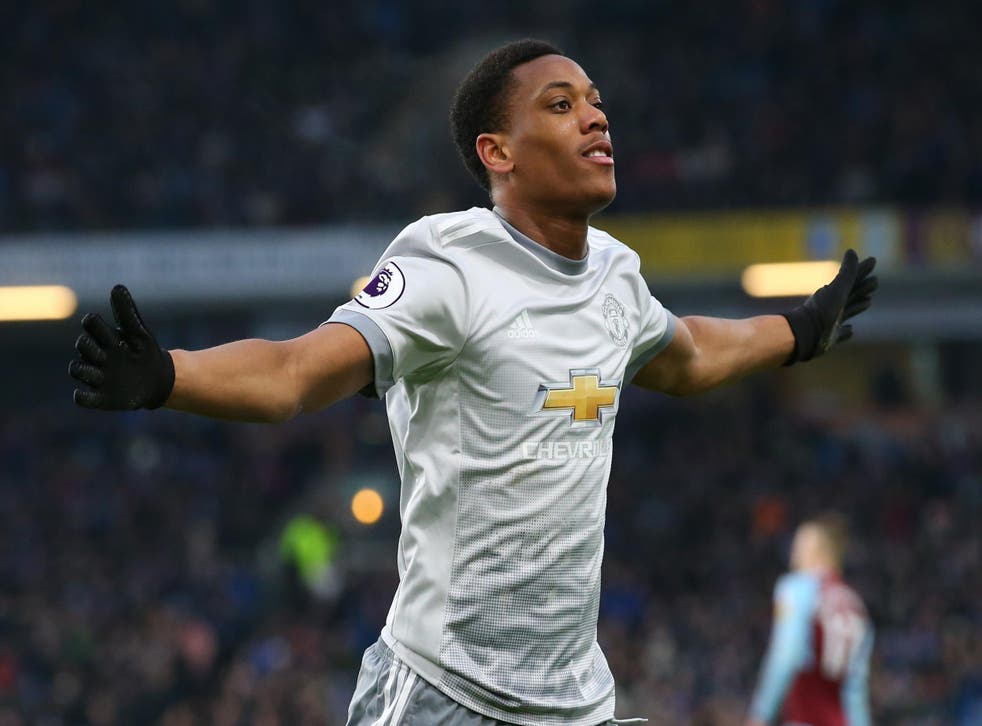 Much like something else everyone has been waiting for at Manchester United this week, the final whistle felt a long time coming here, but they got it done in the end. The actual football made it feel all the longer and wasn't pretty, but that in turn made it a pretty impressive 1-0 win at Turf Moor. Few teams come to Burnley and are allowed turn it on, and fewer still come away with three points, but the latter was what United managed thanks to a solitary - but incongruously sublime - Anthony Martial goal.
They also did it without Alexis Sanchez, to emphasise to everyone else they can still go up another few levels, as the young Martial again showed his own high level.
That isn't to say there aren't questions about some of United's play, but they once again gave the only response that matters: a win. Whether they managed that was always going to come down to durability at a place like Turf Moor, but Jose Mourinho's team showed enough of it.
"We had to fight," the Portuguese said. They did, but also had to jump.
Premier League gameweek 24 in pictures

Show all 49
Somewhat predictably, the ball spent an awful lot of time in the air - especially in a very nervous last few minutes for United that saw Nick Pope join the attack. Chris Smalling and co stood up, but Mourinho's side were made to do so all the more because of how infrequently they stepped up. They were playing it high just as much, the only touches of high quality on the ground coming from Paul Pogba and Martial.
It did raise what has become a rather regular question for United, and one that Sanchez's signing should help with as regards the response. When they face a very withdrawn side and the onus is on them to attack, they often just look attritional and devoid of deeper ideas or creativity.
There were admittedly occasions when it looked like United were able to break in the way Mourinho team do brilliantly, but then they weren't facing a regular withdrawn side. Burnley are just so good at quickly crowding teams out, of just filling up all that space. One of many such moments came just before half-time. Pogba released Martial on the counter, to set up what looked a one-on-one in a three-on-three with that kind of thrilling pace. In a matter of moments, though, Burnley had made it a three-on-one in a six-on-three.
It felt like it was going to take something or someone special to maximise that space, like a Sanchez, but United already have a Martial. The way he had previously been crowded out only further emphasised his outstanding quality.
Romelu Lukaku did deserve plenty of praise, too, given that it was his arched and clever low ball that loosened Burnley up. From there, Martial curled a fine shot in off the bar.
It was then United's turn to really withdraw, though, and thereby do something else Mourinho is regularly questioned about.
It was also an unusual inversion of such fixtures, as the big-six side became the defensive team and one of the more defensively organised of the other 14 now had to go an attack.
Burnley did respond to that quite well, and didn't just resort to aerial attacks. That was especially the case on 70 minutes when a slick slide-pass move saw Johann Berg Gudmundsson put in on the right, but his ball across just ended up a little too far for Ashley Barnes to make contact with.
Their bombardments were still getting closer, mind, as were their efforts. Gudmondsson hit the top of the bar with a fine free-kick, and there were even two calls for penalties amid some goalmouth melees.
It was no surprise that Mourinho brought on Marouane Fellaini for the ineffective Juan Mata, but the Belgian could only watch as Barnes again got in behind for one ball. This time the attacker did make contact, but headed wide. Scott Arfield was even trying delicate chips over the top from just outside the box.
The requirement for United to fight wasn't helped by some unnecessary flights of fancy of their own from Pogba at the other end, like when he went himself for on one counter when he should have played in a teammate. There was just some oddly casual play on the break that was all the more out of kilter with the tension at the other end.
It made the wait for the result feel even longer, but maybe that fits in well with what this week has been all about. Sanchez's imminent signing should add so much more immediacy and thrust to the United team, but the absence of such qualities today should not obscure what was still an impressive win in its own way.
Register for free to continue reading
Registration is a free and easy way to support our truly independent journalism
By registering, you will also enjoy limited access to Premium articles, exclusive newsletters, commenting, and virtual events with our leading journalists
Already have an account? sign in
Join our new commenting forum
Join thought-provoking conversations, follow other Independent readers and see their replies