Contrasting stories of Romelu Lukaku and Nicolas Otamendi reveal more than just two players on different trajectories
Otamendi was supposed to be unsuited to Pep Guardiola's approach while Lukaku was expected to finally go up a level, but it hasn't played out that way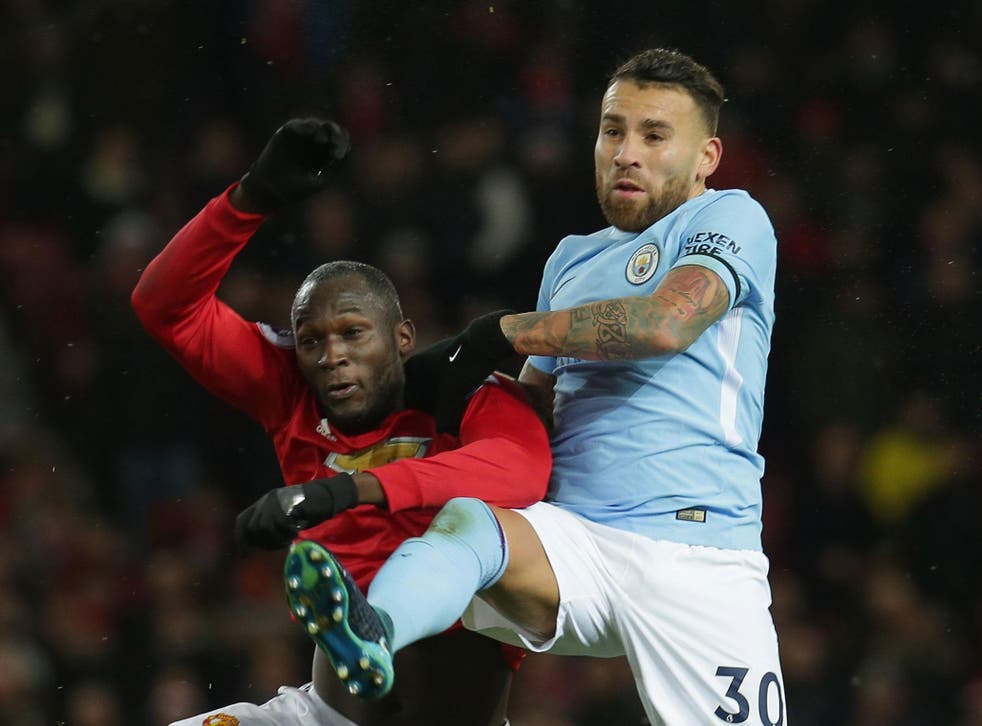 As justifiable as Pep Guardiola was in saying that Manchester City won the derby at Old Trafford because they "were better in all departments", it was still a game that came down to two key moments, that illustrate how fickle a low-scoring sport like football can be.
One was Nicolas Otamendi prodding the ball past David De Gea to ultimately produce the victory, and the other was Romelu Lukaku blasting the ball at Ederson's face, in a miss that prevented this being a mere draw. As much as the latter moment came down to a large amount of basic luck, and as much as the ball going a few inches to one of the sides might have changed a lot of the discussion around this game, these two moments themselves still said much as to why City were better than Manchester United in all those departments.
Otamendi's goal made it three in eight for him and five in his last 15, after just two in his previous 97 appearances, a defender who has clearly greatly improved under an attacking coach like Guardiola.
Manchester United vs Manchester City player ratings

Show all 22
Lukaku's miss made it a mere two in 15 for him, after 10 in 10, and he is an attacker who hasn't yet seen much positive effect under a more defensive coach like Jose Mourinho.
That contrast is not as superficial or simplistic as it might seem, and even if it is something that can obviously change, the stories of how they got to this point - with City now ahead by so many points - is very relevant.
It is all the more relevant given that Otamendi was a less mobile player who was supposed to be unsuited to Guardiola's approach, and thereby expected to be forced out, while Lukaku was expected to finally go up a level on moving to a highest-level club.
That they so often directly faced each other only adds to that. There was one moment late in the second half that summed up so much, as Lukaku seemed to finally get clear and get in on goal… only for a poor touch to let him down, and allow Otamendi to cleanly win the ball.
The Argentine's effect was still more pronounced at the opposite end, and that jump in the pure end product of goals offers a number that so clearly signifies the effect of Guardiola's management, how he brings that kind of thing out in his players.
The Catalan has directly worked with the 29-year-old on fighting more for second balls at both ends of the pitch, but that is not all there is to it. There is also how Otamendi is getting caught out less in play, and contributes more to City's build-up. He is just more composed and that is also comes from the confidence of the fact that he - like so many of his teammates - just understands the exact requirements of Guardiola's system more.
It's impossible not to wonder what Lukaku thinks of the requirements on him, given how his confidence has clearly been affected in the opposite way. As poor as he's been in front of goal of late, a lot of that has been down to the fact he isn't really getting much ball there, and so often has his back to it. He is a striker that needs constant activity around him instead feeding off scraps, something that doesn't exactly enhance a touch that feels like it needs a lot of ball to be honed in a game.
Some questions then have to be asked about whether he was really the right fit for this forward role, as well as Mourinho's ability to adapt his front line. The Portuguese so obviously has a clear prototype for a centre-forward, and it's usually someone in his prime. It does increasingly feel as if there wasn't anyone of that mode available, so he went for the closest possible option, a striker who just isn't as polished in some key aspects.
How else to explain why Lukaku is now being asked to do jobs he isn't necessarily best suited to, and that has clearly had an effect on his confidence, with that in itself clearly having an effect on that touch and his finishing? That is one big reason why this was the kind of day when the ball was always going to hit the goalkeeper's face rather than go in off his backside, why he would show that rough touch at precisely the wrong moments. He is snatching at things and yet also over-thinking them.
For his part, Mourinho did want to bring in a winger like Ivan Perisic to literally better serve Lukaku's best qualities, and the Belgian himself still "loves" his manager, according to those who know him.
That reflects how the situation can yet be changed again, even if looks like it needs a fair bit of work right now.
Otamendi is the proof of that.

Join our new commenting forum
Join thought-provoking conversations, follow other Independent readers and see their replies