Jurgen Klopp defends Jose Mourinho's right to park the bus ahead of Manchester United-Liverpool clash
The Liverpool manager was overtly tactful in his response to questions on Mourinho's style of play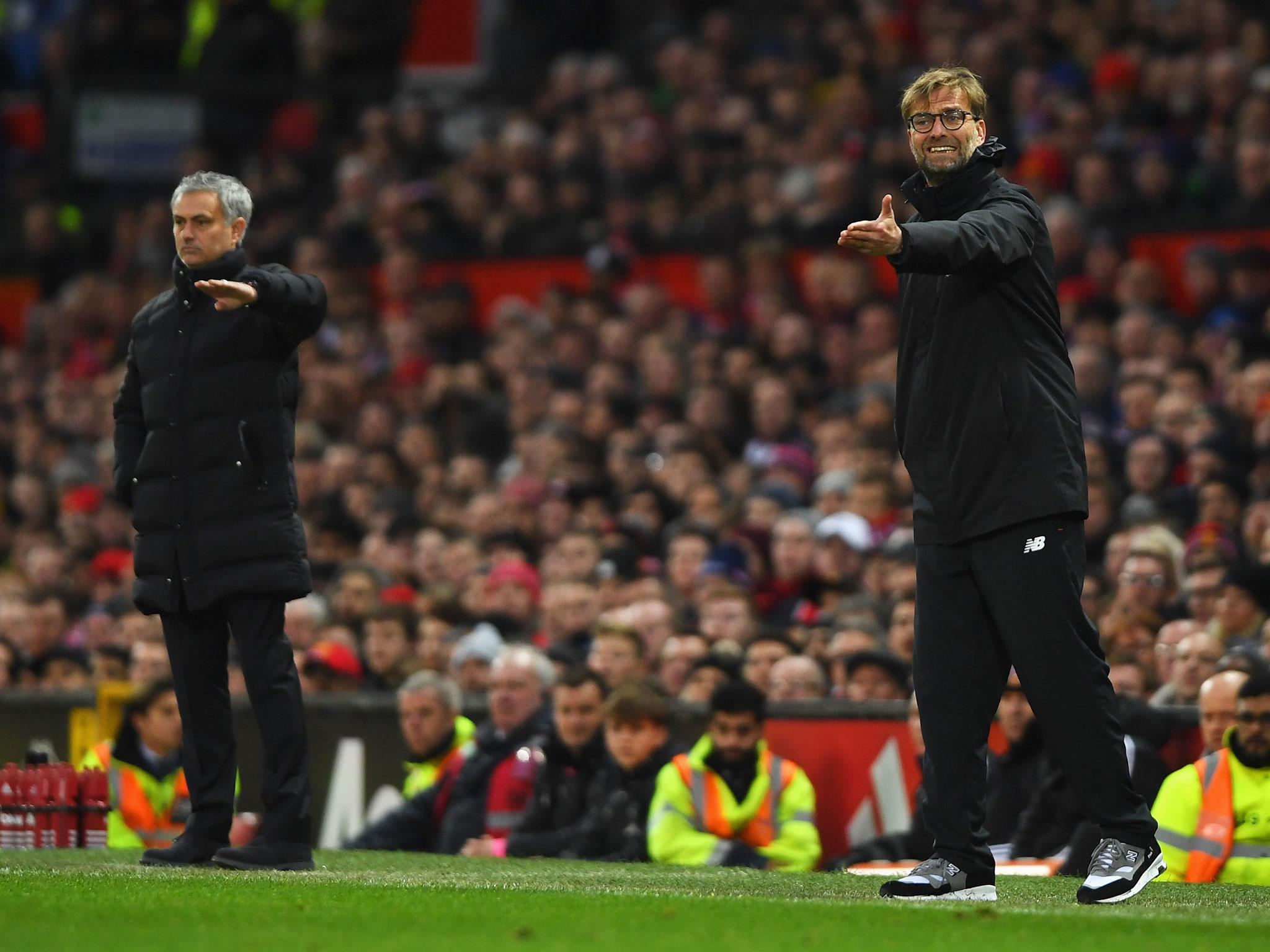 Diplomatic Liverpool manager Jurgen Klopp has defended the right of Manchester United counterpart Jose Mourinho to park the bus against his side and claimed "it's all about winning".
The fixture between English football's two most successful clubs has been billed as Klopp's attacking Liverpool against Mourinho's defensive United side.
Some United fans have been unhappy with Mourinho's more pragmatic approach, particularly in big games against their top six rivals, with envious glances cast at the style of both Liverpool and rivals Manchester City under Pep Guardiola.
United adopted a defensive outlook against Liverpool when the sides met at Anfield earlier in the season, although Klopp was overtly tactful in his response to questions on Mourinho's style of play.
He remains keen for Liverpool – who have scored over 100 goals in all competitions this season – to show their intent in the final third but also to exercise the correct level of caution themselves.
"This Manchester United team has a specific way of playing football. That's all. And if we have to defend there, we have to defend there with all we have," Klopp said.
"And not with gambling and thinking we are flying. Against Manchester United nobody flies.
"I have no problem with defending. I know how the situation is and what people are saying they play a specific kind, we play a specific kind of football and now everyone makes a big thing of it.
"But it's all about winning. There are different ways to win football games but we have another history in the last few years.
"It's not a battle of systems or philosophies, just two very good football teams who face each other.
"When United will attack I hope all my players are involved in defending. If someone say then that is parking the bus in that moment then we park the bus. I have no problem with that.
"Over 90 minutes of course we want to bring our football on the pitch as well. That's difficult to cope with as well, to deal with. That's' the plan for this game.
"But I don't think there will be a lot of space in a lot of moments. I think it will be a big fight as derbies are in general. Hopefully at the end with a positive result."
Klopp claims United have plenty of attacking threat themselves and has warned his players against the hubris of trying to out-football Mourinho's side.
"There are reasons why they have more points than us," Klopp added.
"It's not that we don't to show good we are, we want a result. That's the only reason why we go there.
"We have to do our really good things and our important tools use them constantly. That's how it is. We have to play football against a very strong side.
"They are physically really strong. If they defend deep it will make our life not easy. But I don't' expect to be all the time like this because they don't do it all the time.
"They have their own moments, they play football. It's not one attacking team against one defending team. They have massive quality I know that and respect and that doesn't change our plans."
Klopp has no fresh injury concerns ahead of the match with captain Jordan Henderson and fellow midfielder Gini Wijnaldum both fit.
Henderson had been struggling with a dead leg sustained in the midweek clash at Porto while Wijnaldum has also overcome illness to train normally.
The Liverpool manager acknowledges his side have "quite a job to do" if they want to come away from Old Trafford with the three points.
"I don't think this game needs any extra reasons to be a big game," Klopp explained. "It's the biggest game I can imagine. We are looking forward to it.
"They are difficult as well. We need to be 100 per cent if not even a few more to get something but of course that's the plan. It's a good moment to go there but it's still an unbelievably difficult moment and United has outstanding quality. We all know that.
"They have the home game so now they have their advantage. It's our job to level that. They are a very experienced team, very experienced manager. So quite a job to do."
Join our commenting forum
Join thought-provoking conversations, follow other Independent readers and see their replies