Marcus Rashford fails to find the net but he could be the solution to one of Manchester United's problems
The teenager's Premier League goal drought continues, but he has shown enough promise to retain his place when Zlatan Ibrahimovic returns
Nick Miller
Sunday 19 March 2017 20:20 Comments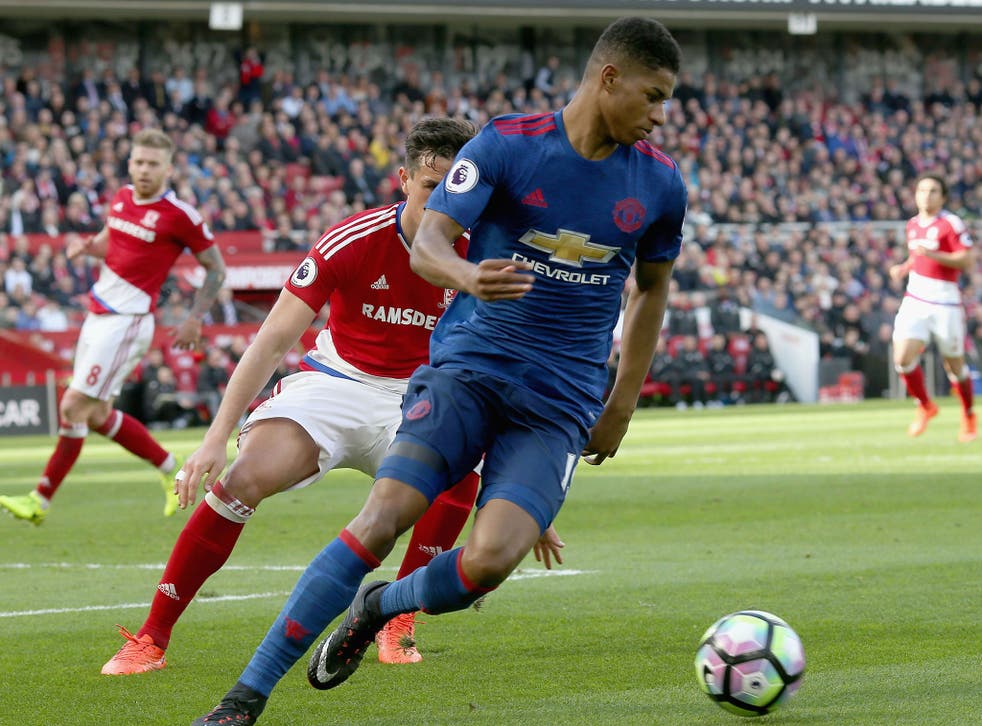 In terms of learning curves, Marcus Rashford's career so far has resembled a young boy being given a racing bike, immediately winning a stage on the Tour de France, and only then someone arrives to attach some stabilisers.
Rashford's astonishing start to life at Manchester United last season was so spectacular that some form of regression this term was inevitable. That regression has taken the form of reduced playing time, Zlatan Ibrahimovic taking the bulk of the goal-scoring duties, and indeed rather less success in front of goal. Rashford hasn't scored a league goal since September, 961 barren minutes, give or take, over 18 appearances, with only three strikes against Championship opposition in the FA Cup to show for his efforts.
This season is probably close to how Rashford would have been treated had his introduction to the Manchester United first team been by design, rather than necessity. Thrown in because Louis van Gaal literally had nobody else last season, his initial form was a glorious, unexpected bonus. He scored goals, he showed an awareness that seemed absurd for someone so young, and reduced seasoned defenders to clueless head-scratchers.
Middlesbrough 1 Manchester United 3 player ratings

Show all 22
Under Jose Mourinho, he has been used more sparingly, perhaps appropriately for a forward who is still only 19, but Ibrahimovic's suspension for the trip to Middlesbrough theoretically represented a chance for him to beef up that goal-scoring record. That, he didn't manage, and indeed he didn't take a couple of extremely presentable chances to do so. Nevertheless, after the match Mourinho volunteered plenty of praise for his young striker.
"Marcus is a completely different player than Zlatan," said Mourinho. "We have to adapt to his qualities. It's really difficult for him to score a goal [at the moment], but his movement is top class, second to no-one. So intelligent, so sharp, the first touch to put the ball in the best position to attack the space. For me, he played phenomenal."
There was a slight hint of how Mourinho reacted to Paul Pogba's bad showing against Chelsea last Monday in this: the ostentatious puffing up of a player who he thought might be about to receive some criticism, heading that off at the pass while also trying to give his player some confidence. In this sort of situation, it doesn't really matter if the praise is true or not: if there's a chance that the player will either believe or be encouraged by those words, it's worth saying them.

On this occasion though, it was a little easier to take what Mourinho said at face value. Rashford's pace and dynamism sliced holes in the Middlesbrough defence at will, centre-back Bernardo in particular given an afternoon he might want to forget, but will probably remember in nightmarish flashes for years to come.
In the first-half particularly, Rashford looked like United's most dangerous threat, his movement not only creating chances for himself, but space for others. For a United team not overloaded with pace, Rashford gives the whole team more options, and makes it more varied and unpredictable. "I always play well with Marcus," said goalscorer Jesse Lingard after the game. "He's put in a shift for the team today and made a nuisance of himself; again he has proved that he is a good player."
That Rashford sometimes didn't make the most of the situations he created should not be a surprise. He only turned 19 in October, an age at which only the tiniest fraction of players have ever been a polished player: we have to remember that we are watching a kid learning on the job, rather than a fully formed adult putting years of study into practice. Even the chances he "missed" against Middlesbrough were down to excellent saves by Victor Valdes.
Ibrahimovic has one more game of his three-match suspension to serve, but after that Mourinho must figure out the best way to get both he and Rashford in the same team, for the different threats each provide. Previously this has involved the younger man playing on the wing, but might a strike duo be an option? It could also be a solution to another problem: a 3-5-2 system, with Rashford and Ibrahimovic up front and Paul Pogba part of a three-man central midfield, the set-up in which he often excelled with Juventus, might work very nicely.
That's just one option, and Rashford might not need formational tinkering to thrive. "Goals will arrive, no problem at all," said Mourinho. He may well be right.
Register for free to continue reading
Registration is a free and easy way to support our truly independent journalism
By registering, you will also enjoy limited access to Premium articles, exclusive newsletters, commenting, and virtual events with our leading journalists
Already have an account? sign in
Join our new commenting forum
Join thought-provoking conversations, follow other Independent readers and see their replies