Manchester United's journey from Munich to Wembley might well be one of sport's greatest ever stories
What Matt Busby, Bobby Charlton et al achieved remains one of the most incredible tales in sporting history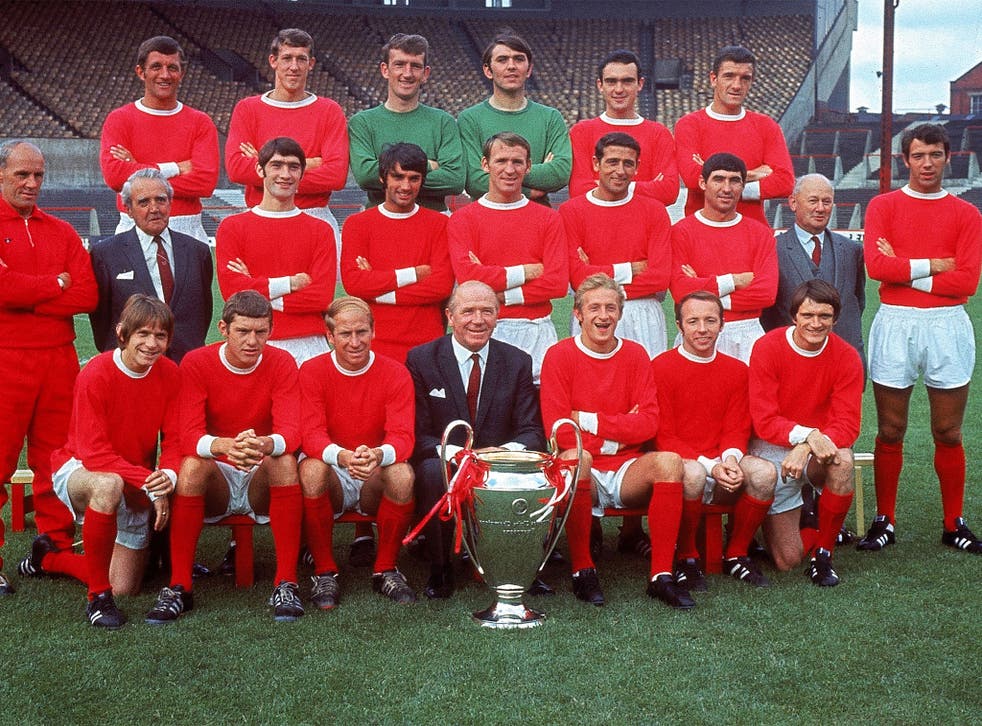 It was a moment that was so pointed, but also poignant.
A few months before the 1968 European Cup final at Wembley, the great trophy was already in London, where holders Celtic were to be recognised as team of the year at the BBC Sports Personality of the Year ceremony. Matt Busby was presenting the award to Jock Stein. Once the statuettes were handed over, the Celtic manager made a gesture towards his compatriot and friend, no doubt as conscious of what Busby was thinking as everyone else watching.
"We hope that the next hands the European Cup are in are yours," Stein said. His Celtic side had already been eliminated that season by Dynamo Kyiv, but he wasn't just saying it because of that, especially since Busby actually couldn't resist gently touching the European Cup itself as it sat tantalisingly beside him. It was the object - and, really, obsession - that had come to define his life, all the more so because of its continued absence from it. The trophy also represented so much more for Busby than mere victory or the crowning of the crowning of the continent's finest team, as was the case for Bobby Charlton, Bill Foulkes and Manchester United assistant Jimmy Murphy.
Munich air disaster: The Busby Babes play Burnley in 1957
What was deliberately left unsaid in all of this was what happened a decade before. Then again, as so many who joined United in the painful period straight after 6 February 1958 admitted, the events of that day were never really spoken of at all.
That will not be the case on Tuesday, the 60th anniversary of the Munich air disaster, the tragedy where 23 people died and a brilliant young team was extinguished just when they seemed on the brink of conquering Europe.
It will naturally be added to all the commemorations that Busby rebuilt the club to finally do what was hoped for the Busby Babes and that Stein and everyone else hoped for the manager himself: to win the European Cup. He did so with his team beating Benfica 4-1, Foulkes in the defence, Murphy beside him on the sideline, and Charlton leading the way in so many ways by scoring two goals and lifting the trophy as captain.
Those are the basic facts of the night at Wembley, brought up in that heroic language naturally used for such highlights, but they are are so much deeper than details. Really, they are the essence of both the Busby Babes and United as a whole, and an aspect of the story possibly even under-played. It is why the words that were sung at Old Trafford on Saturday - "we'll never die, we'll never die" - carry such weight.
It is also one of the curious but natural developments when such time passes after a tragic event like that. They naturally become part of the mythology that imbues a club with their history, but that can make it easier to forget that this was a trauma that can take over and haunt your life.
As such, there probably isn't a story in sport to compare to the journey made by Busby, Charlton and Foulkes from that frozen airfield in Munich to the glowing floodlights of Wembley 10 years later. Very few other careers involve such extreme loss in pursuit of a dream, to eventually be realised by the survivors in such a fitting a manner.
Driving it all was Murphy, who defied his own deep devastation to ensure the club persevered, and also preserved its spirit and ideals: faith, an absence of fear, bravery, ambition, adventure.
On the pitch, George Best was the player who most displayed and continued the joyful freedom of the Babes, while finally offering the special spark that fired United back to those levels. He once spoke about his awe at what the survivors were willing to put themselves through.
"In 1967-68 it was certainly never mentioned," Best said, "but we all knew what a terrible experience people like Matt, Bobby and Bill had been through, and we all marvelled at the guts it must have taken... I used to think about it whenever we got on a plane."
It was quite a thought. It was also something worth bearing in mind when considering a football figure as famous as Charlton. On just hearing his name, the thoughts inspired are naturally 1966 and him just being a United legend in every sense, with Munich something he overcame to achieve all of this. For the man himself, Munich may well be the thing he thinks about most.
Charlton once went solemnly pensive when asked about the Babes by Hugh McIllvanney for the brilliant 1997 Arena documentary series on Busby, Stein and Bill Shankly, 'The Football Men'.
"It was paradise," he said, after a moment's silence. That team certainly represented a type football utopia, a faith in youth and adventure that brought victory.
It was the loss of that ideal that only deepened the more painful loss of so much young life. Everywhere the survivors looked, there was someone so dear missing, as well as something else missing.
It's impossible not to sense survivor's guilt on reading Charlton's autobiography now.
"How the hell is it possible to come through all that with just a bang on the head and a small cut?"
That was just one other mental weight making the basic grieving worse. Charlton's head injury knocked him unconscious, meaning he couldn't properly register what happened, but Foulkes saw it all. That trauma brought other issues.
In the book 'A Strange Kind of Glory', former Old Trafford youth player Eamon Dunphy - who joined the club in 1960, and then produced as a good an account of Busby's time at United ever written - reveals that Foulkes fell out with another hero of Munich, Harry Gregg. It is attributed to the effects of that day.
Murphy didn't travel with the squad for that fateful European Cup match away to Red Star Belgrade due to his management of the Welsh national team, but arguably felt it all more acutely than anybody.
Due to his work with the United youth teams, he certainly knew the players better than anybody, and bore the weight of it all more than anybody. Murphy had to contact the families, and go about the near impossible job of replacing the team and just keeping the club alive, let alone rebuild it.
That involved putting on the bravest front, but Charlton spoke of how Murphy was once "discovered in a back corridor of the hospital, sobbing his hear out in pain at the loss of so many young players he had adored".
Then there was Busby himself, who was so severely injured he had the last rites read to him twice, and spent nine weeks in hospital. It wasn't until the third week that doctors even felt he should be told the actual dreadful news of what had happened, because he wasn't strong enough. Once he eventually recovered, he "felt guilt that it was on the business of his great football dream that his boys had died".
Charlton and others admitted doubting whether Busby would be capable of the same conviction, the same decisiveness, and whether he was even the same man let alone the same manager.
Busby had felt like leaving it all behind, but was persuaded against it by his wife Jean. He gradually felt a responsibility to the boys that died, and eventually more than a duty. He was not the only.
"I was obsessed with the idea that this football club would indeed get back on the road to progress," Charlton said. "It would grow strong again."
How Real Madrid helped to rebuild Manchester United after Munich air disaster

Show all 2
It would do so by fittingly following much of what had gone before. Money quickened the process through signings such as Denis Law - who Busby had given an international debut to as temporary Scotland manager - but youth graduates like Nobby Stiles were introduced, in a team that still flowed with the same adventure.
Even some of the eventual rise echoed the period of the Babes. Real Madrid had represented the level Busby wanted to reach and were the first team to eliminate Manchester United, in the 1956-57 semi-finals, en route to winning five successive European Cups and setting the standard for everyone. The Spanish champions were finally defeated at the same last-four stage 11 years later in a classically epic United comeback, culminating in Foulkes scoring an extremely rare goal - just one of nine in 688 games - to seal United's first ever final. Eventually, of course, they would help United rebuild.
There, Charlton scored twice to also become the first Old Trafford captain to raise the European Cup. By that point, Busby had been on the pitch, everyone rushing towards him. Munich was still not mentioned in his presence. It didn't need to be. It had been talked about enough in the build-up by everyone else and, just once, by the squad.
"The night before the final we had a meeting and agreed we had to win it for them," Foulkes said.
"When we won, I felt sadness. My thoughts were with the boys who died at Munich."
"No club and team ever had greater motivation," Charlton said. "It was a beautiful feeling. It was triumph and deliverance all wrapped up into one, but the deepest emotion would take a little time to well up."
Centre-half David Sadler noticed something in Charlton, too. "I remember looking at Bobby and the boss," he said at one point. "They both looked drained. The boss looked very old, which he had never seemed. There was a sense that this was the end of something momentous and it was almost immediate."
It had been the end of maybe football's longest journey, and the most emotional.
Join our new commenting forum
Join thought-provoking conversations, follow other Independent readers and see their replies