Jose Mourinho's senseless public destruction of Luke Shaw serves no one but himself at Manchester United
The United boss seemed to claim Shaw's cameo came without a single thought of his own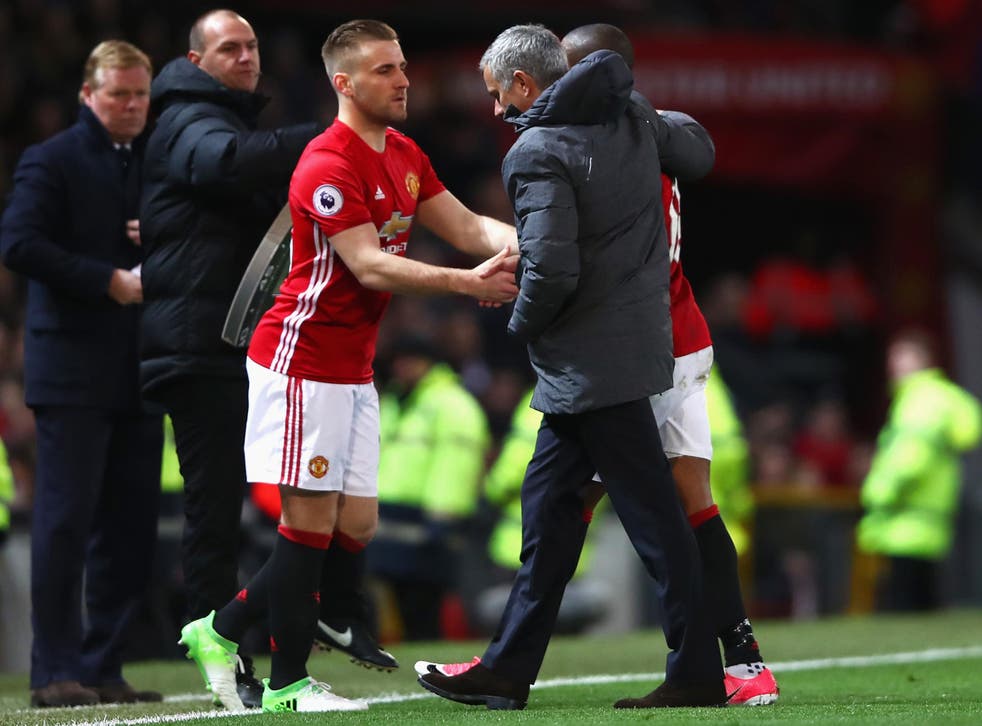 There was a prefatory compliment from Jose Mourinho when he began to discuss Luke Shaw in Old Trafford's tight press conference room late on Tuesday night and that is why the calmly articulated evisceration that was to follow caught you momentarily off guard and, even by this manager's standards, was stunning.
"He had a good performance," Mourinho said of Shaw before the cold assassination in which the Manchester United manager told us that the substitute, who had been given 25 minutes to prove himself, had not seemed to have an original thought in his head.
"He was in front of me and I was making every decision for him," Mourinho said. "The communication was possible because we were very close. We need at this level the fantastic body he has to play football, the fantastic physical qualities and technical but he cannot play with my brain…" This critique was so pre-calculated that it came with one of those sound bites that Mourinho is always able to reach for. "It was his body with my brain," he said.
Manchester United 1 Everton 1 player ratings

Show all 22
The whole business was over in a minute or so – 150 words at most – and at the end you reflected on all the words the manager has expended on the subject of Shaw this week and wondered if any young player has ever been subject to quite such vilification by one manager in the public arena. Well, Roberto Mancini could dig individuals out at times but nothing like this. It is a humiliation quite apart and any pretence that it is a way of toughening up a 21-year-old vanished weeks ago.
As of Tuesday, Shaw knows that he has to play while listening for instructions from his manager - but not listening too much. There is no disrespect in saying that a "fantastic body" is not the description most observers would have for Shaw's physique and you have to suspect Mourinho, who used the adjective twice, was employing disguised irony about the full-back's metabolism. As if the youngster's mind was not scrambled enough.
Jose Mourinho: I was making every decision for Luke Shaw
There is always a motive with Mourinho. Every utterance in his press conference arena has a purpose and what seems to lie behind the choreography is this manager's desire to be characterised and seen as the arch manipulator and motivator, deftly using the public arena to pull the strings. There seems to be more of this discourse from him than ever. Jesse Lingard, Chris Smalling, Henrikh Mkhitaryan and Paul Pogba are just a few on the receiving end. Even before Tuesday's game, Mkhitaryan and Pogba were slated: dropped from the starting XI because of previous inadequacies.
Oddly, Mourinho went the other way with Bastian Schweinsteiger, issuing a mea culpa to say that in retrospect he could have used him more. Possible motive? Mourinho would not have wanted an individual of the German's standing in football to be an implacable enemy.
This string-pulling is fine if the going is good but United's is not. Their famous '20-game unbeaten run' is a smoke screen, since 10 of those 20 games were draws. United may ultimately drop more points at Old Trafford than in any Premier League season: 21 already, six short of the 27 in the David Moyes season, with Chelsea still to visit in an extremely challenging run-in.
Last Saturday's attack on Shaw by Mourinho actually obscured the most shocking part of his discussion after the goalless draw with West Brom: the Portuguese's admission that he would know by the end of this weekend whether he must prioritise the Europa League over the Premier League. Had Moyes discussed tossing off the league campaign with eight games to play, he would have been lynched.
Mourinho is too bound up with himself to locate in the history books how the managerial greats like Sir Alex Ferguson and Bob Paisley dealt with players they considered to be failing for them. Unflinching brutality could be part of it. Both would cast a player off at a stroke. But it was club business. The outside world never knew.
"After a game I would always try to avoid criticising the players," Ferguson said after he had retired. "They had enough pressure, without me piling it on in public. I save my criticism for the private sessions away from prying eyes. I tried to employ heat shields to deflect criticism from a player who had misplaced a pass that gave away a goal, or another who had missed a sitter that could have won us a game."
Register for free to continue reading
Registration is a free and easy way to support our truly independent journalism
By registering, you will also enjoy limited access to Premium articles, exclusive newsletters, commenting, and virtual events with our leading journalists
Already have an account? sign in
Register for free to continue reading
Registration is a free and easy way to support our truly independent journalism
By registering, you will also enjoy limited access to Premium articles, exclusive newsletters, commenting, and virtual events with our leading journalists
Already have an account? sign in
Join our new commenting forum
Join thought-provoking conversations, follow other Independent readers and see their replies