Manchester United are not getting the best out of Alexis Sanchez, admits manager Jose Mourinho
Sanchez has not hit top form since arriving at Old Trafford from Arsenal in January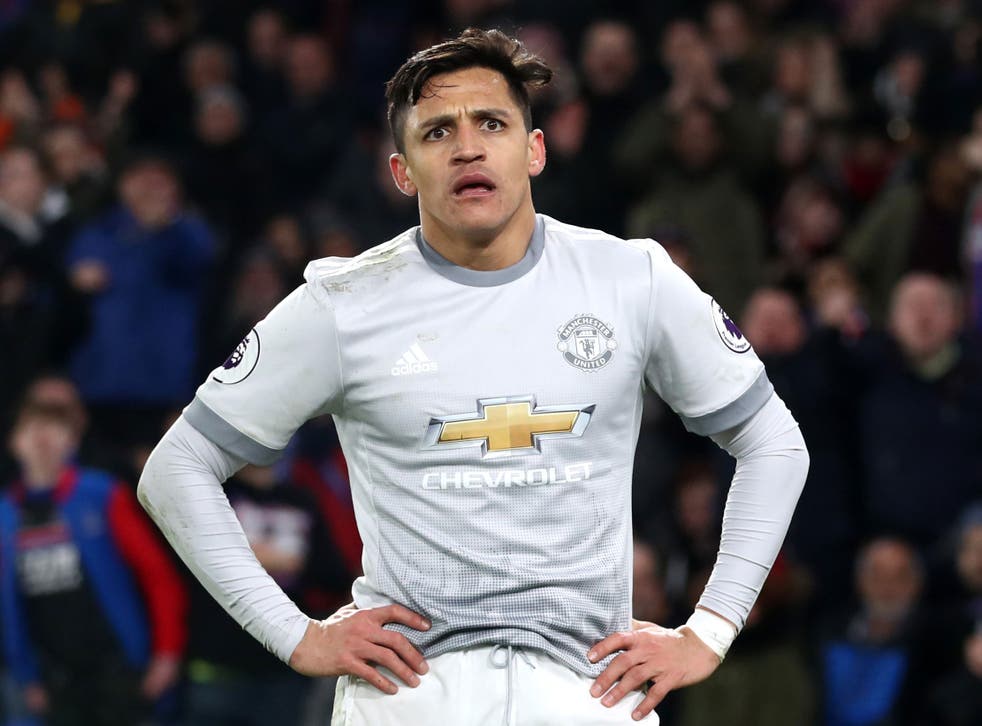 Jose Mourinho admitted on Friday that Manchester United are still yet to get the best out of Alexis Sanchez following his high-profile move from Arsenal.
Sanchez arrived at Old Trafford in January as part of a swap deal which saw Henrikh Mkhitaryan move in the opposite direction.
The Chilean, understood to be earning around £300,000-a-week at his new club, has made eight appearances since but only has one goal to his name - scoring on the rebound after seeing a penalty saved against Huddersfield Town in February.
Manchester United vs Liverpool combined XI

Show all 11
Recent criticism of Sanchez's displays intensified on Monday night following United's 3-2 comeback win over Crystal Palace, with the 29-year-old criticised in some quarters for an erratic and individualistic display.
Sanchez lost possession on 34 separate occasions at Selhurst Park - more times than any of his team-mates - which led Sky Sports pundit and former United full back Gary Neville to claim the new signing's role in Mourinho's side was "not quite working".
Ahead of Liverpool's visit to Old Trafford this weekend, the United manager himself conceded that he was yet to extract the best out of a player who ended last season as the Premier League's third-highest scorer.
Mourinho is confident, however, that Sanchez's struggles can be attributed to the timing of his transfer from Arsenal and believes that his new signing will grow into life at Old Trafford.

"What is wrong is that he came at the worst moment of the season, in the winter market," he said. "That's why I don't like the winter market very much. I think this was a chance that we didn't want to lose and we made, but we don't believe a lot in the winter market.
"For sure next season will be better for him. But of course he is learning how to play with us and we are learning how to get the best out of him."
Mourinho added: "That's something that we can develop and we're going to develop with time, with experience and living these experiences together. I don't consider that a weakness, I consider that a huge potential to be developed."
The United manager also refuted suggestions that the ever-industrious Sanchez was trying too hard to impress.
Even when regularly losing possession, as at Selhurst Park, the Chilean has not shied away from receiving the ball and often drops into deeper positions in order to receive it. Mourinho believes this can only be seen as a positive.
"That's great," he said, when asked whether Sanchez was trying to force the issue. "Not afraid to take responsibilities, not afraid to try things to happen. "When he feels that he's not as dangerous as he likes to be, he drops back, he tries things, tries to come to building up areas.
"When he makes mistakes he tries to compensate immediately the mistakes with fantastic spirit, with a great transition to try and win back the ball. We are very happy."
Register for free to continue reading
Registration is a free and easy way to support our truly independent journalism
By registering, you will also enjoy limited access to Premium articles, exclusive newsletters, commenting, and virtual events with our leading journalists
Already have an account? sign in
Register for free to continue reading
Registration is a free and easy way to support our truly independent journalism
By registering, you will also enjoy limited access to Premium articles, exclusive newsletters, commenting, and virtual events with our leading journalists
Already have an account? sign in
Join our new commenting forum
Join thought-provoking conversations, follow other Independent readers and see their replies