Manchester United news: Zlatan Ibrahimovic proves the team player as sons inspire him to help teammates
The striker's two children have helped him to take on more responsibility and take a leading role in United's dressing room, much to everyone's surprise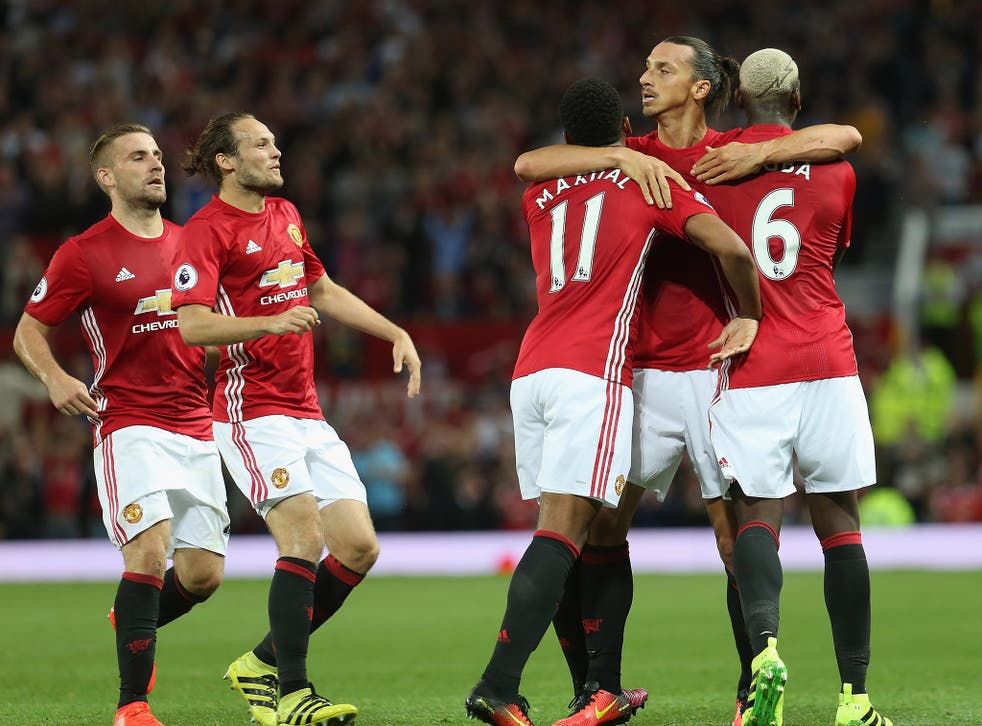 Zlatan Ibrahimovic has ability and talent to burn. Ever since he burst on to the stage at Malmo, everybody knew that.
What has surprised a lot of people at Manchester United has been how willing a man who glories in his arrogance and individuality has been to hand out help and advice. To be part of a team.
The United manager, Jose Mourinho, remarked that in the canteen at the Carrington training complex, his players would often crowd around Ibrahimovic asking him about aspects of the game. The player was always happy to talk.
Jack Pitt-Brooke: Good start for Mourinho and United
The reason, Ibrahimovic said, after scoring both goals in Manchester United's 2-0 win over Southampton, lies in his children – Max who is nine and eight-year-old Vincent.
"The more mature you become – and I have two kids now – you take on a lot more responsibility," he said. "I have my responsibility now. The coach gives me a lot of responsibility and I take it.
"I am just myself and I am trying to help all the other ones. Outside the pitch and in the media, people judge me before they know me. What they write doesn't bother me because it goes in one ear and out the other.
Manchester United's best XI with Paul Pogba

Show all 11
"What is important is what the guys in the team think about me. That is the most important thing. If I can help them, then I will and I think I can help them even more.
"The team has done well and I think we can do much more but this was just our second game in the Premier League and a lot of things are new. We have a new coach, new staff, some new players. It is a puzzle and we need to put that puzzle together and make it work. We have played two games and got six points and I think the outcome will be good."
He remarked that he knew what it was to be a young player at a vast club. He was 23 when he made his move from Ajax to Juventus.
"I was a young guy," he said. "In the dressing room was Vieira, Cannavaro, Thuram, Buffon, Del Piero, Trezeguet, Nedved, Camoranesi. Emerson. It was a monster team with so many great players. My mentality came from that."
One of the surprises of the Friday night win was that Ibrahimovic has now replaced Wayne Rooney as Manchester United's penalty-taker. It was he, not the England captain, who stepped up to seal United's victory from the penalty spot.
One of the reasons why Alan Shearer's proposed transfer to Old Trafford from Blackburn broke down 20 years ago was that Sir Alex Ferguson turned down his request to replace Eric Cantona as United's penalty-taker. Mourinho put no such restriction on Ibrahimovic, although the hand-over appears to have been amicable.
"I spoke to Wayne two weeks ago so there was no confusion," said Ibrahimovic. "That was decided long before. It was not decided out there on the pitch."
It is no surprise that Ibrahimovic, at 34 and in the twilight of an extraordinary career, should have responded so quickly to Mourinho.
At Inter Milan, Ibrahimovic was impressed by the aura Mourinho carried around him, his tactical knowledge and the way he would rip into his players regardless of their reputation.
Mourinho, said Ibrahimovic, was also very good off the pitch. He was with Sweden at Euro 2008 when Mourinho replaced Roberto Mancini at San Siro.
If Ibrahimovic had thought about leaving, Mourinho allayed his fears with a phone call and a series of text messages to him at the Swedish training camp in Switzerland.
Mourinho said he had done the same this summer with Marouane Fellaini, who to many at Old Trafford remains the symbol of the failed experiment with David Moyes. The Belgian midfielder had not expected to survive the summer.
"A simple phone call can make the difference," said Mourinho. "Here was a player who was not feeling loved. When the market opened everyone said he was leaving and he was not the player for me.
"Maybe a simple phone call the day after my presentation as Manchester United manager changed a lot. I told him: 'Forget about everything you have read. You don't leave here for sure.'
"He is playing well with Michael Carrick, with Ander Herrera and Paul Pogba and he is full of confidence but then I have so many good players.
"I was sad for the players I did not select watching the game in their nice Paul Smith suits."
Register for free to continue reading
Registration is a free and easy way to support our truly independent journalism
By registering, you will also enjoy limited access to Premium articles, exclusive newsletters, commenting, and virtual events with our leading journalists
Already have an account? sign in
Register for free to continue reading
Registration is a free and easy way to support our truly independent journalism
By registering, you will also enjoy limited access to Premium articles, exclusive newsletters, commenting, and virtual events with our leading journalists
Already have an account? sign in
Join our new commenting forum
Join thought-provoking conversations, follow other Independent readers and see their replies