Manchester United: Paul Scholes slams Louis van Gaal's tactics as reason for Wayne Rooney's woes
Former Old Trafford midfielder says he 'would not have enjoyed playing in this over-coached United team'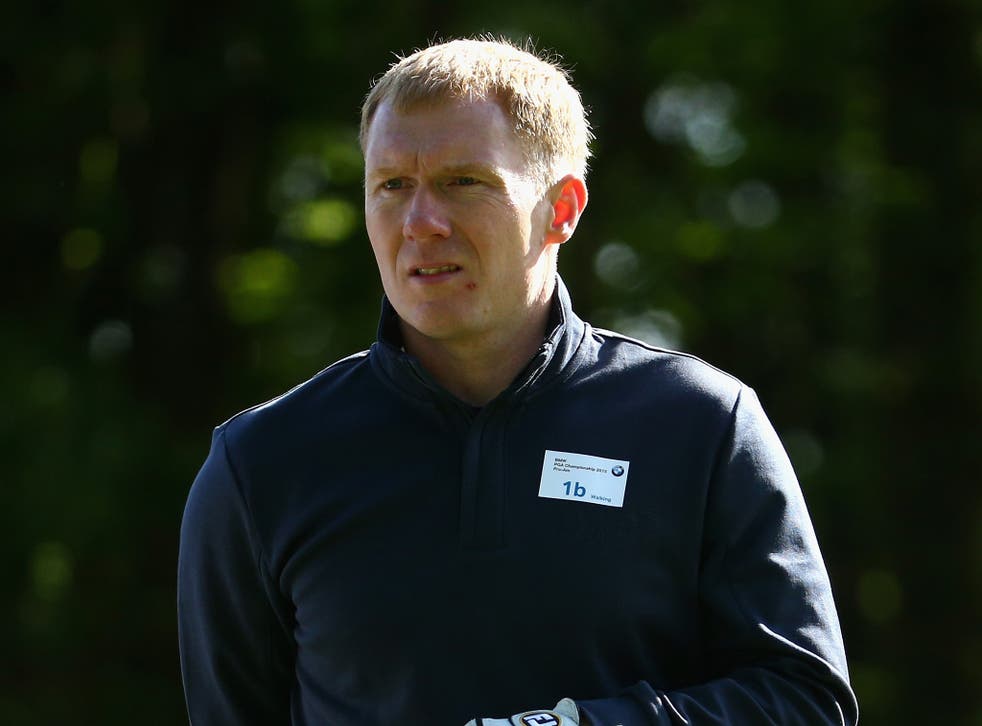 Paul Scholes has laid the blame for Wayne Rooney's poor season squarely at the door of the Manchester United manager, Louis van Gaal, saying that the Dutchman's football philosophy would leave any centre-forward "tearing his hair out".
Scholes said that some of Sir Alex Ferguson's greatest centre-forwards – Ruud van Nistelrooy, Andy Cole, Teddy Sheringham and Dwight Yorke – would be unable to operate within the strictures imposed upon them by Van Gaal, and argued that no midfielder was being encouraged to seek out Rooney with penetrative passes.
Reacting to the Spanish midfielder Xavi's suggestions that Rooney should be playing in midfield, the former United player said: "I was at the Manchester derby and I watched him [Rooney] for the first 20 minutes. His movement was brilliant. He was coming, he was spinning.
"But when he's playing in that team there's no one prepared to pass to him and I think after 20 minutes you'd be tearing your hair out as a centre-forward.
"I played with some brilliant centre-forwards and I don't think they could play in this team. It's very difficult being a centre-forward in this team. You don't get crosses into the box. You don't get midfielders looking for you, looking for runs.
"He has had a lot of criticism and we know he can do better. Wayne will know himself when he's on the ball he should be doing better. I think it's a very difficult team to be a centre-forward in."
Van Gaal admitted two months ago that Rooney and United's vice-captain, Michael Carrick, had approached him privately to tell him the dressing room was "flat". He would not disclose whether the Dutchman discouraging intuitive play was a part of their complaint.
Scholes told BBC Manchester: "I actually think the team is brilliantly coached to defend and not to give goals away, not to give the ball away. I'm not saying it as a coach but I think the hardest thing to do is to coach scoring goals, creativity and to have players who are off the cuff and can be creative.
"United are coached brilliantly, probably a bit too well, where they don't look like conceding goals. I would almost say now it's a team you wouldn't want to play against because they are tight and organised and difficult to score goals against.
"And it's probably a team you wouldn't want to play in either. There's a lack of creativity and risk in playing. It seems he [Van Gaal] doesn't want players to beat men and score goals – it's probably not a team I would have enjoyed playing in."
Van Gaal will be asked to address Scholes' concerns at a press conference to discuss Saturday's match at Crystal Palace but is likely to give them short shrift.
When Scholes warned in The Independent last December that Manchester City were developing a superior academy to United's, Van Gaal replied: " I think he has to pay attention to his words."
Register for free to continue reading
Registration is a free and easy way to support our truly independent journalism
By registering, you will also enjoy limited access to Premium articles, exclusive newsletters, commenting, and virtual events with our leading journalists
Already have an account? sign in
Register for free to continue reading
Registration is a free and easy way to support our truly independent journalism
By registering, you will also enjoy limited access to Premium articles, exclusive newsletters, commenting, and virtual events with our leading journalists
Already have an account? sign in
Join our new commenting forum
Join thought-provoking conversations, follow other Independent readers and see their replies