Manchester United record signing Angel Di Maria makes extraordinary claim that Real Madrid urged him to miss World Cup final
Di Maria left the Spanish club after a breakdown in their relationship, joining Manchester United for a British record £59.7m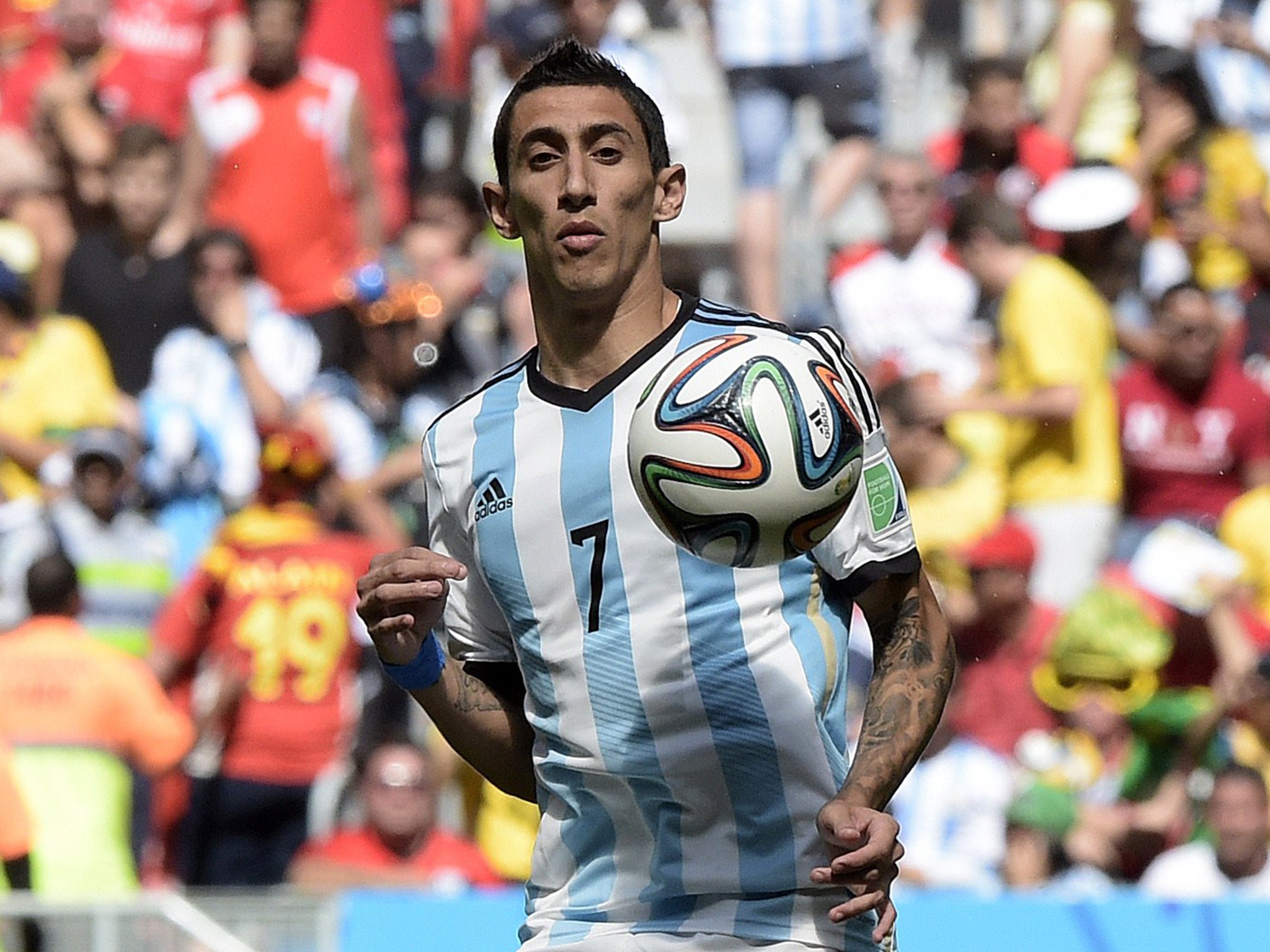 Angel Di Maria has made the astonishing claim that his former club Real Madrid sent him a letter urging him not to play in the World Cup final.
Di Maria was struggling with a thigh injury at the tie after limping out of Argentina's quarter-final victory over Belgium, and he subsequently started the final defeat to Germany on the bench.
However, the British record signing admitted that he ignored Real's request to miss the showcase match, and has also confirmed that a lack of relationship with the club's president Florentino Perez was one reason why he sought the £59.7m move to Manchester United in the summer.
Speaking to Argentinian radio program America & Closs, Di Maria said: "I got a letter from Madrid that arrived at 11am on the day of the (World Cup final) asking me not to play.
"We were playing at 4pm and I was preparing myself to be in the best condition, knowing that I could have got injured. I was thinking about playing in the final, although I knew that if I did there was a 90 per cent chance I'd re-injure myself.
The best deals of the summer...
Show all 15
"As soon as I got that letter, I ripped it up. I did not care, no matter what.
"I suffered a lot that morning. That was the worst thing to ever happen in my life. I didn't speak to anyone at the club about this. It doesn't matter.
"In the end, it was (Argentina manager Alejandro) Sabella who made the decision and it was for the best."
Di Maria released an open letter to Real fans stressing that it was not his decision to leave the European champions, but rather the addition of Toni Kroos and James Rodriguez combined with the absence of Perez at his contract signing that suggested his time was up at the Santiago Bernabeu.
"I never said I wanted to leave Madrid. The club decided to buy other players. I always had a great relationship with my team-mates," Di Maria added.
"I have no relationship with Florentino Perez. When I signed my contract, he was not present."
The winger's exit has sparked a number of stories about the departure, including the claim from Paris Saint-Germain that he wanted to join the French champions as a preference rather than move to the Premier League.
It's also produced a reaction from the club's talisman Cristiano Ronaldo, who has expressed his unhappiness with the departures of both Di Maria and experienced midfielder Xabi Alonso.
Di Maria went on to not only admit that Ronaldo had tried to persuade him to stay at the club, but question how long the Portuguese superstar will remain at the club.
"Cristiano was always on my side," he said. "He fought for me to stay. I don't know how long he will stay at Madrid.
"I was having a good time in Spain, so the change will have its toll. I have to adapt to my new team-mates, but I hope it will be as quick as possible.
"I want to score goals and get United back to where they should be. I'm very happy to be in Manchester."
The revelations from Di Maria come after Perez himself spoke out to defend the club's transfer policy. Fans were angered by the sales of Di Maria and Alonso, but Perez claimed that the Real faithful always appeared to form the strongest bonds with those players who were leaving the club rather than the ones that stayed.
He also claimed that Di Maria's wage demands were simply too much for the club to shell out, despite Real announcing record profits for the tenth straight year yesterday.
"I've been here since 2000," Perez said. "Since then a lot of players have come and gone and my experience tells me that the ones that leave are always the best and those that arrive are always questioned.
"My first (signing) was (Zinedine) Zidane and the last (before this summer's transfer window) was (Gareth) Bale. We made the best offer that we could to Di Maria and he didn't accept it.
"Hence, we brought in James (Rodriguez), one of the best players at the World Cup and the Golden Boot award winner. Di Maria and all of those that have left have our gratitude and respect.
"A player that is under contract and leaves is because he wants to. Real has always respected contracts. Di Maria had financial requests that I considered legitimate but we couldn't satisfy them. I reiterate that we made him the best possible offer.
"With the exception of Cristiano, Di Maria would have been the highest paid at Real Madrid. Had we accepted his financial demands it would have created an unbalanced treatment that would have put the club's stability in danger.
"Di Maria left to Manchester for a fee that we considered fair and that is why the transfer was completed. We wish Di Maria the best professionally and personally."
Join our commenting forum
Join thought-provoking conversations, follow other Independent readers and see their replies