The Independent's journalism is supported by our readers. When you purchase through links on our site, we may earn commission.
Jesse Lingard's journey from Warrington to Wembley by the Manchester United coach who took him there
Lingard made it through the academy despite worries over his physicality and is now expected to represent England in Russia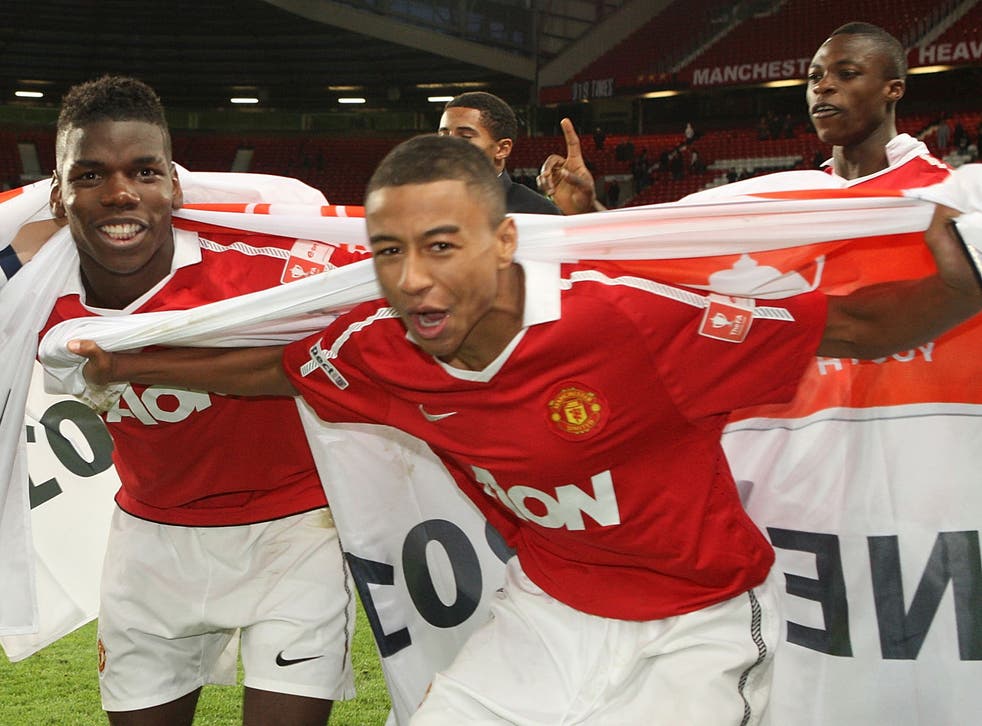 Twelve months ago Jesse Lingard was an outside shot to make Gareth Southgate's 2018 World Cup squad and at the 'now or never' stage at Manchester United. He had an FA Cup winning goal to his name but, at 24 years of age, never fully convinced fans or coaches that he was a permanent fixture in the first team.
It seems odd to have a 'coming of age' season at 25, but that is what Lingard has had. His energy and workload tick all the boxes of a Jose Mourinho forward player but it is his end product which has shown that there is a future for him at Old Trafford and, with 14 goals and four assists in all competitions, he looks set be in the No 10 spot in Russia.
It is fitting that Lingard be allowed to reach his potential at Old Trafford given it is where he began his foray into football in 2000, working through all the age groups and earning a scholarship, but there was still plenty of debate whether he would make it or not.
Who could leave Manchester United this summer?

Show all 9
"When we started the full-time scholarship programme, we were obviously discussing which players would be selected, because obviously not everybody on our books could make it," Tony Whelan, one of Lingard's first coaches, told ManUtd.com.
"Jesse's name came up all the time and people – not within the football club but in general – were saying that he was so small and delicate, he might not be able to cope with the training and so on and so forth. But Jesse made you want to sign him up. His attitude and his personality made it happen."
Lingard has a small frame even now but it was what held him back as a youngster and delayed his impact on the first team when compared to the likes of Marcus Rashford. Whelan spoke of how he was often left out of games because the physical demands on him were too great.
The 25-year-old is continuing the legacy of United always having an academy graduate in the first team and is also being held up as a beacon for the youngster hoping to one day emulate him – an example of where hard work can get you.
"We would hope that Jesse's example inspires other players in the academy," Whelan added. "We can point to them and say that it wasn't that long since he was sitting where you're sitting, doing the same things you're doing, up to all the same tricks and mischief, making the same mistakes you're making.
"Jesse's success is following in the footsteps of the Busby Babes, the Class of '92, and that line, that legacy, is continuing, and he's one of the gems in it. So is Marcus Rashford, and what really resonated with me was seeing them both play in the Europa League final in Stockholm last May. Two Academy boys helping this club win a European trophy, the one trophy we hadn't won."
Now Lingard's task is to do the same with England this summer, and try and win a trophy that hasn't been won in 52 years. Although it will likely take more than just hard work and an abundance of energy to do that.
Register for free to continue reading
Registration is a free and easy way to support our truly independent journalism
By registering, you will also enjoy limited access to Premium articles, exclusive newsletters, commenting, and virtual events with our leading journalists
Already have an account? sign in
Register for free to continue reading
Registration is a free and easy way to support our truly independent journalism
By registering, you will also enjoy limited access to Premium articles, exclusive newsletters, commenting, and virtual events with our leading journalists
Already have an account? sign in
Join our new commenting forum
Join thought-provoking conversations, follow other Independent readers and see their replies