Manchester United vs Tottenham: It's fine for our fans to boo Marouane Fellaini, says Jose Mourinho
The boos, for a player who incurred ironic cheering here two seasons ago, were described by match commentator Gary Neville as 'poor to see'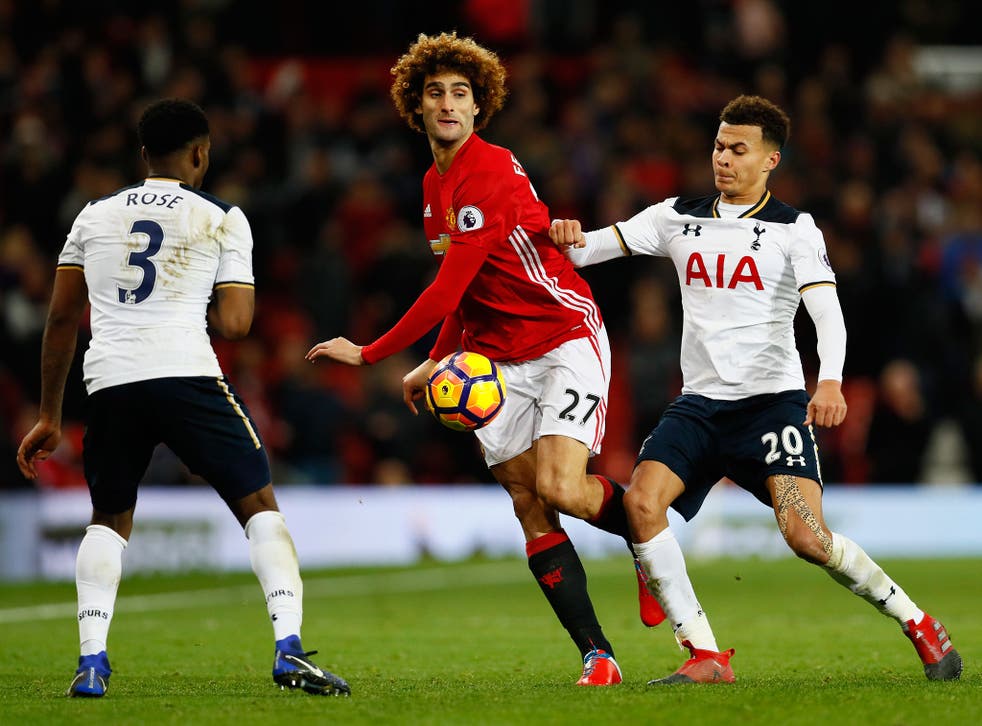 Jose Mourinho declared on Sunday night that he believed his own supporters were entitled to boo Marouane Fellaini after fans reacted angrily to the sight of the Belgian warming up during the second half of Manchester United's Premier League match against Tottenham Hotspur.
The boos, for a player who incurred ironic cheering here two seasons ago, were described by match commentator Gary Neville as "poor to see." They were in part a reaction to the late penalty the midfielder conceded against his old club Everton last week. But Mourinho said that any response the fans gave had to be considered acceptable in his eyes and he refused to say he was unhappy with them.
"I accept it because from the fans you have to accept everything and especially fans that are giving so much without getting so much," he said. "The only things they are getting are honesty, professionalism dedication but not the results they expect. They have in their mind the mistake that Marouane did at Everton and no more than that. He is a player and a person I like and the person is more important. He will always have my protection and my trust."
Mourinho, who said that his man-of-the-match Henrikh Mkhitaryan should miss only two weeks of football after being stretchered off with an ankle injury, said that his side felt that a Premier League title could be theirs one day soon, after victory over Tottenham brought their first consecutive wins in over two months.
Mourinho refused to get into criticism of Tottenham's Danny Rose for the cynical tackle from which Mkhitaryan fel awkwardly, twisting his left ankle. Asked if it was a bad challenge, he said: "I don't know." Asked if the player would miss the next few games – at Crystal Palace on Wednesday and West Bromwich next Saturday - he replied: "I would say [yes]. The injury doesn't look like a big one. It doesn't look like one needing surgery or months of recovery. It depends always on the player – the physiology and the psychology."
The Portuguese had declared in the match programme that he believes Manchester United are in the Premier League top three for performances. After Mkhitaryan's goal secured victory, he added:
"In terms of the evolution of the team … the result is just a plus and if our objective is to improve and improve and improve and arrive one day as soon as possible to the title, the evolution would not suffer with a defeat but we still have our ambitions this season and to win this match puts in a position where we can fill them. We are in touch with fifth, with fourth. We were six points from Tottenham. If we lose, it is nine."
Manchester United vs Tottenham player ratings

Show all 22
Tottenham manager Mauricio Pochettino admitted that the failure to kick on after beating Manchester City in late September, with defeats now to Chelsea and United and a draw against Arsenal, was "disappointing." The side are now ten points off the top.
Pochettino said: "The concern is not too much. The Premier League is tough and Chelsea started very badly and for different circumstances they change the system and look where they are now. There is [not] too much time to recover the gap." Asked if the team had fallen short in big games, he said: "Yes, if you take results without context maybe yes, but with all the context I can explain what happen after that, many little things that happen in the team. Yes, I agree with your comment."
He added that Moussa Dembele had taken a kick to the foot and needed to be assessed but did not say how long he would be out for. "We need to assess him. He has a kick in his foot."
Join our new commenting forum
Join thought-provoking conversations, follow other Independent readers and see their replies