Manchester United v Manchester City: Without kids, City won't win anything claims Gary Neville
Former United captain says Mancini must give his good young players a chance to develop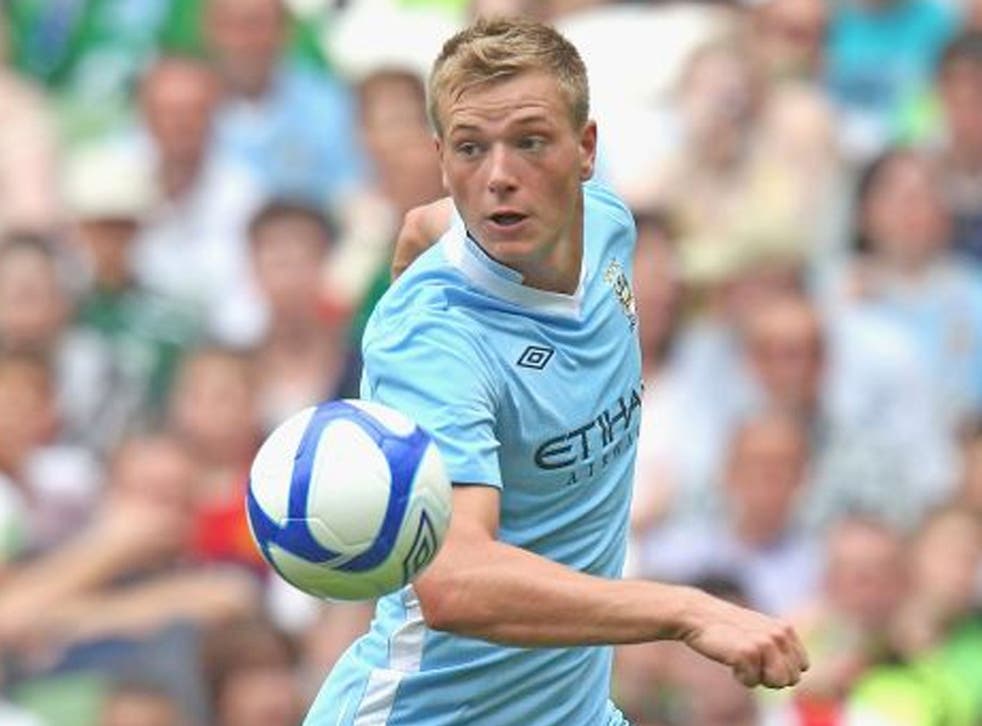 Explanations for the 15-point gap between the two Manchester teams grow more elaborate by the day, with Roberto Mancini even suggesting, as his City side prepare for the Old Trafford match that could all-but confirm their dethroning as champions tonight, that the mediocre teams have simply been too timid against Manchester United, in the last eight months.
The lack of self-scrutiny is remarkable from a manager who seems only to believe that all would be well had his club not failed him in last summer's transfer market. Though reinforcements are needed this summer to deliver the width and counter-attacking pace which has been lacking in City and present in United, Gary Neville wonders why City do not simply look at the faith Sir Alex Ferguson has invested in young players and display the same themselves.
"I don't know why they've not created a player in the last five years when Manchester City have won the [FA] Youth Cup and been in the latter stages of that competition," Neville told The Independent. "I've seen players in their youth team when they've beaten United. You've got to create the pathway and at the moment I don't see that pathway at City, whether the players are good enough or not."
Placing trust in an 18-year-old is easier, of course, when you have the time, space and job security enjoyed by Ferguson. But after a season in which a bedrock of young players – Tom Cleverley, Jonny Evans, Rafael da Silva, Chris Smalling, Phil Jones and Danny Welbeck – have been integral to United's imminent title, we are no closer to knowing how good the leading lights of City's youth might be. Denis Suarez and Abdul Razak, the Spanish and Dutch midfielders have started one League Cup game apiece; Portuguese midfielder Marcus Lopes once appeared as a substitute. Karim Rekik and Jeremy Helan are on loan.
"Unless you play that 17-year-old British kid, the French or African kids that come over at the age of 14 to your academy, in your first team you are never going to find out about them," Neville said. "If you asked me at the age of 17: 'Are you good enough to play for Manchester United?' I wouldn't have had a clue, until I played. And to be fair, Sir Alex Ferguson wouldn't have a clue, either. You might have the ability but until you test your temperament, desire and ability to compete and live at that level, you are never really going to know. Daniel Sturridge was good enough but he left. You can't build a long-term future for a club unless you test these players and build a core."
Mancini's future beyond next month is unclear – Spanish director of football Txiki Begiristain and not the manager has featured mainly in City's discussion of a new contract for Yaya Touré – but the Italian wants to plunge back into the transfer market for Napoli's Edinson Cavani. Yet the 20 goals that City have lacked this season require more than another striker. Neville, tonight's match analyst on Sky's Monday Night Football programme where he has made a strong impact in his first season as a broadcaster, sees the 15-point deficit as about more than the "lazy" notion that Robin van Persie's decision to sign for Ferguson has dictated the course of the title race.
"The difference for me between City and United this year is that City lack pace," he says. "They rely on their passing game – and it's a good one with creative players like David Silva, Samir Nasri, Carlos Tevez coming into those pockets off the front. But everything's got to be perfect for it work and they've got to have space – whereas with United there's a bit more. They've got width and they work the wide areas.
"On those occasions when the passing game isn't quite right, City haven't got the Plan B. Roberto Mancini has tried to go to five at the back but that's very rarely worked. He hasn't got many players in wide areas who can beat men. Silva, Tevez and Nasri all like to play in the field, so if you close that central area off they don't really have anyone to stretch you out wide.
"In football terms, when you haven't got real counter-attacking pace that can become a problem."
Mancini would point to the failure to sign Eden Hazard, who went to Chelsea instead. It is a player in the bracket and mould of Real Madrid's Angel di Maria who could make the difference. "You haven't got anyone at City who runs past the centre-forward that much, only Yaya Touré really," said Neville. "Yes, the problem this season has been scoring as many goals and for me that's because when you watch City you know what's going to happen."
Neville also reflected on the marginal loss of what some in elite sport call "the edge". "A huge weight was lifted off the shoulders of the club last May and I suppose in some ways you could argue it's human nature for some at City just to go: 'Wow. We did it. We got there'." He does not ascribe great significance to Mancini's tendency – observed often this season – to criticise his players publicly, something Ferguson does not generally do. "From my perspective, you would always argue it's a misjudgement because I'm not sure how it's going to get the players on-side. But nobody was complaining about that last season. I think he has a style which [Fabio] Capello had a bit in him: the Italian way – the Latin way – of speaking your mind."
Ferguson certainly had something to say about his own players on the day City clinched the title last May. "I know my young players will learn from this and be lifting titles in years to come," he said, and this registers most with Neville, his former captain. "You just see the development of young players," he added. "Eventually they get it. The penny drops. Something happens. It happened with me. It happened with other young players. Eventually it just comes to you, that: 'Right, I know what to do now, better than I did'."
The Manchester derby is live on Monday Night Football from 7pm on Sky Sports 1HD and 3D
Wasted talent? Young City players left out in the cold
John Guidetti, 20
The Swedish striker has made one appearance – the League Cup defeat by West Bromwich in September 2010. Scored 20 goals in 23 matches on loan at Feyenoord, though injury has curtailed him.
Jeremy Helan, 20
Former France Under-16 midfielder signed from Rennes amid poaching claims, and now on loan at Sheffield Wednesday. Sources suggest that he was never seen at City as a guaranteed first-team star.
Dedryck Boyata, 22
Proof that investment of faith in a young player doesn't always pay. Played only four Premier League games for Mancini after dismissal against Arsenal. Unconvincing on loan at Bolton and now on loan at Twente.
Join our new commenting forum
Join thought-provoking conversations, follow other Independent readers and see their replies