Manchester United vs Arsenal: Another home draw, but Jose Mourinho may have finally stumbled upon some answers
Mourinho continued his unbeaten run over Arsenal but the latest installment of his rivalry with Wenger felt more like a bitter defeat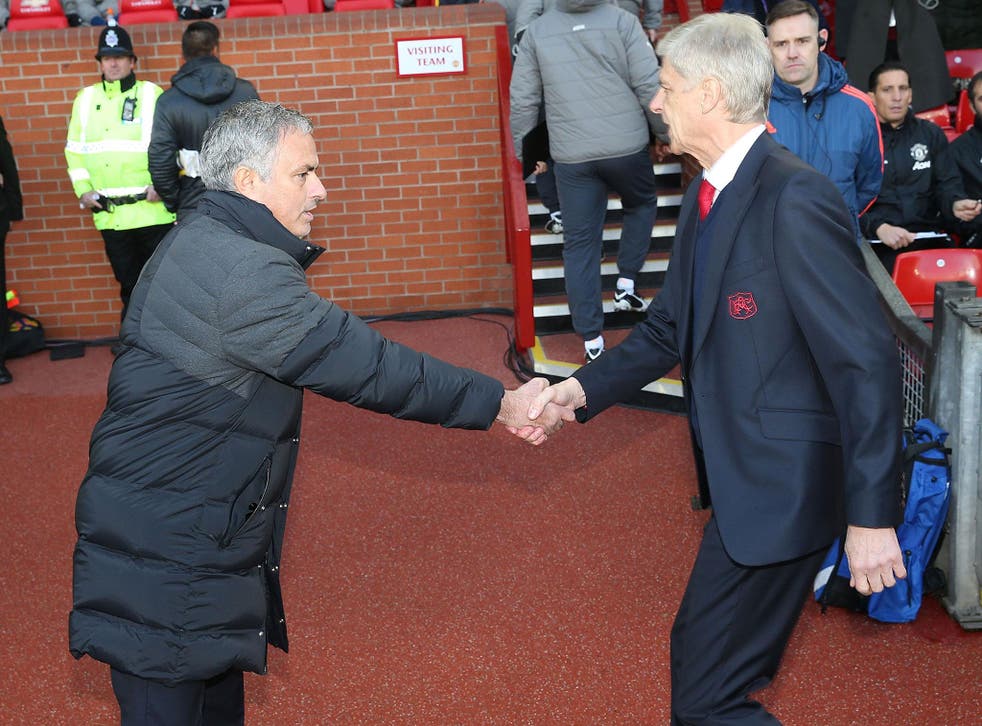 "You're not special any more," the Arsenal fans sang to Jose Mourinho as he stood on the touchline, hands in pockets.
To Arsene Wenger, he will always be special, if only for the hurt he has inflicted. This was the 14th competitive fixture in which Wenger and Mourinho have faced each other and, like the 13 that had gone before them, Arsenal did not win. This game, too, should have been lost.
If confronting Mourinho was one thing, facing him at Old Trafford was another. Before kick-off, Sky Sports showed images of Wenger in this corner of Greater Manchester.
Sometimes he was gesticulating, once he was standing on the top of the dug-out protesting about being sent off. Mostly he was sighing, sometimes Pat Rice was beside him, other times it was Steve Bould. There would be occasional glances towards the scoreboard. Once it read 6-1. Another time it was 8-2.
This time it was 1-1 and the image the camera held of the Arsenal manager was of him giving the chill November air a gentle punch with a wry grin creasing his face. He had been something he has rarely been at Old Trafford – lucky. In the post-match press conference, Jose Mourinho referred to it as a "defeat". "It feels like I finally lost to Arsenal," he said as he turned to leave.
It would, Wenger said with a smile, be 'pretentious' to say that the equaliser, created by Alex Oxlade-Chamberlain and finished off by Olivier Giroud, was the result of inspired substitutions.

Giroud's header that levelled the scores was Arsenal's first and only attempt on target and it came in the 89th minute. Given that injuries had forced Mourinho to field Marcos Rojo and Matteo Darmian, who would not be many people's first choice, in defence, this was an even worse statistic than it might appear.
If you judge Giroud only by his statistics, then he is one of the finer strikers of the Wenger era. The header that met Oxlade-Chamberlain's cross was his 60th league goal for the club in 139 matches. It is not quite at Thierry Henry's level but a goal every 2.3 matches is a pretty fair number, especially for a forward who has now scored more goals as a substitute than any other Arsenal player in the Premier League.
Before the game, Mourinho had complained that, compared to Wenger, he was shown insufficient respect by the English media. He will in his own mind be fated forever to be Saruman to Wenger's Gandalf, although had they waited as long to find the Ring of Power as Arsenal have for a league title, Frodo and Co would still be tramping around the mountains of Mordor.
Manchester United vs Arsenal player ratings

Show all 22
Arsenal's 20th season under Wenger is progressing like the 10 most recent. They have qualified from the group stages of the Champions League and there have been moments, such as the 3-0 defeat of Chelsea, when it appeared the old alchemy might be working. Then there are days like these.
For Mourinho there have already been too many of these kinds of results. For the third successive time a team that Manchester United would have backed themselves to have beaten at home left Old Trafford with a point. Arsenal's record here is bad enough for them to be lumped in with Burnley and Stoke.
There was only one reason why Mourinho had been given the job he had so often craved and that is because he can be counted on to win. He did not check into his lonely suite in the Lowry Hotel to develop young footballers or for his charm as a front man. He guaranteed or appeared to guarantee success.
In the matches that matter, United have been well beaten by Manchester City and Chelsea and forced a barren draw at Liverpool. Here, with Zlatan Ibrahimovic suspended and Wayne Rooney in what looks like terminal decline, he fielded Marcus Rashford and Anthony Martial up front.
With Antonio Valencia driving down the right and Juan Mata, the man Mourinho discarded at Chelsea, pushing through the middle, Manchester United possessed pace and an edge. To have stumbled on that side might be worth an afternoon that felt like Mourinho's first defeat to Arsenal.
Join our new commenting forum
Join thought-provoking conversations, follow other Independent readers and see their replies