Manchester United vs Bournemouth match report: Marcus Rashford gives Roy Hodgson timely England reminder
Manchester United 3 Bournemouth 1: Rashford, who scored one and made one, was called into England's provisional Euro 2016 squad this week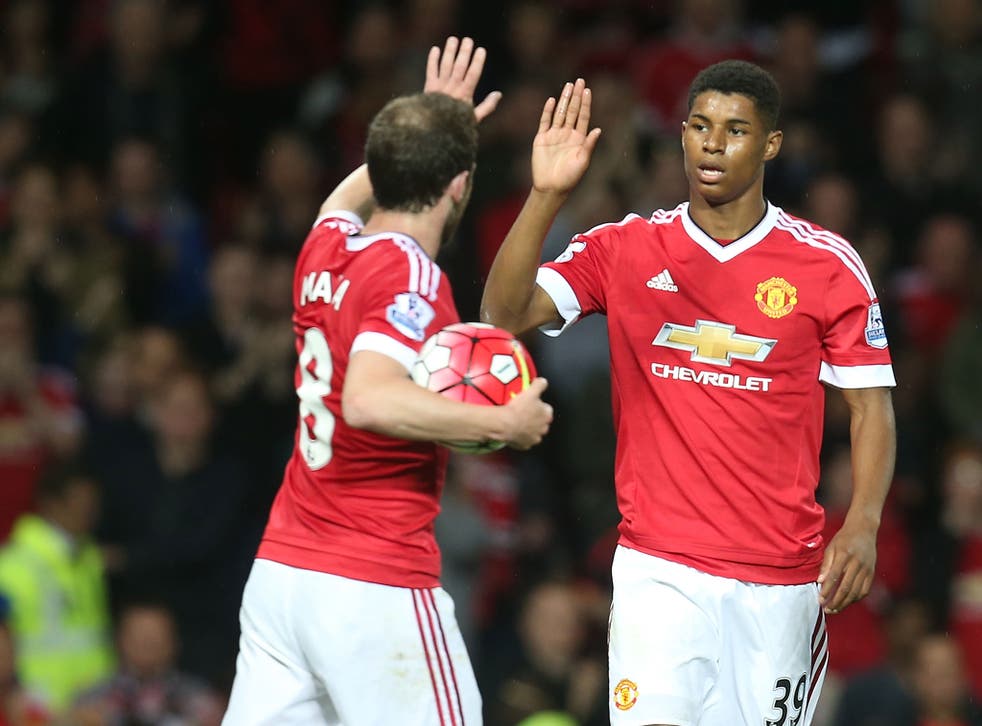 Like the last drunk at a party, Manchester United staggered into the night having overstayed their welcome and bored everyone around them witless.
There was a brief moments of sparkle, three fabulously constructed goals engineered by Wayne Rooney that ensured the self-styled world's greatest club would end the season in fifth place.
Had they scored more goals, had they entertained and dared a bit more, they would have beaten Manchester City to a Champions League place. As it is, the further shores of European football await them in the Europa League, although this win ensured they will not have to pre-qualify for the tournament.
Afterwards, Louis van Gaal grabbed a microphone and gave a brief, emotional address to what remained of the crowd. It was drowned out by the chants from the Bournemouth supporters and did not contain the word "goodbye". It offered only encouragement to support them in Saturday's FA Cup final, the saving grace of a wretched season.
The postponement of Sunday's game because of a bomb scare meant the Premier League's most astonishing season came to a finish with its most surreal match, played nearly 60 hours after the rest of the programme had finished.
Old Trafford was perhaps two third full. It had not been this empty since a Champions League qualifier against the Hungarian side Debrecen, at the height of the protests over the Glazer family's takeover of the club.
Only a 19-0 win would have seen Manchester United into the Champions League and given that no ground had seen fewer goals than Old Trafford – a statistic that would have been unthinkable under Ron Atkinson's management, let alone Sir Alex Ferguson's – the odds were 2500-1 against. Or put another way, it was half as unlikely as Leicester winning the championship.
When Anthony Martial took Juan Mata's pass, accelerated away and squared the ball to Rooney, there were 47 minutes remaining and just 18 goals wanted. It had perhaps, fairly typically for the Manchester United under Van Gaal, it had been their first attempt on goal of any note. During the half-time interval, the televisions in the press room were showing Derby's heroic attempt to overturn a three-goal deficit at Hull.
The second half, featuring a drive from Michael Carrick that crashed down from the crossbar and Adam Federici's superlative save from Antonio Valencia (both of whom might be playing their last match at Old Trafford) was rather more involving.
Given the chaos caused by Sunday's bomb scare, you might have expected Old Trafford to be ring fenced by men in high-visibility jackets. Instead, and rather refreshingly, it was all rather relaxed. "This is an important security announcement, please do not leave bags unattended," echoed the tannoys at regular intervals. None of the announcements finished with the line "Or tape fake bombs to a toilet and then forget about it", as Manchester United's security firm had done. When United's fans began leaving early, the Bournemouth supporters began chanting: "Is there a bomb scare?"
The season finished with the now obligatory 'lap of appreciation' to a stadium that was even emptier than it when the match opened with 11 mascots dressed up to look like characters from the upcoming X Men Apocalypse, produced by Manchester United's media partner, Twentieth Century Fox.
West Ham have been heavily criticised for selling off everything at Upton Park that can be moved but Manchester United have long been adept at selling their soul.
But for the incompetence of their security consultants, one of the rare successes of the season, the under-21 side's winning of their Premier League title would have been celebrated in front of a full house.
Marcus Rashford, the other great success of this season, might have expected to have featured more for Warren Joyce's side than Van Gaal's. He found the net again, although his goal, like Ashley Young's third, owed a debt to Rooney.
Whatever else is said about him, Rooney is a street footballer who takes every game, wherever it is played, seriously. Van Gaal once more played him in midfield and now he produced a lovely cross that was nodded down into Rashford's path. The teenager volleyed his shot into the net beneath the Stretford End.
Rooney's pass for Young to run on to was even better, a delicate chip that Young acknowledged after the ball had finished in Federici's net.
There had been plenty written about the inconvenience the postponement had caused to fans of Manchester United who had travelled from India and Canada and relatively little about those who had to endure a 10-hour round trip from the South Coast.
Bournemouth's season has been as successful as Manchester United's has been deflating and those who had journeyed back up for the rearranged game deserved something. It came in the form of Chris Smalling putting through his own net. This season the first goal at Old Trafford was an own-goal and so was the last.
Manchester United: (4-3-3): De Gea; Valencia, Smalling, Blind, Borthwick-Jackson; Carrick, Rooney, Mata (Herrera 75); Lingard, Rashford (Depay 78), Martial (Young 83). Substitutes: Romero (g), Jones, Varela, Pereira.
Bournemouth: (4-4-2): Federici; Francis, Elphick, Cook, Daniels; Richie, Gosling, Surman, Pugh; King (Afobe 67), Wilson (Grabban 78). Substitutes: Holmes (g), Gradel, Stanislas, O'Kane, Jordan.
Referee: Jon Moss
Match rating: 6/10
Man of the match: Rooney (Manchester United)
Register for free to continue reading
Registration is a free and easy way to support our truly independent journalism
By registering, you will also enjoy limited access to Premium articles, exclusive newsletters, commenting, and virtual events with our leading journalists
Already have an account? sign in
Register for free to continue reading
Registration is a free and easy way to support our truly independent journalism
By registering, you will also enjoy limited access to Premium articles, exclusive newsletters, commenting, and virtual events with our leading journalists
Already have an account? sign in
Join our new commenting forum
Join thought-provoking conversations, follow other Independent readers and see their replies