Manchester United vs Galatasaray: Jose Mourinho has striker dilemma as Zlatan Ibrahimovic and Marcus Rashford excel
The prospect of playing Ibrahimovic and Rashford together could prove the difference for United this season, but Mourinho is unlikely to turn on Wayne Rooney just yet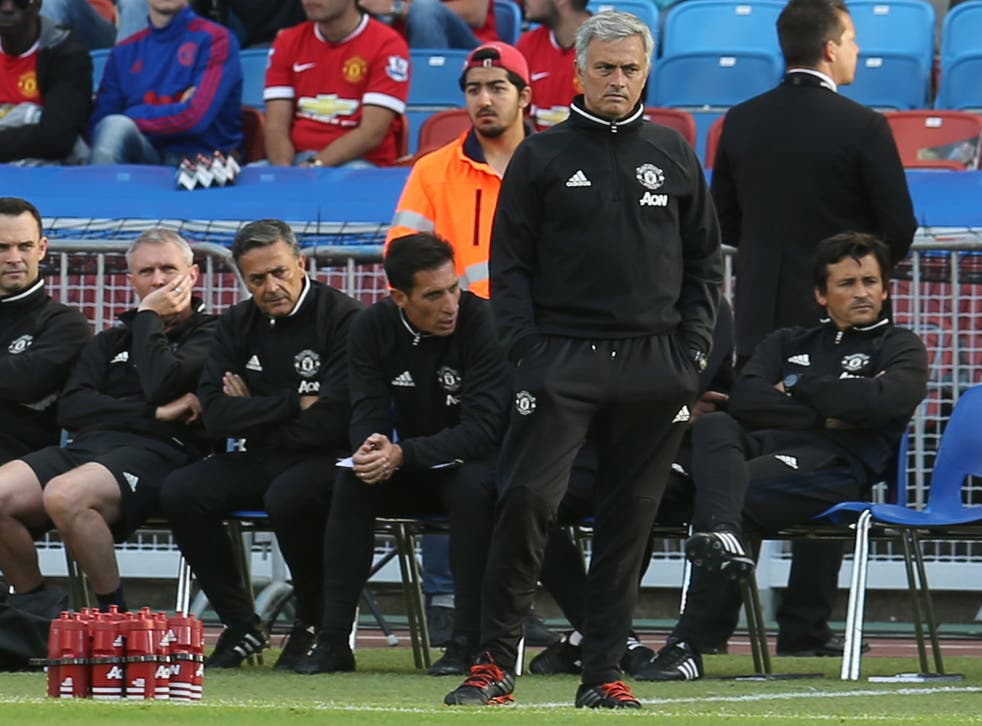 It took Zlatan Ibrahimovic all of four minutes to silence the Manchester United supporters who believed that the club had taken a risk in signing the 34-year-old to a contract worth more than £200,000-a-week.
The striker delighted the expectant Swedish crowd in United's 5-2 victory over Galatasaray in Gothenburg when he quickly readjusted his feet to volley home Antonio Valencia's cross, capitalising on his creativity and supreme confidence to reach a ball that was delivered behind him and open his United account, albeit with a mis-hit that struck his shin and dug into the turf before beating Fernando Muslera in the Galatasaray goal.
It demonstrated the X-factor that the recently retired Sweden international brings to a squad that desperately lacked the spark it always seemed to contain under Sir Alex Ferguson. Ibrahimovic carried himself around the pitch like he knew he was the big name on campus, the man everyone had come to watch. Of course they had, given he was playing for one of the biggest clubs in the world in his home country, but the cheers that went up every time he hit the ball only boosted his confidence even more.
Mourinho timeline - How the Special One made it to Manchester United
Yet despite the ego and everything that goes with being Zlatan, there were signs that even he was trying to impress Jose Mourinho. He raced back to tackle Selcuk Inan, only to concede a foul yards outside of the United area. Instead of making his way towards the halfway line where he was repeatedly spotted during Euro 2016 while Sweden attempted to defend their goal, the forward was in the heart of the defensive line, attempting to pick up Galatasaray striker Sinan Gumus.
He failed. Gumus gave Ibrahimovic the slip and headed in United's equaliser, and it did make you wonder why he was stationed in the defence where he evidently has no interest in being.
Still, it was an impressive display and one that Mourinho admitted afterwards was pleasing, with the Portuguese admitting he "showed glimpses of the things he can bring us".
Manchester United's best XI with Paul Pogba

Show all 11
Yet the introduction of Marcus Rashford at half-time sparked United back into life after they had gone behind to a Bruma goal, and his pace tormented the Turk's back line to provide opportunities for his teammates as well as himself. It was Rashford's break that won the penalty for Wayne Rooney to send United back into the lead, three minutes after he netted his first to level the scores.
Rashford played off the last defender and had his timing been better, he may have bagged two goals himself as he was caught offside twice when through on goal in acres of space.
So how does Mourinho get the best of them both? It's inconceivable to see Mourinho start without Ibrahimovic at Bournemouth in two weeks' time, but in-between now and that curtain-raising fixture comes two more games against Everton and Leicester City, the latter in the Community Shield at Wembley.
Having seen what each can do individually, Mourinho needs to see what they can do together. With Ibrahimovic's ability to do the impossible and Rashford's natural talent, they could prove to be a devastating combination in the Premier League. The problem is that Rashford's inclusion will only come as the result of dropping either Rooney or Anthony Martial, with the more reasonable decision being the England and United captain.
This simply isn't going to happen, at least not at the start of the season. Mourinho isn't afraid to drop big games, his treatment of John Terry last season proved exactly that, but having attempted twice to sign Rooney in a clear ambition to work with the forward, why would he choose against that option now.
With the match against Everton a testimonial for Rooney and the Community Shield the first chance for Mourinho to secure a trophy at his new club, Rashford's unlikely to get the chance to play alongside Ibrahimovic. Yet it might be exactly what United need, however much Mourinho wants to prove he can bring the best out of Rooney after years of frustration for the United's former poster boy.
Register for free to continue reading
Registration is a free and easy way to support our truly independent journalism
By registering, you will also enjoy limited access to Premium articles, exclusive newsletters, commenting, and virtual events with our leading journalists
Already have an account? sign in
Register for free to continue reading
Registration is a free and easy way to support our truly independent journalism
By registering, you will also enjoy limited access to Premium articles, exclusive newsletters, commenting, and virtual events with our leading journalists
Already have an account? sign in
Join our new commenting forum
Join thought-provoking conversations, follow other Independent readers and see their replies