Manchester United beat Liverpool thanks to two very different sides of Jose Mourinho
Marcus Rashford and Romelu Lukaku produced their best individual displays of the season to vindicate their manager's methods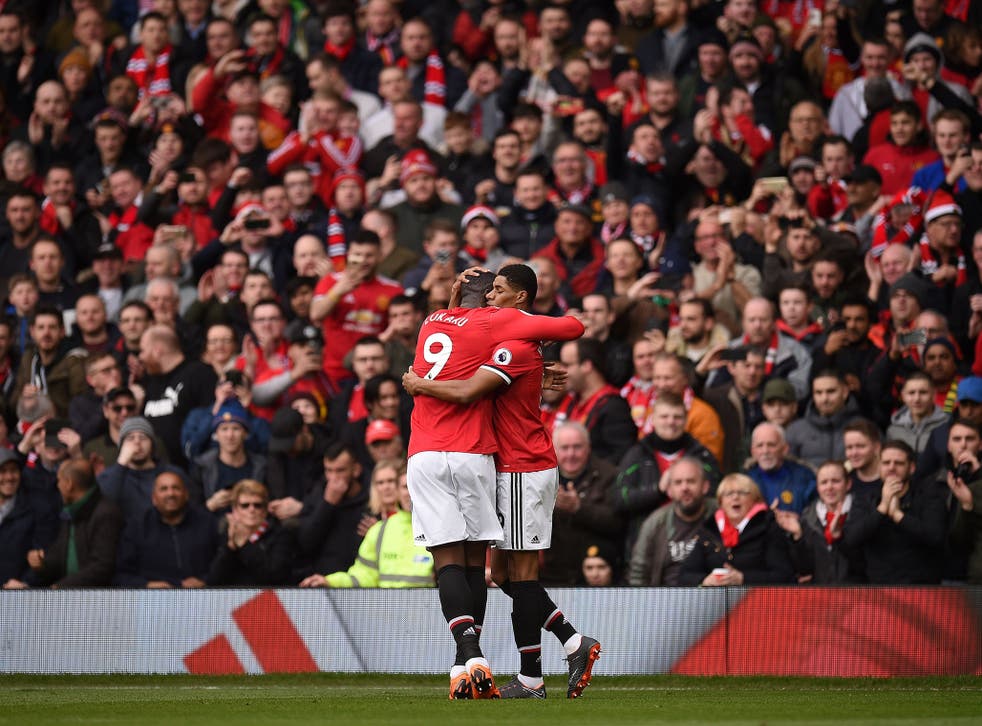 Credit where and when it is due. Jose Mourinho's particular style of man management does not suit all tastes, nor is it always successful, but when the right technique is used on the right player, it can inspire the perfect response.
Mourinho's relationships with his players exist on a knife-edge. This is a coach who has reduced chiselled centre-halves to quivering wrecks in car parks, having trusted, encouraged and supported them throughout an intense professional relationship.
That same coach can also coldly criticise in public, sometimes unfairly so, seemingly without a second thought for how outsiders will perceive such comments or for the player's self-esteem.
Manchester United vs Liverpool player ratings

Show all 22
This was where Marcus Rashford found himself at the turn of the year. After starting, struggling and then being substituted in a FA Cup third round win over Derby County, Mourinho damned the youngster with what could not even be called faint praise.
Rashford was the "opposite" of Jesse Lingard, United's in-form opening scorer that night. He "missed unbelievable chances" and was substituted because, simply, he was "not going to score".
It was not malicious criticism - every word was said with a smile - but it was frank, forthright and reflected in Mourinho's decisions over the weeks and months that followed. Rashford would start just once more - in a weakened line-up against League Two's Yeovil Town - until being named on the teamsheet against Liverpool here.
Compare and contrast that to his treatment of Romelu Lukaku. The very same night, the Belgian had ended a four-game scoring drought, but having notched just four times in the previous three months, he still looked some way off finding consistency.
How did Mourinho respond to Lukaku's struggles? He asked specifically asked Old Trafford to show the player more support. He insisted, time and again, that he was judging his striker on more than just a scoring record, and it always sounded sincere. This week, Manchester United's corporal declared Lukaku his 'sergeant'.
Rather than a youngster whose rise perhaps needed to be kept in check, as in Rashfor's case, Mourinho saw a player bereft of confidence who needed public support. These are two very different approaches to man-management and two very different sides of Mourinho, but here, both bore fruit.
Against a Liverpool outfit that started as favourites in this fixture for the first time this century, United reminded Old Trafford of a time when meetings between these historic rivals on this ground were more of a foregone conclusion, and they had Rashford and Lukaku to thank for the three points.
The pair each produced their best individual performances of the season to hollow out the pre-match hopes of the visitors. Liverpool would respond through an Eric Bailly own goal in the second half, but by then the damage had been done by two superb first-half goals.
On his first league start since Boxing Day, Rashford scored both, sweeping the opener in with all the pent-up frustration he had shown in a 15-minute cameo against Sevilla three weeks back.
This time, rather than zipping wide as his efforts did that night, the ball arced across Loris Karius and into the far corner. It was a sublime finish, the type he appeared to perfect upon his breakthrough into the first team, and so good he did it twice. His second came from the same spot, was directed into the same corner and just as wildly celebrated.
But the busy, bustling role played in both by Lukaku - who set up the first with an excellent flick-on and was the architect for the second - deserves just as much attention.
The Belgian did not improve upon his record against the 'top six' in terms of raw output, but he played such a pivotal part in this victory that it should be noted down with an asterisk. No goals, yes, but a display that will persuade his doubters he can lead the line for a big club.
Two players who have endured difficult spells of late - two treated very differently by their manager - combined to earn United a memorable victory in another otherwise forgettable league season and show that, though unorthdox, Mourinho's man-management methods can work.
Register for free to continue reading
Registration is a free and easy way to support our truly independent journalism
By registering, you will also enjoy limited access to Premium articles, exclusive newsletters, commenting, and virtual events with our leading journalists
Already have an account? sign in
Register for free to continue reading
Registration is a free and easy way to support our truly independent journalism
By registering, you will also enjoy limited access to Premium articles, exclusive newsletters, commenting, and virtual events with our leading journalists
Already have an account? sign in
Join our new commenting forum
Join thought-provoking conversations, follow other Independent readers and see their replies