Marcus Rashford scores twice as Manchester United cling onto victory against Liverpool
Manchester United 2 Liverpool 1: Eric Bailly's own goal set up a nervous finish at Old Trafford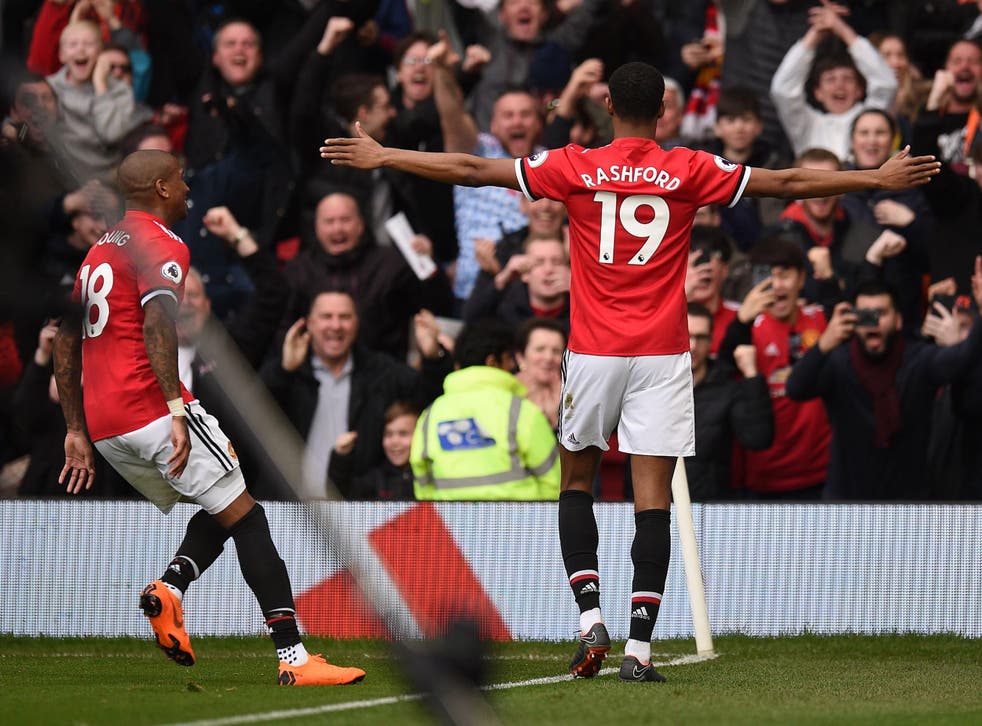 A 2-1 from the old one-two, in multiple ways. Manchester United came out on top in this battle for second place, as Marcus Rashford scored twice to show why he should be in the first team.
What happens next is of course what this match with Liverpool was really about, rather than a relatively meaningless second place. Jurgen Klopp's side have had their momentum stopped, and looked so much less forceful than at any time this year. They also looked less like the Champions League winners they've been talked up as.
Rashford meanwhile got his first goals of that year, to make it three wins in a row for United, and the second of that run against a top-six side. This was probably the most commanding and forceful of those wins, and mostly came down to how well Jose Mourinho's gameplan paid off. That it happened without the injured Paul Pogba - forced out because of a cut received in training on the eve of the game - was all the more encouraging for the manager, all the more pointed. It might even have suited Mourinho, at least for this game, as much as any issues with the midfielder going forward.
Manchester United vs Liverpool player ratings

Show all 22
Sure, that gameplan was aided by three penalty calls that went in United's favour and Liverpool could fairly complain about those, but they couldn't really complain about the result against the pattern of play. Klopp's team had so much more of the ball, but they only had one big chance - and that wasn't even the somewhat freakish goal they got.
Liverpool were instead largely reduced to long shots, and have rarely looked so limited or out of ideas.
Against that, United were clinical, bar one big miss by Juan Mata that can be set against Virgil van Dijk's.
Rashford, meanwhile, was clearly in the mood. He was ruthless.
For all that Rashford will rightly get praise for making the difference in the game, though, one of the main differences between the teams was that between the centre halves. This United win essentially came down to the assurance set by Eric Bailly against the anxiety of Dejan Lovren - and that's actually only accentuated by the own goal.
Still so brilliant at forensically spotting cracks and fragilities in the opposition, Mourinho clearly targeted a weakness between Dejan Lovren and Trent Alexander Arnold.
United, then, went back to basics a little. They looked to hit the big man. It was just fair to wonder which big man that was: Romelu Lukaku… or just Lovren.
Either way, all that mattered was that there was only ever one winner: Lukaku. There were occasions when it looked like Lovren was suffering as bad a day as October's 4-1 defeat to Tottenham Hotspur, while Lukaku was meanwhile looking good as he has at Old Trafford. The forward just bullied the centre-half.
Lukaku's force both complemented the flourish of Rashford in more than one way, and allowed it to shine twice.
The first goal was a supreme piece of proactive intelligence, the second an excellent instinctive reaction.
In that, the entire performance was some display of Rashford's whole range of abilities. Granted time to think to put United into the lead, he completely side-stepped Alexander-Arnold before powerfully whipping the ball right into the corner past Loris Karius. Forced to immediately respond when strengthening that lead, Rashford so accurately sent the ball to the same corner, but through a very different type of finish.
That raised two main questions: why the youngster hasn't been in the United team, and why Van Dijk wasn't dealing with those aerial balls, let alone why Lovren was in the Liverpool team.
There was no question as to why Jurgen Klopp's attack weren't at their rampaging best, though. This is precisely the type of approach they most struggle with, when they have nothing to react to, when there is no space to run in behind.
It is one of the roots of why they have been so good against top clubs, and often struggled against weaker sides, with all of that doubled down when a top club decides to go deep against them.
This, however, is also where Bailly stepped in - and United stepped up.
Mourinho's defence has often looked panicked in such situations in the four months since the Ivorian's last start but there was none of that with him there.
There was an irony that Bailly scored the own goal that made the last few minutes so nervy - that moment itself more Djimi Traore rather than Lovren - but it was down to the Ivorian that Liverpool's actual play didn't cause more anxiety. He was so strong, so reliable, particularly in one fine block late on to prevent Sadio Mane getting through.
All of Liverpool's stellar attack were here so subdued, so quiet. The United backline did a supreme job of shutting out any space for Mane, Mohamed Salah or Roberto Firmino to run into. They were just shackled.
An image to sum up the game was that repeated so many times in the first half. It was that of James Milner on the ball, the only Liverpool player ever left with the kind of space those in front of him would thrive off, that would usually have produced a killer moment. He… failed to do so.
It also meant that the identity of United's midfield was much less important, and arguably suited Mourinho. Placing Nemanja Matic and Scott McTominay in front of the defence to shore up everything, the Portuguese was able to play something close to 'trivote' formation he is said to so value, while United could directly bypass midfield to most hurt that Liverpool defence.
That sometimes looked like an old-fashioned route-one and the old one-two - but it was the fair root of this 2-1 win.
This Liverpool have rarely looked so out of ideas. United, meanwhile, are suddenly looking very good for the rest of the season.
Join our new commenting forum
Join thought-provoking conversations, follow other Independent readers and see their replies