Manchester United vs West Ham match report: Hammers frustrate Jose Mourinho to force yet another draw
Manchester United 1 West Ham United 1: The visitors pulled ahead in the opening minute but Zlatan Ibrahimovic's excellent goal saved United their blushes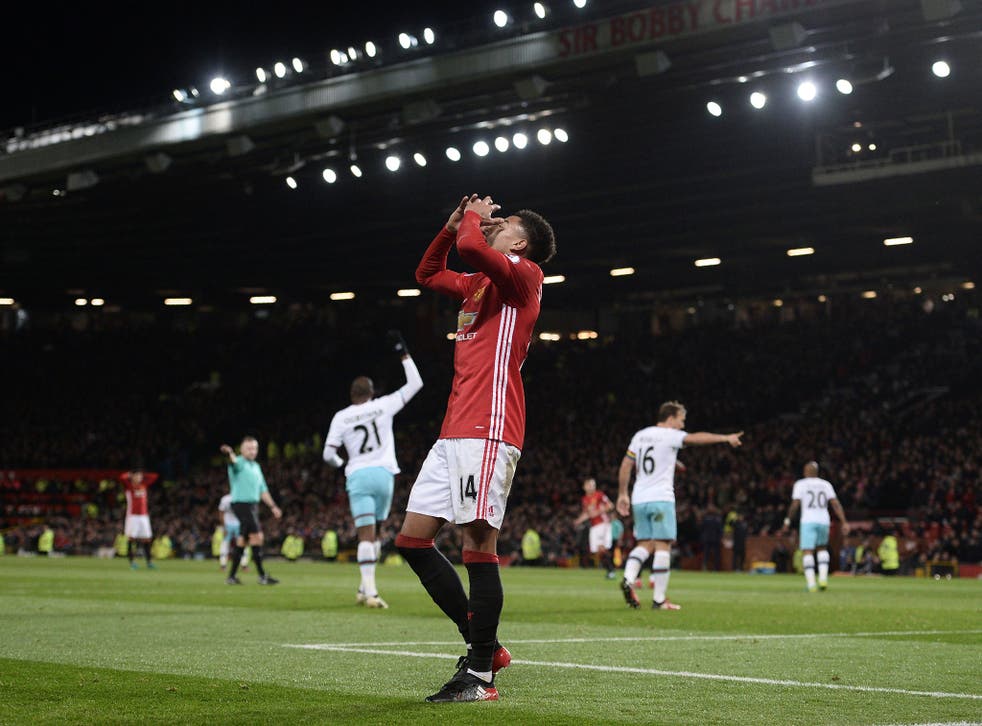 "Mr Bond, we have a saying in Chicago," said Auric Goldfinger. "Once is happenstance. Twice is coincidence. The third time is enemy action."
It is a quote Jose Mourinho would do well to learn. This was the third time in 13 months he had been sent off. All three were against teams who play in claret and blue (West Ham twice, Burnley once). Two were in matches refereed by Jonathan Moss, a man Mourinho once called "f***ing weak" to his face. Three times is too many. Mourinho is fast becoming a liability on the touchline.
His two dismissals at Old Trafford were triggered by one of Mourinho's own players diving. Against Burnley last month, it was Matteo Darmian throwing himself to the turf in an attempt to win a penalty. This time, it was Paul Pogba, although it was far less blatant. As Mark Noble swung his boot in the middle of his own half, the Frenchman flung himself to the ground and he could have legitimately argued he was taking evasive action.
His manager must have thought so too as he greeted the flourished yellow card by turning around and belting a water bottle down what used to be the players' entrance at Old Trafford. What followed was predictable and Mourinho made what must now be a familiar journey from dug-out to directors' box.
His view from the stands would have been an equally familiar one. As they had in so many matches here, Manchester United dominated a game and somehow failed to win it. "I find it hard to believe our position in the table," Mourinho had written in his programme notes before berating the tidal wave of ill-luck that has flooded a stadium that once dealt ruthlessly will all comers.
Their position in the table what it was before kick-off – sixth. However, the fact that the top four all won meant that the gap between the Premier League's biggest club and the Champions League places is now eight points – nine if you take Arsenal's goal difference into account.
West Ham were at their best in the opening and closing minutes of an enthralling match. It was not two minutes old when two centre-forwards dashed to meet Dimitri Payet's free-kick. Diafra Sakho's head met it fractionally before Zlatan Ibrahimovic's boot and they were ahead.
Having started the season badly, Slaven Bilic's side find themselves enveloped in an intimidating series of matches. The 3-2 defeat to Tottenham preceded this game and there are matches against Arsenal and Liverpool to follow this one.
Payet's ability with a dead ball appears to be their best chance of coming through unscathed. Midway through the second half, Sakho sent one of Payet's corners on to the roof of David De Gea's net. Then as he prepared to take a free-kick that Manchester United's defence imagined would be floated in, Payet suddenly shot and De Gea had to tip it over.
Right at the death, Michail Antonio lead a breakaway that might have produced the winner had De Gea not blocked Ashley Fletcher from a few yards out. It was rather more competitive than the draws against Stoke, Burnley and Arsenal had been.
Despite their fine displays against Feyenoord on Thursday night, Mourinho chose not to start either Wayne Rooney or Henrikh Mkhitaryan, although both looked sharp when they were flung on. Marcus Rashford ought to have scored when one-on-one with the keeper but Darren Randolph kept his nerve, stood his ground and saved with an outstretched boot.
Ibrahimovic, however, was in his element. But for some superb interceptions from Angelo Ogbonna and Cheikhou Kouyate, he might have won the match.
His equaliser was sublime. It seemed a goal the moment Pogba sent in a ball from 30 yards out. Ibrahimovic accelerated away from James Collins. Randolph did not know whether to come for it or leave to his defender. He remained where he was, forgetting that one of Ibrahimovic's great qualities is the litheness of his body which he uses as the kind of weapon not even James Bond had in his armoury. From head to net in one touch.
Register for free to continue reading
Registration is a free and easy way to support our truly independent journalism
By registering, you will also enjoy limited access to Premium articles, exclusive newsletters, commenting, and virtual events with our leading journalists
Already have an account? sign in
Register for free to continue reading
Registration is a free and easy way to support our truly independent journalism
By registering, you will also enjoy limited access to Premium articles, exclusive newsletters, commenting, and virtual events with our leading journalists
Already have an account? sign in
Join our new commenting forum
Join thought-provoking conversations, follow other Independent readers and see their replies