Jose Mourinho hits out at Manchester United players' attitude after frustrating Wolves draw
Mourinho said of his players: 'It is difficult to win matches when you are not there'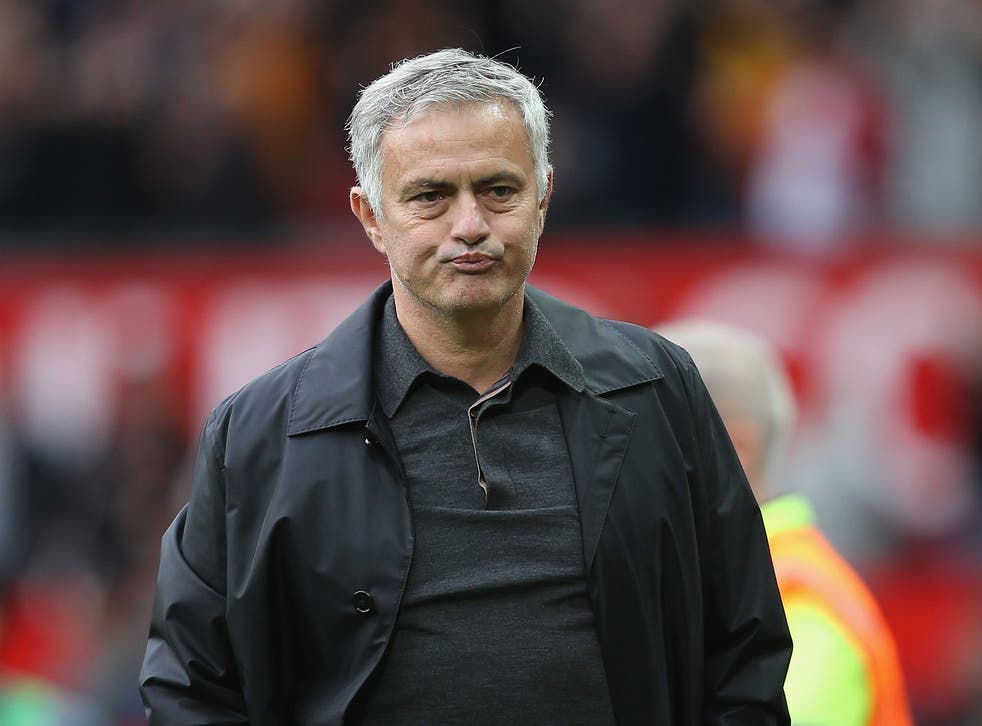 Jose Mourinho criticised the attitude of his Manchester United players after their frustrating 1-1 draw with Wolverhampton Wanderers, claiming "it is difficult to win matches when you are not there".
In front of Sir Alex Ferguson, making his first appearance at Old Trafford since successful brain surgery, United took the lead through new signing Fred in the first half.
Wolves, however, had dominated the opening stages, forcing two fine saves from David de Gea. Joao Moutinho eventually equalised for the newly-promoted visitors at the start of the second half.
United were on top for long spells after the break, Mourinho's side struggled to create clear-cut chances. Wolves, meanwhile, continuted to threaten and could have won the game on the counter-attack late on.
Young Boys vs Manchester United player ratings

Show all 11
"Not a good performance, not a good result. A fair result," Mourinho admitted after the final whistle, before unfavourably comparing the attitude of his players with that of their Wolves counterparts.
"Wolves, by the way they faced the game, I think they deserve it. They play like I like to play which is like the World Cup final. That is the attitude I like my teams to have in every match.
"We didn't have that. They did. That attitude made a difference. They were in the game from the first minute. They play every ball with every second with the maximum intensity and desire and we didn't.
Mourinho added: "We started poorly, we started both halves at a low intensity. And it is difficult to win matches when you are not there."
Banner flown over Manchester United - Burnley game calling Ed Woodward a 'specialist at failure'
Three wins from three successive away games led some to suggest that United had overcome their difficulties from the start of the season, but United's sloppiness will concern Mourinho.
The United manager was at a loss to explain why, in his opinion, his players had failed to show the correct attitude following impressive wins at Burnley, Watford and Young Boys in recent weeks.
"I can't explain the difference of attitude because I never had a difference of attitude. For me it is difficult to explain that," he said.
"We won three matches away from home. We came back with a good spirit, in peace because we recovered. Then you start in a poor way.
"I could say we were tired, Champions League, awful pitch [against Young Boys], the body suffers the different impact on an artificial rather than actual grass, not coming home after the match.
"I could go in this direction but Alexis Sanchez and Jesse Lingard didn't play. Fellaini played 20/25 minutes, Fred played 60 minutes, Valencia also didn't play. We didn't have a team that was in big trouble with an accumulation of matches.
"So yes, it's a mental situation. An attitude. And again one team was coming to play the game of their lives, the other to relax."
When asked whether his players need to 'learn' to approach each game with the same attitude, he said: "Come on, this is something you learn when you are a kid in the academy, you don't need experiences at the highest level to learn that.
"It is a basic law of football, you have to play at the maximum of your potential, unless you are playing in such a weak league against such weak opponents where playing at 30 percent of your potential is enough. We all know that is not the case."
Register for free to continue reading
Registration is a free and easy way to support our truly independent journalism
By registering, you will also enjoy limited access to Premium articles, exclusive newsletters, commenting, and virtual events with our leading journalists
Already have an account? sign in
Register for free to continue reading
Registration is a free and easy way to support our truly independent journalism
By registering, you will also enjoy limited access to Premium articles, exclusive newsletters, commenting, and virtual events with our leading journalists
Already have an account? sign in
Join our new commenting forum
Join thought-provoking conversations, follow other Independent readers and see their replies