Is Manchester United's Premier League title challenge already over?
A defeat by bottom Sheffield United and draw against Arsenal saw Solskjaer's team slip twice last week
Miguel Delaney
Chief Football Writer
Monday 01 February 2021 07:16 Comments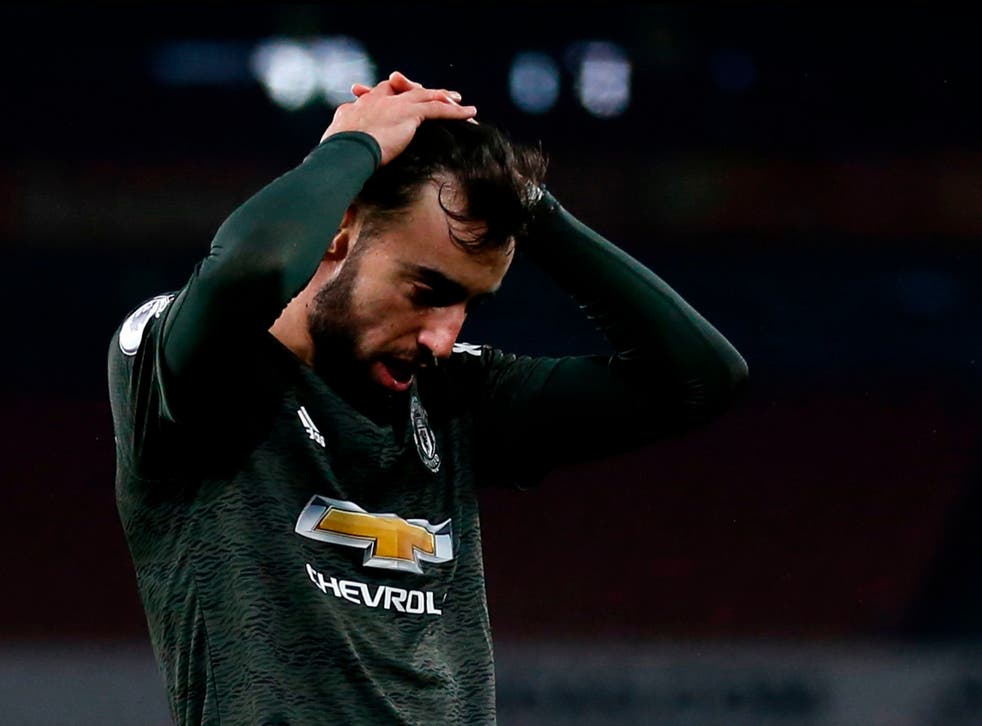 It's said the league table doesn't lie, but that's really only true after the last game of the season. Until then, it is often misleading, and occasionally outright deceptive. There's just not enough evidence to place stock in most positions. The number of teams close to the top around Christmas who then fell away – from Aston Villa 1998/99 to Arsenal 2013/14 – are testament to that. Are Manchester United 2020-21 to be the latest?
Duly, their temporary time in top spot now seems a mirage, which vanished as quickly as it arrived. The question now is whether there's any actual substance to the idea of a title challenge. The 0-0 draw away to Arsenal suggested the more realistic challenge for the moment might be just keeping a place in the top four while showing tangible signs of progress – like maybe hitting 75 points.
This isn't to criticise Ole Gunnar Solskjaer, either. To get close to either Manchester City or Liverpool this season would be significant over-performance in and of itself, so a full challenge would be to his credit. There have also been some promising signs of that progress over the last few weeks.
READ MORE: Premier League table and fixtures – all games by date and kick-off time
United have had some supreme flashes, and some elements of the team have looked greatly improved. Luke Shaw was again excellent offering thrust down the left, and the team looked relatively solid, while posing problems at the other end.
As tends to happen with developing teams, though, it's as often as if another issue arises when one is fixed.
The latest is this record in big games, having started to dismiss the smaller teams. United have now played six matches against the traditional big six in the league this season and won none of them, drawing four 0-0. The goals have dried up there.
Allied to that, Bruno Fernandes is now on a little drought of his own. He has no goals in five in the league.
This is also where some of the longer-term questions with Solskjaer come in. In just over two years with United, distinctive trends have been their tendency for streaks and – interlinked with that, and maybe one of the causes – players burning out or blazing through fine periods of form before going cold.
Even through the fine form of December, some sources did wonder whether players like Fernandes or Marcus Rashford would suffer a bit of a drop-off in March. Similar happened to other influential players in Solskjaer's first season in 2018/19, in pre-lockdown 2019/20, and in Project Restart.
United do have a greater variety of forward weapons than those times, it must be said. They have generally signed well under Solskjaer, solving problems as they go.
One of those weapons has been Edinson Cavani, who has proved a hugely positive signing, and made a mockery of some negative commentary when he was purchased.
He just suffered an off moment in the game against Arsenal with that miss, and had he scored in the manner he usually does it would have felt a hugely significant match-winner.
As it is, it feels like we won't see the true significance of that draw for some time to come.
Some around the club have wondered whether United would suffer another pronounced dip once they lost that first league game since the 6-1 humiliation against Tottenham Hotspur. It wouldn't have been the first club it has happened to. Spurs themselves are still suffering it after losing to Liverpool, while Liverpool have also gone through it.
So, United at least didn't follow the 2-1 loss to Sheffield United with another defeat. Arsenal aren't the shambolic pushovers they were a mere month ago themselves, either.
But they were also missing Bukayo Saka and Pierre-Emerick Aubameyang, and it wasn't a win for Solskjaer either. United have some awkward fixtures coming up, so we'll only get a real read on this after those results.
Did United just about maintain momentum, or lose it?
What really separates elite sides – even in seasons as volatile as this – is long-term consistency, and that is one issue Solskjaer is certainly still trying to figure out.
We might not really know until the truth of that final table.
Register for free to continue reading
Registration is a free and easy way to support our truly independent journalism
By registering, you will also enjoy limited access to Premium articles, exclusive newsletters, commenting, and virtual events with our leading journalists
Already have an account? sign in
Join our new commenting forum
Join thought-provoking conversations, follow other Independent readers and see their replies