Manchester United manager Ole Gunnar Solskjaer refuses to give up on 2012 revenge and late title push
Solskjaer admitted overhauling City is unrealistic but vowed to keep pushing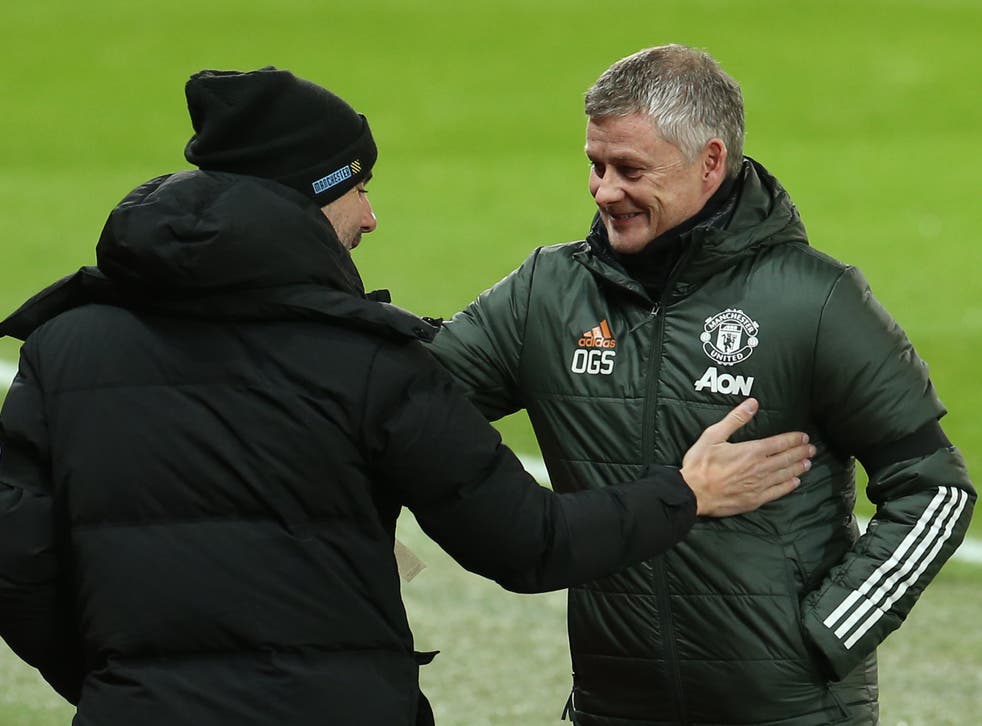 Ole Gunnar Solskjaer will not count Manchester United out of an unlikely late season surge to the Premier League title but admits that the prospect of overhauling rivals Manchester City is unrealistic.
City are 11 points clear at the top but suffered defeat at home to Leeds last week and United can close the gap by beating Burnley in their game in hand on Sunday, on a weekend where Pep Guardiola's side are in FA Cup semi-final action.
That would leave United eight points behind with six games to play - the same gap which City dramatically closed to pip Sir Alex Ferguson's United to the post in 2012 and clinch the first Premier League title of the Sheikh Mansour era.
Solskjaer's side are on an 11-game unbeaten run in the league and have won all of their last four games, but City require just 11 points to be crowned champions and the United manager admits that a late turnaround seems unrealistic.
"Of course we'll never ever give up," Solskjaer said. "Man United will never ever give up. This team, this club has had too many setbacks and too many great comebacks to have that in our DNA. That's not in our DNA.
"Is it realistic? No, probably not, because when you have a team that is as consistent as Man City have been, you don't expect them to lose three games out of the last six. As long as we do our jobs, we know we want to finish the season strong. One game at a time."
Even though United are likely to fall short of the title, qualification for next season's Champions League appears secure. If United finish in the top four, it will be the first time they have done so in consecutive seasons since Sir Alex Ferguson's retirement.
Solskjaer believes this is a sign of the progress that is being made at Old Trafford, though admits that the league title is the ultimate goal.
"You've got to make progress step by step. That's just the reality that of course, if we can manage second position, if we can keep on winning and get that, if Man City win all their games and we win all our games... you want to finish the season strongly," he said.
"Third last year, second this year. If that's what we manage and we're close to a trophy, it's progress. It's not the end game. The end game is of course winning the league but we're not in the era of Sir Alex now.
"We've had a transformation period since he left which always would happen because there's no-one better. He was the boss. He was the one who stayed here for so many years, it was always going to be difficult to replace him.
"It's progress, step by step, and in the end, if we do that well enough, that's when you get trophies and league titles which is of course our ambition. That's always got to be our aim. Everyone know what I'm talking about anyway. It's step by step."
Join our new commenting forum
Join thought-provoking conversations, follow other Independent readers and see their replies