Ole Gunnar Solskjaer is right: at clubs like Manchester United trophies no longer prove success
The manager's comment that cup success can be more of an 'ego thing' sums up modern football's shift towards financial security before silverware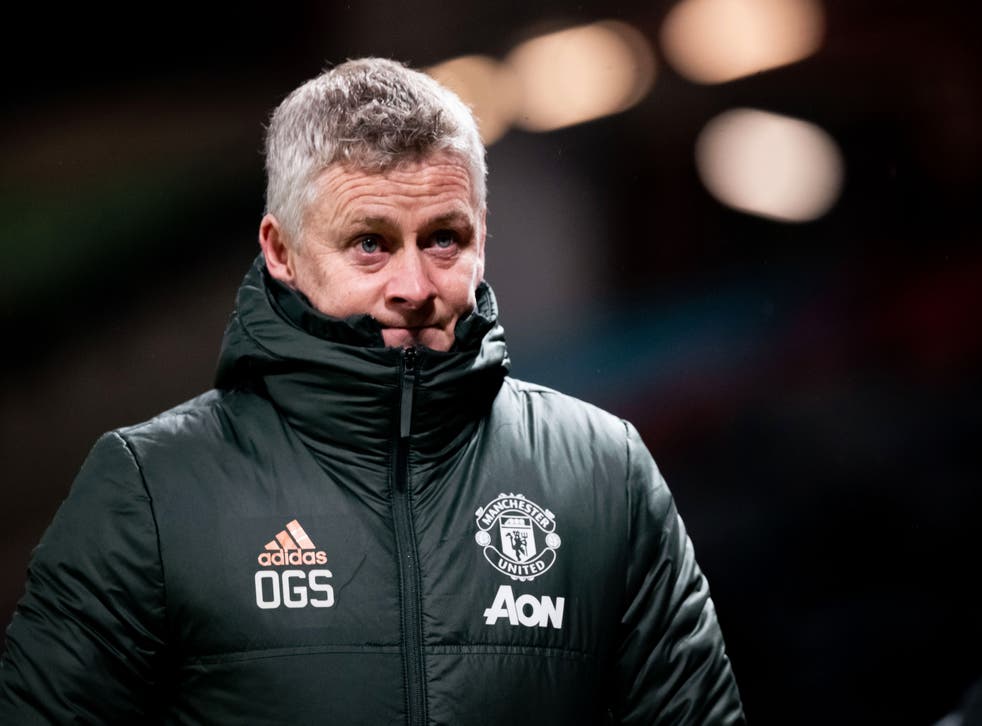 This has been described as the biggest week of Manchester United's season by some but its biggest game may already have been played. The 1-0 win over fifth-place West Ham in the Premier League's Sunday graveyard slot may not have felt like much of an occasion, certainly not when compared with this evening's trip to San Siro to turn around a two-legged European tie. And yet by beating West Ham, United opened up a nine-point gap on David Moyes' side, reinforced their position in the top four and took a significant step towards securing a place in next season's Champions League.
The reality of the modern game at the elite level is that guaranteeing the revenue which comes with Champions League participation must take priority over winning domestic cups or second-tier silverware. There was clear, black-and-white evidence of its importance from inside Old Trafford just a fortnight ago. United's second quarter results were published at the start of the month and revealed that the matchday income lost from playing behind closed doors had largely been offset by a jump in broadcasting revenue compared to the same period last year.
What was the difference this season and last season, to make up for the absence of fans? Qualifying for and playing in the Champions League.
That, simply, is the minimum expectation every season at Old Trafford and though Ole Gunnar Solskjaer is nothing if not a football romantic, two and a half years in the manager's office has drilled that reality into him. His efforts every day over the course of those two and a half years have gone into meeting that minimum standard. So far, it is a bar that he has always cleared.
It was not much of a surprise, then, to hear that Solskjaer is skeptical about the idea that he must win a trophy – the Europa League, the FA Cup, or indeed any trophy – to prove that he is making progress.
"In the league position, you see if there's any progress for me," he said on Wednesday before flying to Milan. "That's always the bread and butter of the season, that you see how capable you are of coping with ups and downs.
"Any cup competition can give you a trophy but sometimes it's more of an ego thing from other managers and clubs to finally win something," he added. "It's not like a trophy will say that 'we're back', no. It's the gradual progression of being in and around the top of the league and the consistency and the odd trophies. Sometimes a cup competition can hide the fact you're still struggling a little bit."
When those words left Solskjaer's mouth, it was impossible not to think of his two immediate predecessors in the job. Jose Mourinho won United's last silverware four years ago, lifting the EFL Cup and Europa League during his first season in charge while achieving a sixth-place Premier League finish.
There were comparisons to Mourinho's first trophy in English football – the 2005 League Cup – which he always claimed gave his Chelsea players a taste of success and provided the platform on which they became a dominant force under his management. The same never happened at United, though, and dead-ending the Premier League campaign to focus on qualifying for the Champions League through winning the Europa League was also an extraordinary gamble on Mourinho's part. What would have happened if United had lost the final to Ajax – or, more likely, if Celta Vigo's John Guidetti had not missed a gilt-edged chance and instead scored a decisive away goal in the final seconds of the semi-final? It remains one of the biggest sliding doors moments of United's recent history.
Louis van Gaal, meanwhile, won the FA Cup in 2015 and was sacked days later having failed to finish in the top four. That decision alone shows the standards by which Solskjaer is judged and the importance of silverware to his job security.
That is a rather grim, utilitarian view of football, of course. Cup runs create life-long memories, for supporters, more than anyone else, and the essence of sport is a will to win and beat all competition. Solskjaer did not deny any of that.
"Every manager wants to win every game and we want to fight on every front," he insisted. "I haven't been here and felt we can down prioritise any games yet we need to try and win every single game, every player needs to cope to learn with all the pressures and the standard and expectations. You'll end up with trophies if you're consistent enough anyway and sometimes lucky enough."
But one effect of the game's deepening financial stratification is that the only genuine success elite clubs like United and their managers can achieve is through winning their domestic league title or the Champions League. For some clubs in Ligue 1, the Bundesliga and Serie A, merely winning the domestic league title is no longer enough. Ask Thomas Tuchel, Niko Kovac and Maurizio Sarri. The Champions League is increasingly becoming the only game in town and being in it to win it is the minimum expectation at every superclub. There is no other marker of success.
Perhaps after the West Ham result, United can afford to go full tilt against Milan tonight and Leicester in the FA Cup quarter-finals on Sunday, knowing that a return to Europe's elite competition next season looks safe. But until a Champions League spot is absolutely secure, no manager in Solskjaer's position would prioritise winning silverware for the sake of it.
Join our new commenting forum
Join thought-provoking conversations, follow other Independent readers and see their replies