Manuel Pellegrini: The shots that made the Manchester City manager bulletproof
According to a revealing biography of the Chilean, some hard knocks – including the suicide of a player – have given him a thick skin. Pete Jenson reports
Pete Jenson
Saturday 05 September 2015 12:39 Comments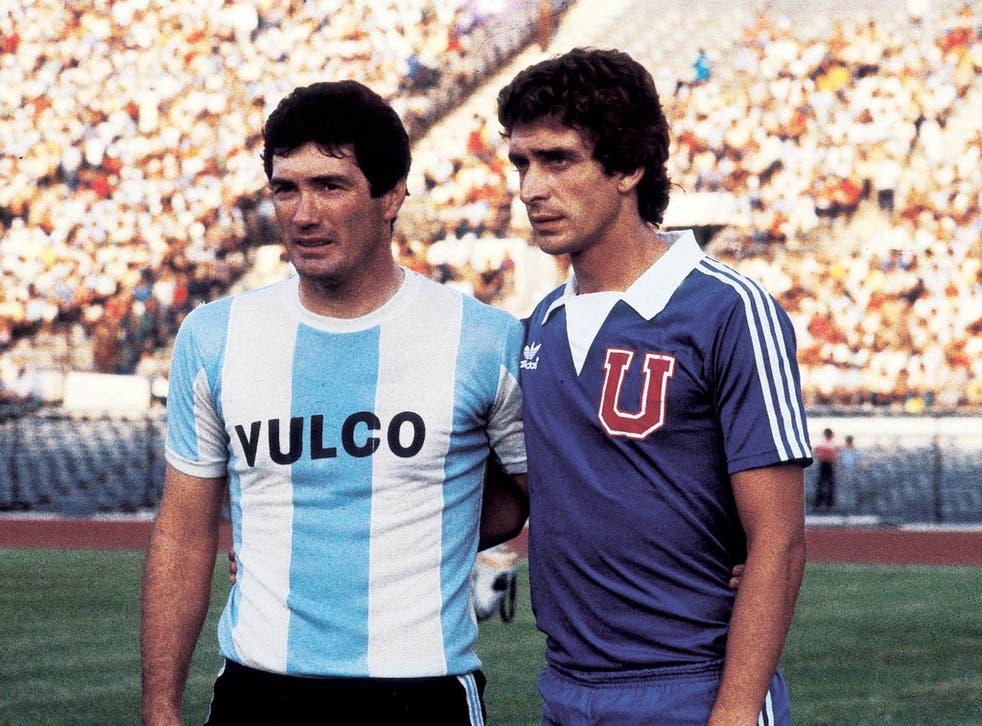 When Manuel Pellegrini was sacked by Real Madrid in 2010, he received the news while having a cup of coffee with the director of Madrid's famous Reina Sofia gallery, Manuel Borja-Villel.
Borja-Villel recalls that when Pellegrini's mobile phone rang he took the call and after the briefest of conversations hung up and said that it had been the Real Madrid president, Florentino Perez, on the other end of the line to tell him he was fired. There was no further reaction from him and the two men continued their conversation about art.
That craggy face never seems to change expression regardless of circumstance. It, like its owner, gives nothing away but in Pellegrini: Lessons about life and football, journalist Patricio Abarca reveals a new side to Manchester City's very private manager.
Manchester City: Summer 2015 completed transfers

Show all 11
Raised the fifth son of eight children, Pellegrini got little encouragement in his chosen field from his father, Emilio, who had his own construction company and preferred classical music to football.
After watching one of his son's matches for Universidad de Chile in Santiago, he left before the end and commented after the game that he did not understand too much about the match but that Manuel (a centre-back) seemed to head the ball away so many times that he should probably have been wearing a crash helmet.
Undeterred by a lack of parental guidance, Pellegrini took an interest in all sports and even developed a passion for boxing – something he shares with his new Manchester City signing Nicolas Otamendi.
He trained at the same gym as Victor Nilo, who went on to be a Chilean champion, and biographer Abarca describes the tall, blond-haired, blue-eyed boy from the wealthier side of the tracks as "like an alien" among the other fighters.
He had his limitations as a player but he was good enough to appear 457 times for his club and once for his country. The solitary cap was earned in 1986 just before he retired, when he was picked to face the Brazil of Falcao, Junior and Zico just before the Mexico World Cup, for which Chile had failed to qualify. It was a dream fulfilled for someone who fell in love with the game as an eight-year-old watching Chile host the 1962 finals.
When he debuted in management in 1988 it was with his former club, Universidad de Chile, but he took them down for the first time in their history in his first and only season, blaming himself for having left the team in the hands of his assistants for 15 days during the season while he took a course at the English FA's centre of excellence at Lilleshall.
The team lost three games 1-0 while he was away and ended up going down on goal difference. Abarca says that his father told Pellegrini at the end of that season: "Why don't you concentrate once and for all on engineering? You have no future in football."
He ignored the advice and made his comeback in Chile, first with Palestino and then with O'Higgins and he already had his eyes on European football.
Former player Juvenal Olmos, who went on to manage Chile, recalls: "He loved watching Fabio Capello's team. In the hotel before games he would be like the television announcer telling us all what time the Milan game kicked off."
Pellegrini took over Universidad Catolica, where he won the Copa Chile, but it was there he had his darkest day as a manager when one of his players committed suicide on the club's tour of Costa Rica.
Pellegrini knew about the clinical depression of Raimundo Tupper and had considered leaving him out of the tour. The player insisted on being included but one evening threw himself off the ninth storey of the hotel Centro Colon aged just 26.
Marked by the tragedy, Pellegrini became more determined than ever to know his players as well off the field as on it but when he moved to Ecuador side Liga de Quito he encountered players who were used to doing as they pleased and a different approach was required.
Assistant coach Fernando Diaz tells Abarco that before one of his first games in charge, a friendly against Dynamo Moscow, Pellegrini had told his players to arrive at the ground at 10am. When they all turned up late he instructed Diaz to wait for the 11th player to come through the door and then to close it. Ten players were left outside. They played with the other 11 and nobody was late again.
He won the league with Liga de Quito and repeated that feat in Argentina with San Lorenzo and then at River Plate, where he first worked with a promising young centre-back by the name of Martin Demichelis.
Felipe Prieto, the then River fitness coach, tells Abarca: "Manuel saw himself in Demichelis."
And when the player approached his manager over a possible move to Bayern Munich, despite knowing it would severely weaken his team, he told him to grab his opportunity, something Demichelis has never forgotten.
Pellegrini's relationship with Juan Roman Riquelme at Villarreal was more problematic. At first he was the perfect coach for the talented No 10, telling him not to track back so he could save all his energy for the final third and affording him a certain leniency off the pitch too.
But as time passed, Pellegrini tired of the player. After one match in Madrid the coach had arranged for his players to spend the night in the Spanish capital, then go straight to Portugal for a Champions League game. Riquelme wanted special dispensation to go back to Villarreal on Spain's east coast, then on to Lisbon alone. His request was turned down.
The special treatment was stopped for good after he missed the penalty that prevented Villarreal from reaching the Champions League final in 2006. They had lost the first leg of the semi-final 1-0 at Highbury but could have taken the tie into extra time had the Argentine scored from the spot in the last minute of the second leg. The following December when Riquelme wanted to go back two days later than everyone else from the winter break so that he could attend a friend's wedding in Argentina he was denied permission, and left the club before the end of the season.
Success at Villarreal helped Pellegrini to land the Real Madrid job but his only season working for Perez was a miserable one. Perez signed Kaka despite reports that cartilage problems in both knees meant his best days were behind him. Pellegrini suggested that instead of Kaka the club sign David Silva but his request was ignored.
After taking Malaga to a Champions League quarter-finals but leaving when the owner Sheikh Abdullah al-Thani's plan to turn the club into Spain's third force unravelled, he finally got the chance to work with Silva and with investors who were in it for the long haul.
Before the last game of his first season at City, when victory over West Ham would have made them champions, he received a message from the WhatsApp group he is part of with his seven brothers.
Abarca says it was the first Mother's Day in Chile since their mother, Silvia, had passed away and the family was wishing him well as he tried to become the first South American manager to win the league in England. "I'm relaxed," came back the understated reply. "I'm only thinking about winning the game."
The Independent has launched a new football app! Live scores, in-game stats, breaking news, videos and push notifications are just some of the many features. Use the links below to download and get more from Indy Football...
iPhone
http://ind.pn/iphonefootball
iPad
http://ind.pn/ipadfootball
Register for free to continue reading
Registration is a free and easy way to support our truly independent journalism
By registering, you will also enjoy limited access to Premium articles, exclusive newsletters, commenting, and virtual events with our leading journalists
Already have an account? sign in
Join our new commenting forum
Join thought-provoking conversations, follow other Independent readers and see their replies