Manuel Pellegrini wants more Manchester City players to join Yaya Toure on Ballon d'Or shortlist
City manager wants three or four more to join Ivorian midfielder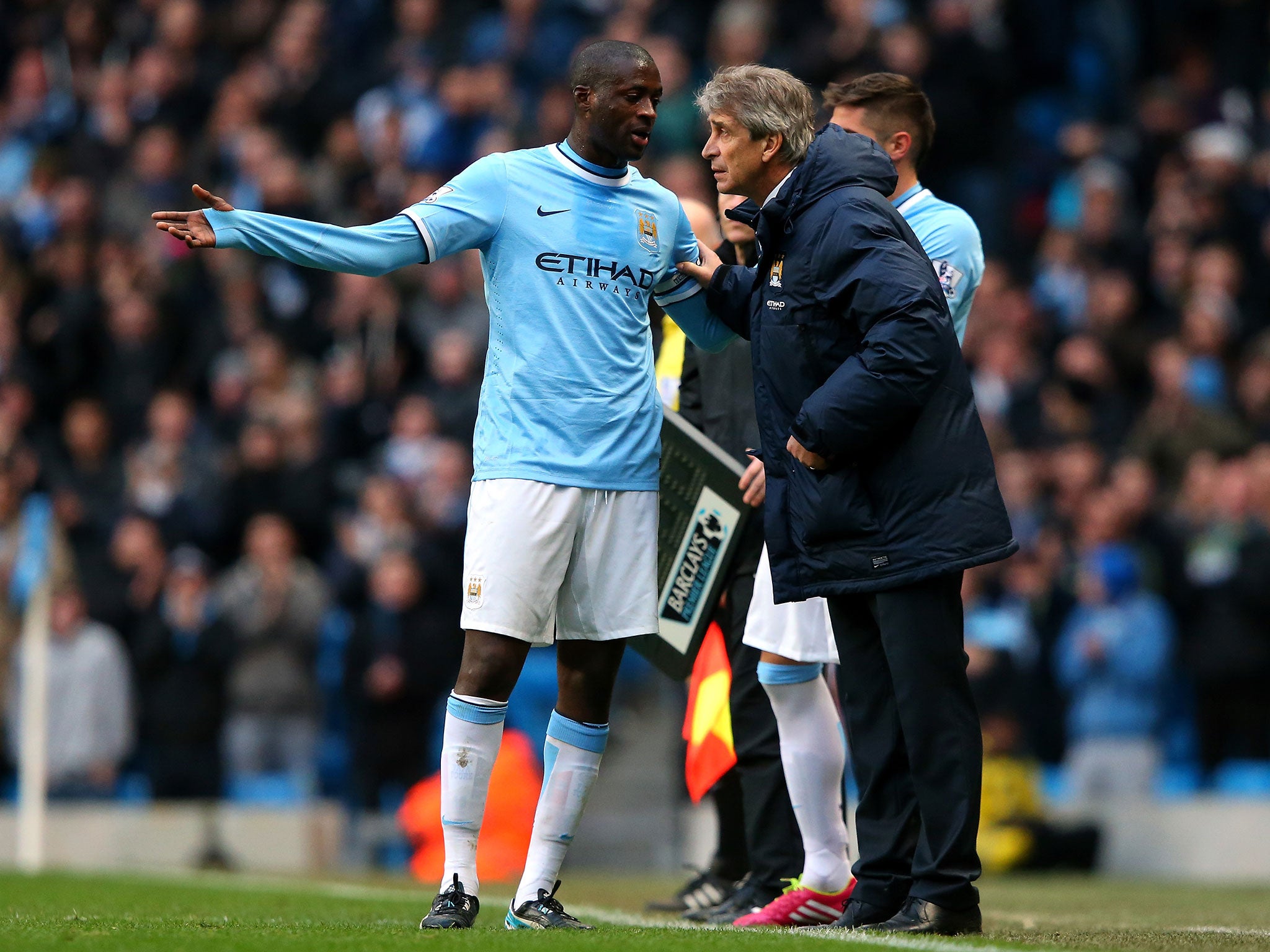 Manchester City manager Manuel Pellegrini wants to see more of his players challenging to win the Ballon d'Or in future.
City midfielder Yaya Toure has been named on a 23-man shortlist to win the 2014 FIFA world player of the year award.
Toure was outstanding as City won the Barclays Premier League last season and Pellegrini believes more of his players should be striving to hit those standards.
Pellegrini hopes this will come as a natural consequence of City's continued growth and increasing importance on the European stage.
The Chilean has already spoken this season about striker Sergio Aguero, who has scored 11 goals in 12 games this season, as a potential Ballon d'Or winner, bracketing him with Cristiano Ronaldo and Lionel Messi.
Ballon D'or 2014 23-man shortlist
Show all 23
He said: "I don't know all the players who are nominated but I always say we need more players who are nominated for those awards.
"It is very important to try and continue improving in Europe. It cannot always be Real Madrid, Barcelona, Bayern (Munich).
"I think it is the challenge for our players to be nominated. Not just Yaya, at least three or four more."
Pellegrini has himself earned a nomination for FIFA's coach of the year award after an impressive first season in England.
The 61-year-old oversaw Capital One Cup success as well as the club's second title in three seasons.
He said: "It is something that makes me happy but it is not something I think too much about.
"In my career maybe I put my seasons with different clubs, where it was difficult to achieve things, on top. But obviously I am very happy but it is not my principal concern."
Pellegrini's priorities are a successful title defence and establishing City in the Champions League.
City slipped up on Saturday as they were beaten 2-1 at West Ham and they now trail Premier League leaders Chelsea by six points, but Pellegrini is not overly concerned at this stage.
Pellegrini said: "Of course we are disappointed because I don't think we deserved to lose.
"But I think all the teams will drop points and in this case it was our team.
"Every point you drop (makes it) more difficult to arrive at the top of the table but if you review the table position last year, we were in seventh position in this moment with 16 points, one behind our points in this season. We were six points behind the leader.
"There are 87 points more to fight for."
The West Ham result came after a frustrating draw with CSKA Moscow in the Champions League, but Pellegrini does not think teams have necessarily worked City out.
Pellegrini said: "No, I think the way so far is very important and we have to analyse the Champions League after we finish the group.
"About the Premier League, last year (we had) exactly the same criticism - that we must change our way to play, that we cannot play in that way, that we don't know how to play away."
Pellegrini will consider changes as they continue their Capital One Cup defence with a fourth-round tie at home to Newcastle on Wednesday.
But the former Real Madrid boss maintains the competition is of high importance.
He said: "It is very important for the club to win trophies, it doesn't matter which competition we are playing. We are trying to win the four competitions in the same way.
"As I said last year, always winning a title at Wembley has extra things, (it is) maybe the most important stadium in the world with 80,000 people seeing, so always it is very important.
Newcastle have lifted some of the gloom over their position with wins in their last two games and Pellegrini is ready for a difficult contest.
He said: "I try not to analyse the rivals only considering the last results.
"They are important players, all the teams here in England have strong squads, so I am sure we must play very well tomorrow if we want to win."
PA
Join our commenting forum
Join thought-provoking conversations, follow other Independent readers and see their replies