Top managers respond to Marco van Basten's 'immeasurable bulls***'
Jurgen Klopp, Arsene Wenger and Antonio Conte among those to have expressed concern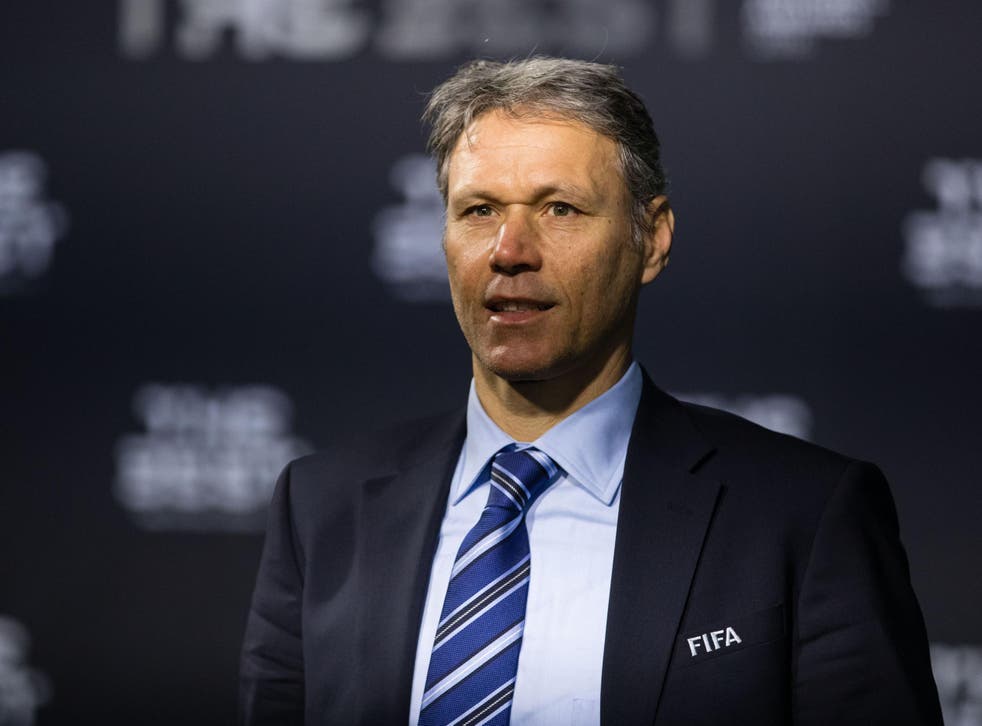 Managers around Europe have cried foul of Marco van Basten's "immeasurable bulls***" ideas regarding changes to the laws of football, including abolishing the offside rule.
The Fifa technical chief suggested eight changes on how to revolutionise football including limiting children's matches to eight-a-side, allowing only captains to speak to the referee and stopping the clock when the ball goes out of play for the final 10 minutes of the game.
He also suggested orange cards to indicate 10-minute sin-bins, replace penalty shootouts with eight-second run-ups and, controversially, ditching offsides.
However, Rennes manager Christian Gourcuff led the charge against his ideas and laid out some harsh truths for former Dutch star.
"This is the worst c**p I have read in a long time and yet I did not read it wrong," said Gourcuff.
"It's immeasurable bulls***.
"We would return to the time of village versus village, and at the time it ended with players being killed.
"The offside is a manifestation of collective intelligence. There would be no more collective spirit if the offside rule was removed.
"The offside rule is fundamental – if you do not understand that, you do not understand football."
And Premier League managers have also reacted to Van Basten's suggestions – albeit in a slightly less brutal manner – with Liverpool manager Jurgen Klopp encouraging the Dutchman should go an create another sport if he is intent on his ideas.
"My opinion is this wonderful game that we all love doesn't need rule changes," Klopp said at his pre-match press conference on Friday.
"What we are doing, with the world championship changes, puts the game in danger. They try to squeeze everything out of it but I don't think they care about the future of football.
"(Marco van Basten) can create another game. There is enough pitches around the world."
Chelsea boss Antonio Conte was similarly unresponsive when asked about the changes and said football should not look to other sports for ideas, with sin-bins, stopping the clock and allowing only captains to talk to players all being taken from rugby.
"I don't like this," said Conte. "If you start to change a lot of rules in football it's not good.
"I don't like to try to take from other sports. Football is football."
Arsene Wenger was open to discussing some of the suggestions but was equally damning about the offside rule "Some of the proposals are worth discussing, some I don't see any big interest. The one I don't find interesting is to suppress offside.
"Offside is what makes the team good together. It is an intelligent rule as well, it is important to keep that in the game.
"Overall football improves. People say it is too tight and compact but football has always been like that, defence creates a problem for the attack and the attack finds a solution."
Slaven Bilic said removing the offside rule would be "impossible", while Mauricio Pochettino warned Van Basten about making changes to such a difficult game.
"For me the major one is offside" said Bilic. "I can't imagine what football would look like but my first reaction is it's impossible.
"Everybody would love to have a rest by the goalkeeper on the post and just tap in the ball.
"Maybe try it and see it on a pitch. If I had to say now, I'd say no."
Pochettino said: "I understand that sometimes when you are in some positions you need to try to find ideas but I don't want a machine without offside.
"If we play without rules, we have to be careful with that.
"My first impression is be careful. Because, in football, to change the rules is a very difficult thing."
Register for free to continue reading
Registration is a free and easy way to support our truly independent journalism
By registering, you will also enjoy limited access to Premium articles, exclusive newsletters, commenting, and virtual events with our leading journalists
Already have an account? sign in
Register for free to continue reading
Registration is a free and easy way to support our truly independent journalism
By registering, you will also enjoy limited access to Premium articles, exclusive newsletters, commenting, and virtual events with our leading journalists
Already have an account? sign in
Join our new commenting forum
Join thought-provoking conversations, follow other Independent readers and see their replies