Marcus Rashford is Manchester United's great hope but Jose Mourinho knows he's not the finished article
Rashford's desire for more action, and a more central position seemed wholly justified in the early months of the season, though Mourinho's reticence about that seems now to be the right decision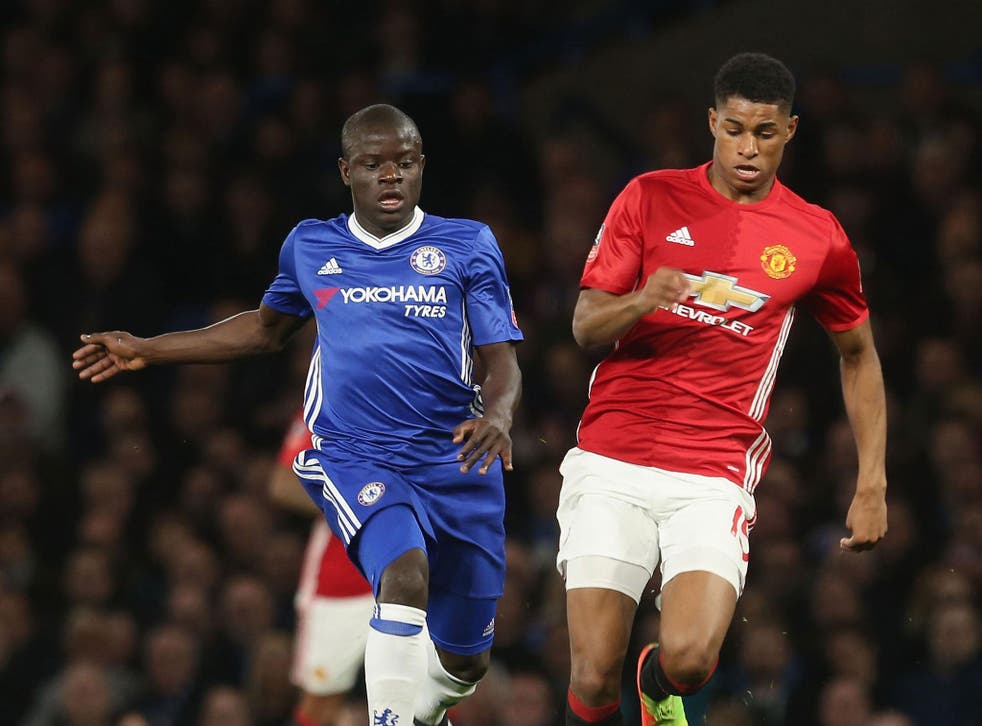 There could have been a very big Marcus Rashford moment at Stamford Bridge on Monday night and though the teenager fashioned it – turning Gary Cahill inside out as he ran at him at pace - he could not finish it.
It was when Thibaut Courtois had stretched out a leg to repel Manchester United's outstanding goalscoring opportunity that you were left to reflect on what the burden of expectation has brought to the player. He would have buried the chance in his breakthrough season, last year. This time, he could not write his name across the west London sky.
The unthinking ability to finish chances like that is what comes with youth. Fearlessness, is what Michael Owen has described it as. "When I was 18 I feared nothing," Owen said last year. "I just did it. It didn't matter who I was playing against. I had an unshakable self-belief. Nothing bothered me. The prospect of scoring against Argentina at the World Cup? It felt natural."
Chelsea vs Manchester United player ratings

Show all 22
Later in his career, Owen did what you or I would do in his position. He'd look at the team sheet of the team he was up against, know that if he was up against Rio Ferdinand or John Terry he might have a problem on his hands, so would target "the other centre half, maybe play on him instead, because he wasn't as strong. You lose that air of fearlessness."
Rashford has not lost that capacity, though his performance in United's FA Cup defeat to Antonio Conte's side revealed that having ice in your veins is not enough when other sides have cottoned on to your threat. There are no secrets in the white heat of elite British football and while Rashford's whippy pace and unexpected movement was once enough, he is a marked man now.
Rashford, frankly, lacked the physique to take on Cahill and David Luiz to any meaningful effect. He supplied the opening period's half chance on Monday – levelling for Henrikh Mkhitaryan to fire a low shot wide of the right hand post - yet he seems to be in the same place that Sir Alex Ferguson found Danny Welbeck before sending him on loan to Sunderland in 2010. That is to say: needing to build up some physical presence to go with the pace. Owen was indestructible at Liverpool, in those years before muscular trouble so cruelly cut him down.
Jose Mourinho seems to feel that the player he calls 'The Kid' has what it takes. Though the 19-year-old has appeared from the bench more than starting Premier League this season and only overtook his 2015/16 tally of first team starts with his appearance against Chelsea, the manager has been more fulsome in his praise than he can often be with teenagers. He doesn't seem to feel there is a need to 'test' him that he often shows.
"The second season was always going to be a difficult one," Mourinho said of Rashford this week. "I think the third season is going to be the good one again. The third season is one with more maturity, he can build on his experiences so I am sure the third season will be better than the second. The second season is the difficult one. It's the pressure, it's the people that knows him, it's the expectation."
That's not to say that Mourinho did not turn the screw on the player in the hours ticking down to Monday night. "It's his decision. He knows he's the only [striker] with a chance to play and he has put himself on the line," he said. No pressure, then.
Rashford's desire for more action, and a more central position seemed wholly justified in the early months of the season and many of us howled, though Mourinho's reticence about that seems justified now. He remains one of United's great hopes yet is not the finished article. Becoming a mainstay is an incremental process.
Register for free to continue reading
Registration is a free and easy way to support our truly independent journalism
By registering, you will also enjoy limited access to Premium articles, exclusive newsletters, commenting, and virtual events with our leading journalists
Already have an account? sign in
Register for free to continue reading
Registration is a free and easy way to support our truly independent journalism
By registering, you will also enjoy limited access to Premium articles, exclusive newsletters, commenting, and virtual events with our leading journalists
Already have an account? sign in
Join our new commenting forum
Join thought-provoking conversations, follow other Independent readers and see their replies