Marcus Rashford proves he becoming Manchester United's talismanic figure by adopting a workhorse mentality
Jose Mourinho may have missed a trick this season by not playing Rashford instead of Zlatan Ibrahimovic more as he gives United more threats on goal
Miguel Delaney
Vigo Comments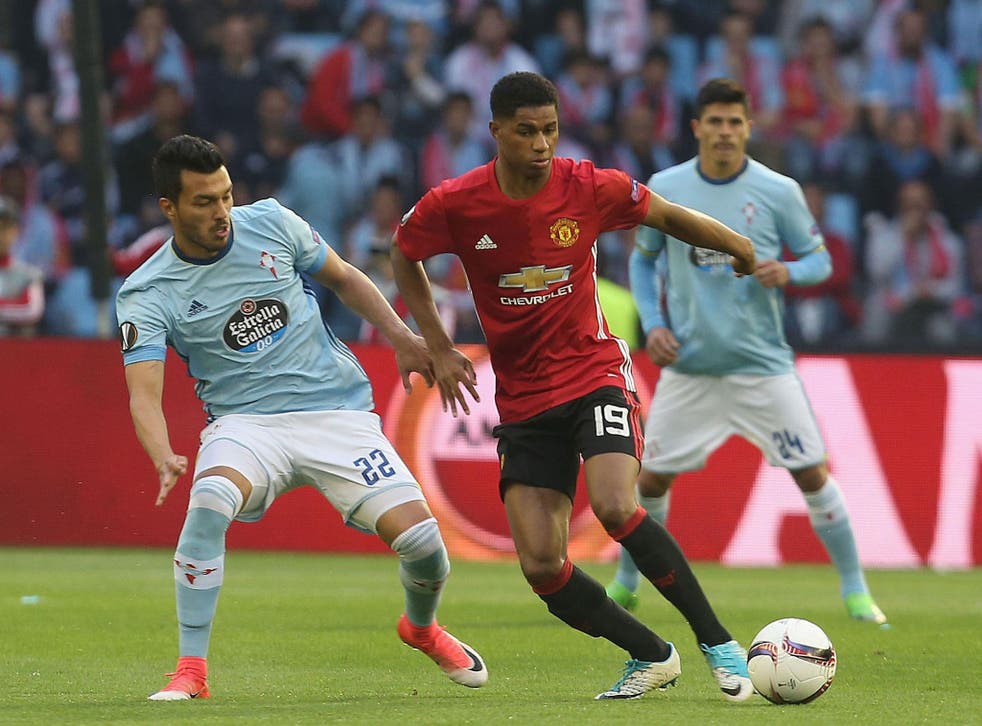 It was even before Marcus Rashford made the difference in the game that the 19-year-old showed what a difference he makes to the Manchester United team - and why he is genuinely becoming a talismanic figure long before his time.
Celta Vigo had suddenly upped the speed of their game shortly after half-time of this Europa League semi-final first leg at the Balaidos, and looked like they could be starting to cause Jose Mourinho's side some real problems. It merely saw Rashford cause more problems for them, as he turned the flow of the game with one quick spin of his body. A Celta Vigo attack had broken down, and the ball was played up to the young forward on the halfway line. He didn't just take out his marker with one swift turn of his body and intelligent touch of the ball, but opened up the whole Celta half before bursting into it.
It was electrifying, and saw so many United players followed him at force. The move may have ended with a surprisingly meek effort on goal that went badly wide but that finish only felt all the more out of place because everything else about Rashford was so cutting edge - as he would further prove.
It was also further proof that United may have been much better served with the teenager leading the line for more of the season. While Zlatan Ibrahimovic's injury is obviously hugely unfortunate and sad for the Swede - especially as the team are now on the brink of a trip to Stockholm - it is difficult to deny that Rashford just offers another dimension to the whole attack. He may not yet be as reliable in front of goal as Ibrahimovic (although it would be foolish to bet against that prospect given everything else he is doing) but he generally just helps United offer more threats at goal. His speed gives opposition sides more to worry about, and the unpredictability of his runs means they can attack from more angles. He just makes United faster. It's as simple as that, and makes them more difficult to play against, as Eduardo Berizzo pretty much admitted.
Manchester United player ratings vs Celta Vigo

Show all 12
"He's really fast and extremely dangerous," the Celta Vigo coach said.
That of course partly comes from the exuberance and extra energy of youth - the pure "love" of football as Mourinho put it - but also only reflects part of Rashford's importance.
It is also why this 1-0 win felt like something of another signpost night in his career, as if he'd taken a metaphorical stride forward as a player, to go with all of the exhilarating strides on the pitch. He had visibly matured, and has so obviously added more to his game than that admirable raw ability.
For one, there was the responsibility he took on scoring the decisive goal at such a key point in the game, to add to his strike in the quarter-finals against Anderlecht. This is what all the leading players do, as barely needs to be said.
Then there was the manner of the goal, and what it reflected.
This was Rashford's first set-piece strike of his career - as well as his first from outside the box - meaning he was essentially showing a new ability. The distinctive and difficult nature of the strike also showed how this is likely to become a trend, while also proving what Mourinho said afterwards: that it had come from a hugely impressive and hugely mature willingness to put the extra hours in, to hone his brilliant ability, to develop even more than he might.
"The free-kick is work," Mourinho enthused. "He works every day, he loves to work. Sometimes the training is finished with the group, and he keeps individual work with my assistant. The free-kick is really well taken, and I think the goalkeeper has no chance with it."
These were the type of things often said about players like Eric Cantona and David Beckham, just as this was a decisive moment of the type often offered by players like Eric Cantona and David Beckham. If it may still be premature to compare him to such genuine United legends, it is by no means premature to say he has become one of United's primary and most important players right now. He makes that much of a difference, and not just with his goals.
He truly electrifies the side, and elevates it to a higher level.
The one question out of this is whether his evolution as a player will be affected by United's transfer plans, given that Mourinho wants to bring in two forwards. That does not mean Rashford will not play, since the Portuguese has used him 48 times this season, but many of those were on the wing, as would probably be the case again if, say, Antoine Griezmann was to arrive.
This felt like another arrival night for Rashford, though, and one that proved he should be leading the line. He is similarly proving he is willing to lead the team in so many other ways.
Register for free to continue reading
Registration is a free and easy way to support our truly independent journalism
By registering, you will also enjoy limited access to Premium articles, exclusive newsletters, commenting, and virtual events with our leading journalists
Already have an account? sign in
Join our new commenting forum
Join thought-provoking conversations, follow other Independent readers and see their replies