The Independent's journalism is supported by our readers. When you purchase through links on our site, we may earn commission.
Mario Balotelli: Liverpool fans 'weren't nice with me', says £16m striker
Striker has signed a 'long-term' deal at Anfield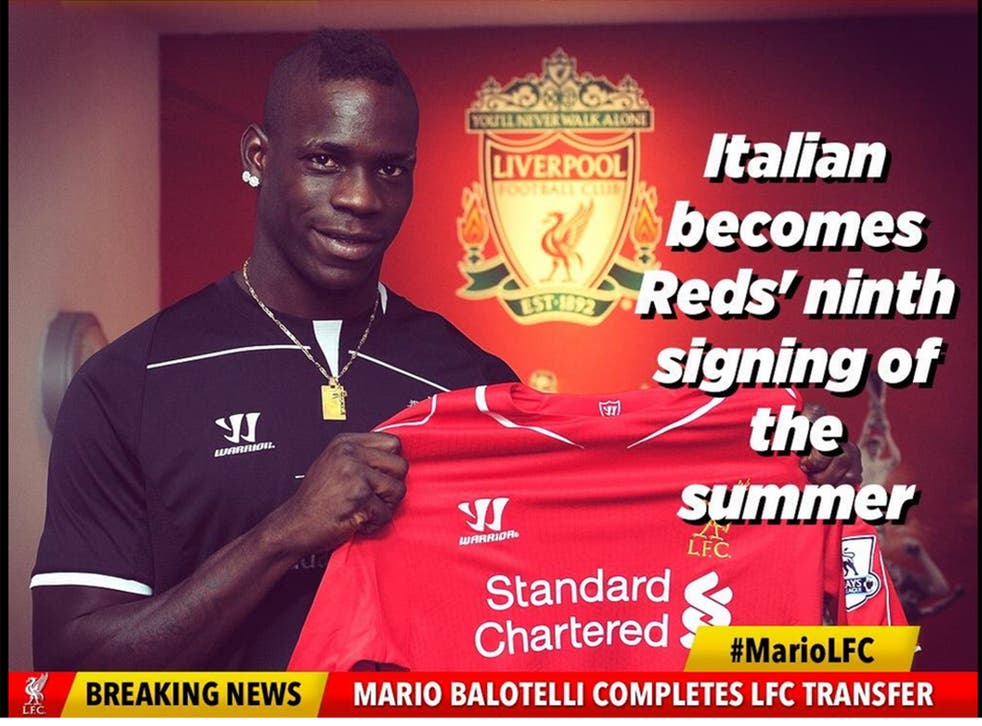 Mario Balotelli has revealed he was surprise to sign for Liverpool because the club's supporters "weren't nice with me" during his time at Manchester City.
The Italy international today completed his £16m switch from AC Milan and has signed a 'long-term' contract with the club.
While he is not eligible to play in tonight's game against former side Manchester City, he is expected to be in the stands for the game at the Etihad.
Negotiations have been taking place since the end of last week, but speaking to the Liverpool's official website, Balotelli admitted it had been something of a surprise to join the Merseyside club considering his history with the fans.
"Whenever I played against Liverpool, the fans weren't nice with me but that's normal - it's football!" he said.
"Now that I play for Liverpool, I can see the expectation in people. They're very happy and that makes me very happy at the same time."
Balotelli also revealed he didn't like playing at Anfield during his time with Manchester City when asked if had enjoyed his experiences.
"No - but when I play with this team [at Anfield], it's going to be nice for sure. To play here for Liverpool excites me, but if you're an opponent it's difficult."
Mario Balotelli: The funniest stories

Show all 18
Balotelli left England 18-months ago to return to Milan with AC, however he revealed it was the wrong career move.
"I'm happy to be back because I left England and it was a mistake. I wanted to go to Italy but I realised it was a mistake."
The new arrival, the ninth at Liverpool this summer, appears to be relishing the new opportunity that some have said will either make or break his career.
"Liverpool are one of the best teams here in England. The football is very good here. It's a great team with young players, and that's why I came here.
"I maybe have a little bit more experience than other players - if I can help them, I'm happy to help them."
The Italian also revealed he wanted to achieve "as much as I can" and spoke about the club's return to the Champions League.
"I always start a competition wanting to win it. We will see. I want to win another Champions League for sure, because the Champions League wasn't all mine, I was in a team. I want to take this team to the Champions League."
Balotelli is likely to make his Liverpool debut against Tottenham next weekend.
Register for free to continue reading
Registration is a free and easy way to support our truly independent journalism
By registering, you will also enjoy limited access to Premium articles, exclusive newsletters, commenting, and virtual events with our leading journalists
Already have an account? sign in
Register for free to continue reading
Registration is a free and easy way to support our truly independent journalism
By registering, you will also enjoy limited access to Premium articles, exclusive newsletters, commenting, and virtual events with our leading journalists
Already have an account? sign in
Join our new commenting forum
Join thought-provoking conversations, follow other Independent readers and see their replies