Mark Clattenburg suspended from Premier League this weekend because he wanted to watch Ed Sheeran concert
The referee travelled alone to West Brom vs Crystal Palace last week - which is not allowed under Premier League rules - so he could watch the pop star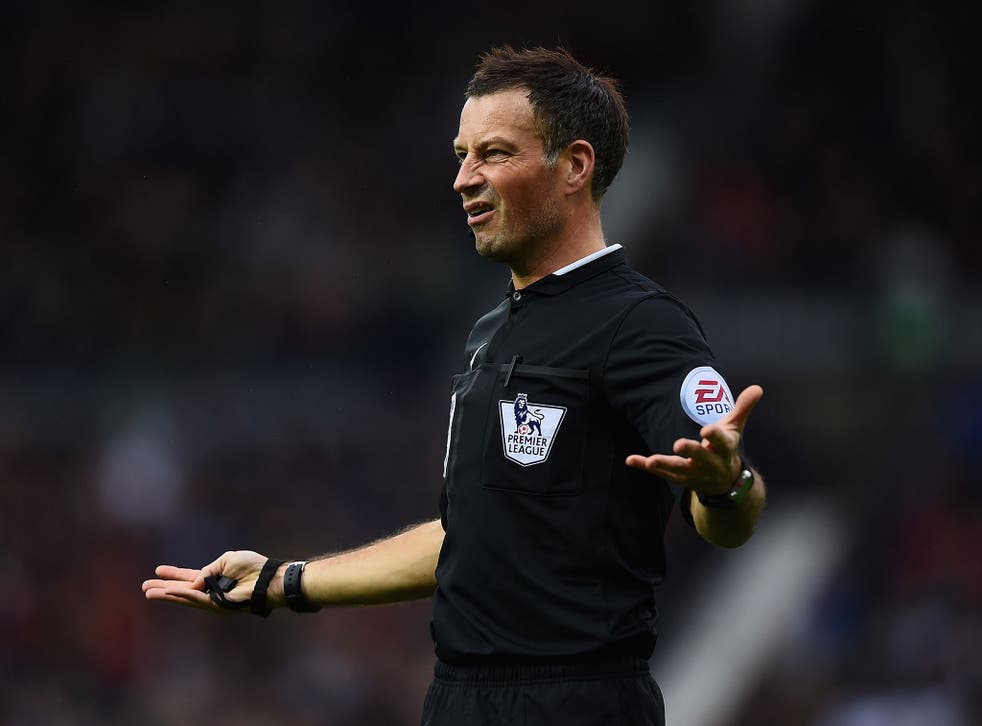 Premier League referee Mark Clattenburg has been suspended from this week's fixtures because he wanted to attend an Ed Sheeran concert, according to reports.
Clattenburg has been dropped because he was travelling alone in his car to Saturday's match between West Brom and Crystal Palace; officials must travel to and from matches with their assistants for the purpose of integrity and security.
He is also said to have been on the phone to Palace manager Neil Warnock after the controversial 2-2 draw, again, referees must be in the presence of their assistants when talking to managers.
The 39-year-old, according to The Sun, was in a rush to get home from The Hawthorns in time to see Ed Sheeran performing at Newcastle's Metro Radio Arena.
The contact with Warnock, who will likely have questioned Clattenburg on his failure to award Wilfried Zaha a first-half penalty or punish Craig Dawson's elbow on Julian Speroni, will be viewed as a more serious breach of protocol.
The Professional Game Match Officials Ltd, the governing body for England's top referees, does not want individuals talking to managers without witnesses, especially when controversial decisions have been made.
Clattenburg is viewed as one of the Premier League's best referees, but this is the latest in a string of controversies.
He has previously been suspended for eight months after an investigation into business debts and he was accused of racially abusing Chelsea midfielder John Obi Mikel – he was later exonerated by the FA.
He also had no case to answer when Southampton claimed he had "abused and insulted" Adam Lallana, now of Liverpool, by suggesting the midfielder's attitude had changed since he made his England debut.
Clattenburg's suspension will see the return of Stuart Atwell to the Premier League, who was the youngest Premier League referee at 25, in January 2012, before high profile mistakes saw him deselected at the beginning of this season.
--
CLATTENBURG CONTROVERSIES
This incident is not the first time the 39-year-old has been in the news for the wrong reasons. Here are somof his other unwanted moments in the spotlight...
JANUARY 2005 - PEDRO MENDES 'GOAL' NOT GIVEN
Clattenburg failed, along with his assistants, to spot Tottenham midfielder Mendes' shot had been fumbled clearly over the line by Manchester United goalkeeper Roy Carroll in a match at Old Trafford and a goal was not given.
OCTOBER 2007 - TONY HIBBERT SENT OFF
The Durham referee sent off Everton defender Hibbert in a Merseyside derby. After initially appearing to be about to show him a yellow card, Clattenburg seemed to change his mind and pulled out a red after a brief exchange with Steven Gerrard. He later did not send off Dirk Kuyt for a two-footed lunge at Phil Neville. Clattenburg did not referee another Everton match until 2012.
AUGUST 2008 - SACKED OVER BUSINESS DEALINGS
He was suspended pending a probe into his business affairs following allegations he owed £60,000 as a result of a failed venture. He was pulled out of the FA Community Shield clash between Manchester United and Portsmouth as a result and later sacked by the Professional Game Match Officials board. In February 2009 he was reinstated as a Select Group Referee on appeal, but suspended for eight months from August 6, 2008, - the date of his original ban - for "issues relating to his private business affairs".
DECEMBER 2009 - CRAIG BELLAMY ACCUSATION
It is alleged, in a match between Bolton and Manchester City, that Clattenburg asked the City bench: "How do you work with Craig Bellamy all week?" He then sent Bellamy off for two yellow cards in the game.
OCTOBER 2010 - NANI GOAL STANDS
Clattenburg correctly, if controversially, allowed a goal to stand between Manchester United and Tottenham when Nani tapped the ball in after Spurs goalkeeper Heurelho Gomes put the ball down, believing his side had a free-kick. Clattenburg had not blown his whistle.
OCTOBER 2012 - CLEARED OF RACIST ABUSE CLAIM
Clattenburg was accused of using "inappropriate language" towards Chelsea midfielder John Obi Mikel during their 3-2 defeat to Manchester United - a game in which Clattenburg sent off Branislav Ivanovic and Fernando Torres, while replays showed United's winning goal was offside. The allegations were the subject of investigations from both the FA and the Metropolitan Police, and Clattenburg was ultimately cleared. Instead, Mikel was punished with a £60,000 fine and a three-match ban for threatening Clattenburg after the match.
DECEMBER 2013 - COMMENTS TO ADAM LALLANA
Southampton made a complaint about the official, saying he had insulted captain Adam Lallana. Saints claimed Clattenburg had said: "You are very different now, since you've played for England - you never used to be like this." No further action was taken.
Register for free to continue reading
Registration is a free and easy way to support our truly independent journalism
By registering, you will also enjoy limited access to Premium articles, exclusive newsletters, commenting, and virtual events with our leading journalists
Already have an account? sign in
Join our new commenting forum
Join thought-provoking conversations, follow other Independent readers and see their replies