Martin Dubravka interview: Newcastle goalkeeper opens up on a tense deadline day move and that Manchester United performance
'I said I would try and perform how I do normally, as in a normal game - but of course it was Man United'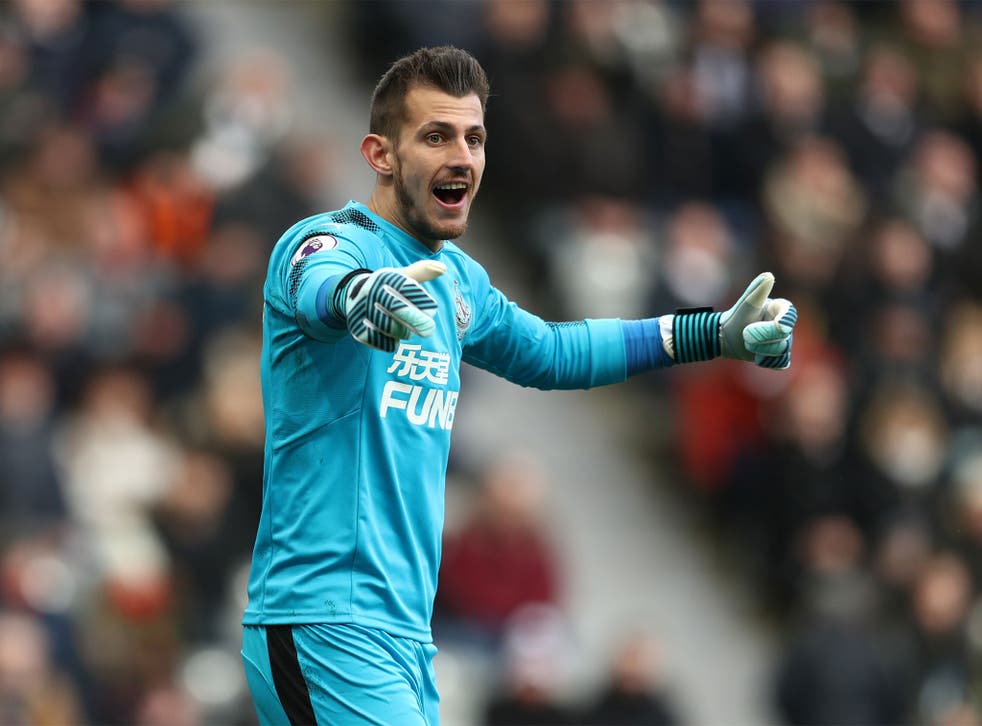 Thirty-five minutes of Martin Dubravka's debut in English football had passed when the ball was played to Nemanja Matic, on the halfway line. It is always said goalkeepers are different but his assessment of that moment, at St James' Park, with his new club fighting for their lives to stay in the Premier League, says much about how players in that position must watch the game.
"I saw Matic in midfield," says Dubravka. "He played in Slovakia when I was there, and when he had the ball in midfield I thought: 'This is not good!' I was just waiting, and then I saw Martial coming through, so I just tried to stay on my feet and react.
"I could see the ball was behind him, so I tried to push him to one side and make him nervous. I'm glad that he didn't have much time to think about it."
Martial shot with his right foot, from around eight yards, Dubravka stuck out his left leg to its maximum and the very bottom of his boot deflected the ball away for a corner.
"It was my studs which saved the ball," he adds.
The stadium rose instinctively. Belief fired through those stands. It felt like a centre-forward scoring on his debut, and Tyneside immediately recognised the moment for the individual, and also for the team.
"What was the feeling like when I saved it?" he says. "You don't want to know! It was an amazing feeling, I enjoyed it. The fans, they gave me the energy, but after that there was a corner, so we had to manage where everyone had to be. I'm trying to help the guys, to get them where they should be. You can make a save, but you cannot celebrate. What did it do to me? It gave me adrenaline, but I tried to make sure I was ready for the next attack."
Newcastle have won only once in the 15 Premier League games in which they have fallen behind, away at West Ham. Rafa Benitez's side has managed to come back and draw on three occasions, losing the other 11. The save felt hugely significant, Matt Ritchie scored in the second half, and then Dubravka stood firm, at the Gallowgate End, to record the club's first clean sheet in seven games.
"What did the manager say to me after? He told me I should buy some kind of lottery ticket and I would win!" says Dubravka. "He spoke to me many times before the game to help me. He knew it was a big game for me, my debut. We knew that nobody believed we could take three points. I said to everyone 'you never know, you can always beat the best teams if you fight for each other'. That is why we won.
"I didn't know I would be playing in this game. I was just sitting in the dressing room and the coach had the line up. It surprised me. I just tried to stay calm and tried to make sure I was ready for the game so I could do my best.
"Many players talked before the game and told me: 'You have to talk, you have to support us and just stay calm.' So I said I would try and perform how I do normally, as in a normal game - but of course it was Man United. I was just trying to take it as if it was any other game, but you can hear the crowd and the atmosphere and it helped me."
Dubravka, now 29, was born in Zilina, who he played for, winning the Slovakian championship twice, before moving to Denmark, with Esbjerg in 2014. He spoke to the former Czech and Newcastle goalkeeper Pavel Srnicek, about a move to Sparta Prague, but the two men never worked together. He went to Slovan Liberec first and signed for Sparta in 2017.
His grandfather and his father, Jozef, were both goalkeepers. As a child he was a winger, but his destiny always pointed at stopping goals, rather than making them. It explains his strength with his feet, something Benitez, who has wanted a new goalkeeper since last summer, told his scouting department to find.
"January was crazy," he says. "I tried to stay away from speculation as much as I could. My agent called me in the middle of December and said: 'There are some rumours that Newcastle are interested.' I said: 'Yes, that is perfect, but only call me when it is official.'
"Two days before the January window closed, my agent called me and told me that the clubs had made a deal and that I should fly very early in the morning, but then the director of Sparta Prague told me: 'I will not let you go.'
"On January 31, I was at the training ground with my Sparta team-mates, having dinner with them and having coffee with my friends, talking about Newcastle. Then someone close to me calls me and tells me: 'You have to go to Newcastle.' I didn't know if this could happen in such a short space of time, but then I got on a flight and realised that it could happen. I was flying to Newcastle to make the deal happen."
Newcastle have paid a £1.2 million loan fee. They will pay another £4 million in the summer if the deal becomes permanent.
His girlfriend, Lucia, was there, at St James' Park, to watch his first steps in English football.
"She was in the stadium and was very nervous," he says. "Unfortunately she was alone here, so it was very hard for her, but after the game we spoke and she said she was proud of me. I had to leave the phone after a while because I had a hundred messages and missed calls!
"My family are huge fans of the football. I met my friends after the game and they were like, 'What was that man!?'"
Join our new commenting forum
Join thought-provoking conversations, follow other Independent readers and see their replies