Martin Jol eager for Danny Murphy to sign new Fulham deal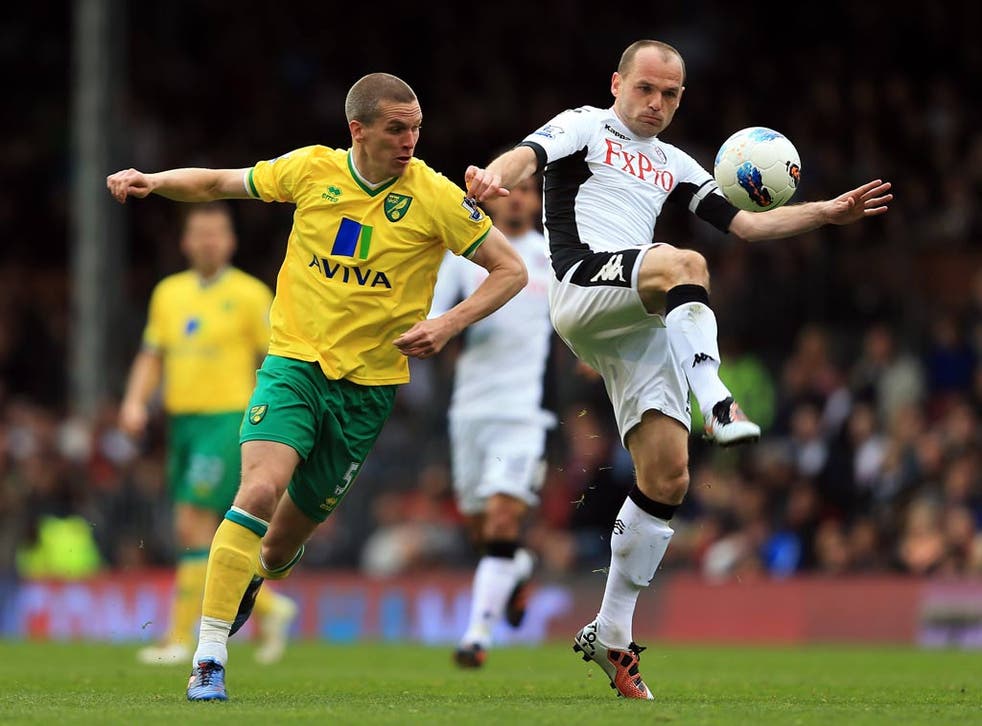 Fulham manager Martin Jol hopes captain Danny Murphy will remain at the club where he has become such an important part of the "playing culture".
The 35-year-old joined the Cottagers in 2007 from Tottenham and has written himself into club folklore, leading them to the 2010 Europa League final.
Murphy's contract runs out at the end of the season and a new deal has yet to be agreed, although Jol is hopeful terms can be sorted.
"He is part of our playing culture," the Dutchman said. "That is what you see most of the time.
"He is our link-up player and if he is not there you get a different style.
"But of course Danny is not 22 or 18 like [Kerim] Frei so sometimes you have to create your own options.
"If he is not there or cannot play all the games, I wanted somebody who can fill in for him.
"Dickson Etuhu is not a link-up player, he is a defensive midfield player so we brought in Mahamadou Diarra.
"He is very important to our playing culture.
"[I can see him staying for at least another year] if we can agree on the terms as we have offered him a new deal."
Murphy is one of several players in negotiations over a new contract, including Andrew Johnson, Brede Hangeland and Clint Dempsey.
The latter has been exceptional for the west Londoners this year and negotiations are ongoing, according to Jol.
"It is the same as it was before," he said. "We are talking to Clint, we are talking to several players.
"We will probably see at the end of this month but, on the other hand, it is not a crucial thing.
"Clint is still here next year so I think time is on our side.
"He has been very important because if your strikers are scoring 15 goals and you have a player like Clint we would be even higher in the league.
"But you can't imagine a situation if Clint had not been here.
"Luckily enough we have Pavel [Pogrebnyak] and he scored in his first three games so that helped.
"I feel with Clint, Pavel, Bryan Ruiz - who will hopefully get his form like he used to have - and Mousa Dembele we will hopefully score a couple of goals and then we're on our way."
Fulham face Bolton on Saturday looking to build on last weekend's defeat of Norwich.
The Cottagers will again be without striker Johnson through injury, while fellow frontman Pogrebnyak faces a fitness test tomorrow.
"Johnson has a problem with his thigh and that will take another two weeks," Jol said.
"Last week I thought he was on the fringe of joining the squad but he couldn't, and he will be will be out for at least the next few weeks.
"Pavel is struggling but we will do a test tomorrow, so hopefully at the very least he will play against Chelsea and hopefully against Bolton.
"It will be a 50-50 situation. When he started a couple of months ago he had the same in his first game but he played on.
"He twisted his ankle again in a block tackle against Norwich so it's an old injury because it probably didn't heal 100%."
PA
Join our new commenting forum
Join thought-provoking conversations, follow other Independent readers and see their replies