Matter of time before Asian kids knocking down Premier League's door
The Weekend Dossier
Glenn Moore
Saturday 05 October 2013 01:17 Comments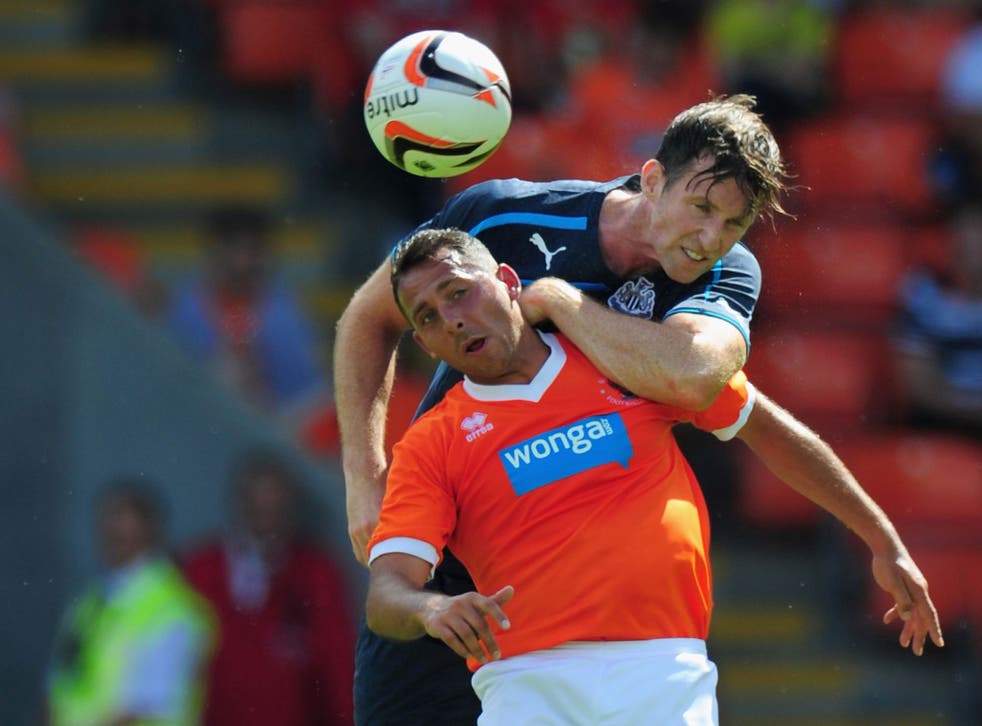 Wembley Stadium will rock to a different beat on Tuesday night, the Bhangra music of Juggy D. The Punjabi artist will be performing at the second hosting of the Asian Football Awards, an event founded to promote and increase Asian participation in football.
In modern, multicultural Britain such an event may seem unnecessarily insular but it is much needed. Asians make up around eight per cent of the English population, which is around twice the size of the black community. Yet while black British players make a huge contribution to the national game, British Asian ones are near-invisible.
Manchester United, Arsenal, Southampton and Sunderland have high-profile Asian players, but they are imports from Japan and South Korea. When it comes to British Asians playing with any degree of regularity there is one in the Premier League – the Swansea City defender Neil Taylor – one in the Championship – Michael Chopra of Blackpool – and one in the lower divisions – Danny Batth of Wolves. There are another five players on professional contracts, only one of whom, Walsall's Malvind Benning, has made a first-team appearance, and three more on scholar terms. That is 11 in total. There are around 3,000 professionals in the four divisions, and close to 1,000 scholars.
We all know the reasons, or think we do: Asian parents want their kids to be doctors; Asian kids are too weak; Asians prefer cricket and hockey; the Asian diet is unsuitable for a professional sportsman. So the clichés run. A generation after the demolishing of myths surrounding black players ("they don't like cold weather"; "they can't play in defence"; "they can't play in goal", etc) the Asian stereotypes retain currency.
Some can be easily dismissed. Asians do like football. On a personal level I played parks football for two decades, I still play five-a-side and I coach two boys' teams in different age groups. In all of these teams there have been, and are, Asian players. This is not uncommon. The lead sponsor of the Asian Football Awards is Goals, the company that rents out five-a-side pitches. Goals approached the AFA because, said organiser Baljit Rihal, "20 per cent of their customers are Asian".
Rihal, a British-born Sikh, has heard all the stereotypes and accepts there has been an degree of truth in one, the view that Asian parents prioritise education – or the family business – even if they have a potential sportsman in the family.
This is actually no different to the white community. Given how long the odds are about becoming a professional footballer few parents whose children have academic potential would happily allow them to sacrifice their education. It is why most footballers come from a working-class background. The difference is those immigrant communities where education is less prized, and sport might be seen as a way out, tend to be the most insular, which is in itself a handicap.
When it comes to physicality Manish Bhasin, the BBC football presenter, admits he himself once thought Asian players were not strong enough. Then, he said, Zesh Rehman emerged to play as a Premier League centre-half and Lionel Messi proved a lack of stature is no bar to brilliance. As for blaming diet, that, he said, "is a phoney accusation – if a kid is serious about being a sportsman he won't wolf down bowls of food cooked in ghee just because his mum made it."
Bhasin has heard tales of racism but believes that is no longer a major factor in holding Asian players back. Rihal also feels attitudes are evolving in what he calls the "gatekeepers" to the professional game – scouts, coaches and managers – as the myths are exploded. Nevertheless, few scouts watch the all-Asian leagues, maybe too few go into Asian-dominated urban areas.
To help highlight the Asian community's often unrecognised enthusiasm for football Rihal's awards celebrate all areas of the industry, from administration to coaching, medical to media. Some areas are more competitive than others: almost every Asian player with a contract is nominated.
"Such is the rarity anyone who has made it deserves recognition," says Baljit. He's right, but change is coming, albeit slowly. West Bromwich Albion have a trio of young Asian brothers, all signed after their father paid for the eldest, Adil, to attend a coaching course run by Albion. Adil, now 19, has played for England U17s but will be out until the new year after suffering cruciate ligament damage in pre-season. His younger brothers Samir and Rahis are also on West Bromwich's books, with Samir on a scholar contract.
Another teenager, Jai Singh Dhillon, signed on at Stevenage in the summer, having first come to notice winning the 2009 edition of Chelsea's Search for an Asian Star (a subsequent winner, Jordan Sidhu, is a scholar at Dagenham).
Contrary to stereotype, Dhillon's father, Chunky, said: "Football is a great sport and very positive getting youngsters off the streets."
The progess of these players is followed avidly in Asia (underlining their commercial potential), but the biggest buzz surrounds Yan Dhanda, who signed for Liverpool this summer aged 14. Previously at West Bromwich he cost a reputed £250,000.
"It is surprising that the breakthrough has been made in boxing, with Amir Khan, before football," said Bhasin, "but it just has to happen at some point. You go to the urban areas with big Asian populations and kids there are desperate to be Premier League players."
Just like the kids in any other ethnic group in Britain.
Minority report: British Asian players
Neil Taylor Swansea City
Adil Nabi West Bromwich Albion
Michael Chopra Blackpool
Jhai Singh Dhillon Stevenage
Malvind Benning Walsall
Danny Batth Wolves
Kash Siddiqi Northampton Town
Josh Sharma Oxford United
Zesh Rehman Kitchee (China)
Raajan Gill Cadiz (Sp)
*Samir Nabi West Bromwich Albion
*Dylan Lall Brighton & Hove Albion
*Jordan Sidhu Dagenham & R'bridge
*Scholars (U16-18)
Source: Kick It Out
Five Asides
1. Higginbotham wide of the mark on modern coaching
In the latest issue of Twentyfour7 Football Danny Higginbotham, a long-time Premier League player with Stoke now at Chester, argues that young players are being put under too much pressure at club academies at too young an age and should be allowed to play more often for enjoyment. He may have a point. Unfortunately, he adds that "coaching qualifications mean nothing" and argues kids are having natural talents coached out of them. Higginbotham has clearly never attended an FA coaching course, the modern incarnations of which emphasise enjoyment and letting kids learn by making their own decisions.
2. Wilshere should stub out a stupid habit
To judge from his response, Jack Wilshere thinks the furore over his smoking is overblown. He should think again. Quite apart from the appalling example he sets, the stupidity of a professional athlete smoking beggars belief. It is a daft habit for anyone. Footballers may feel increasingly constrained as to how they spend their downtime, but smoking is not the solution.
3. Managers hand a get-out clause to sent-off players
Scott Brown's sending off for Celtic against Barcelona was Neymar's "fault", Fernando Torres' dismissal was Jan Vertonghen's "fault". No wonder some footballers struggle to take responsibility for their own actions when managers are so keen to defend their idiocies. Maybe Neil Lennon and Jose Mourinho were more critical in private but their excuse-making sends out the wrong message. These players let their team-mates, fans and managers down.
4. Wiggo knows confidence can easily plummet
Elsewhere in these pages Tom Huddlestone discusses his revival and Neil Warnock writes about Gareth Barry's rejuvenation. Add the form of Aaron Ramsey and Daniel Sturridge and it is clear how important confidence is to an athlete. Easy to lose, hard to gain, as vital as talent. As Sir Bradley Wiggins could tell you, when discussing wet descents in Italian hills.
5. Blatter presides over another shambles
Another week, another exercise in obfuscation and delusion from Fifa. Sepp Blatter's continued survival as his organisation sinks deeper into disrepute shames the game.
Register for free to continue reading
Registration is a free and easy way to support our truly independent journalism
By registering, you will also enjoy limited access to Premium articles, exclusive newsletters, commenting, and virtual events with our leading journalists
Already have an account? sign in
Register for free to continue reading
Registration is a free and easy way to support our truly independent journalism
By registering, you will also enjoy limited access to Premium articles, exclusive newsletters, commenting, and virtual events with our leading journalists
Already have an account? sign in
Join our new commenting forum
Join thought-provoking conversations, follow other Independent readers and see their replies