Mauricio Pochettino threatens to quit Southampton if Nicola Cortese leaves
The manager only took over earlier this season
Glenn Moore Comments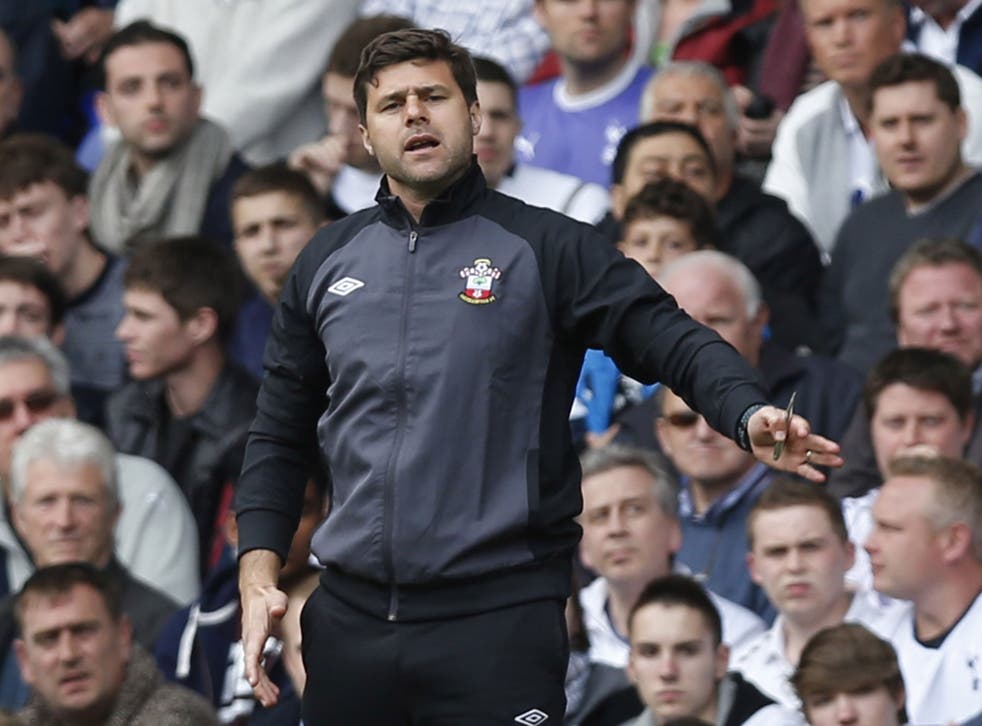 Southampton sought to project the impression that it was business as usual, with Mauricio Pochettino and Nicola Cortese meeting to consider summer transfer targets.
However, hanging over their discussions was an air of uncertainty after the manager went public in support of Cortese's attempt to push the club's owners, the Liebherr Trust, into backing his plans. Pochettino effectively said if his chairman left St Mary's, so would he.
"My future in Southampton has to be with Nicola," said the manager. "The reality is we share a common passion and long-term plan for this club. It would not make much sense for me to continue at this club if he is not here.
"I do not understand Southampton without Nicola in the future. Nicola has created everything we see at Southampton now."
It emerged earlier this week that Cortese, 44, was "considering his future". The chairman, who has run Saints since persuading German-born, Swiss-based billionaire industrialist Markus Liebherr to buy it in 2010, is effectively out of contract this summer. He is understood to be seeking firm and early decisions on the club's budget for the next season, a season in which he hopes to build on Southampton's survival in the top flight, and confirmation that he will remain in charge of the decision-making.
The Liebherr Trust is essentially Katharina Liebherr, daughter of Markus. She inherited the club upon his death in 2011 and gave Cortese carte blanche and a generous budget to pursue Markus's ambition of lifting Saints from League One to the Premier League.
With that achieved, Cortese now aims to contend for a European place. He and Pochettino want to tie up transfer targets in time for pre- season training "Hopefully we'll have everything set up for next season ahead of 1 July," said the Argentine. He added: "We will try to speed us the decisions that need to be made because, if we can't get things sorted by 1 July, players are going to have trouble adapting."
Katharina Liebherr is not believed to have any great interest in Southampton, or football generally. The club is a small part of a large business empire. It has, though, been a good investment. As a Premier League club it is worth significantly more than when bought out of administration for an estimated £13m. The Liebherr family has since invested substantial sums, and converted the debt accrued into equity, but having made a £900,000 profit in the six months to December 2012 the club now appears self-financing, especially with the new Premier League TV deal kicking in.
There were reports in February 2011 and March 2012 that Southampton would be sold, neither of which proved to be true, but to all intents and purposes the club does appear to be dependent on an owner with no real interest in it. There is thus a possibility that this sabre- rattling could rebound, though selling a club without Cortese running it would be a lot harder than if he were on board.
Pochettino was controversially appointed in January at the expense of Nigel Adkins ,who had guided Saints to successive promotions. Results have marginally improved since and safety was secured at the weekend.
Morgan Schneiderlin, Saint's captain and player of the year, said if Cortese and Pochettino left: "It would put everything in question again for every single player. The chairman and Mauricio Pochettino are a big part of this club. They are selling the project to us and that's why I signed a new contract. All the players are here because we trust Southampton is going to move forward."
Register for free to continue reading
Registration is a free and easy way to support our truly independent journalism
By registering, you will also enjoy limited access to Premium articles, exclusive newsletters, commenting, and virtual events with our leading journalists
Already have an account? sign in
Join our new commenting forum
Join thought-provoking conversations, follow other Independent readers and see their replies