Michael Essien says he will turn to Jose Mourinho for coaching advice as he considers managerial career
Exclusive interview: The former Chelsea midfielder on his burning desire to keep playing, while keeping an eye on retirement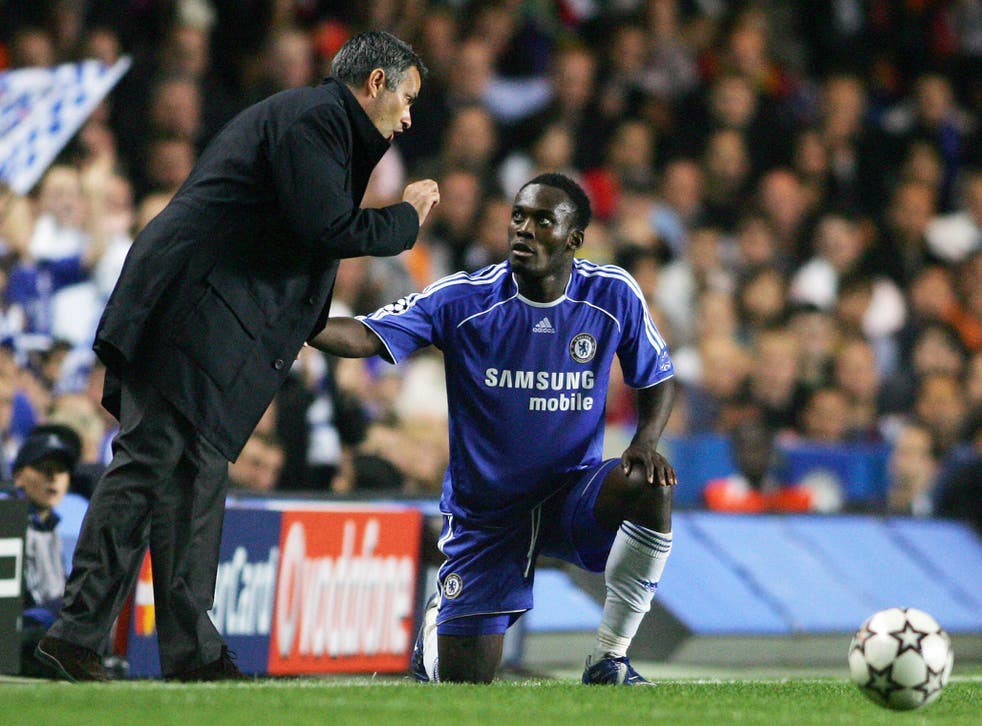 At almost 36 years old, Michael Essien is without a club. He hasn't made a competitive appearance for over a year, after he was released by Indonesian side Persib Bandung. The former Chelsea midfielder understands there isn't long left now before he finally has to throw in the towel, marking the end of a career filled with success – two Premier League and Ligue 1 titles, one Champions League – and plagued with injury.
But while Essien believes there's still football to play, he's currently at the stage of determining what to do when retirement comes, and one option he's open to is management.
"I'm still thinking about it to be honest," he tells The Independent. "I've been following some of the coaches, trying to get a little bit more experience, because coaching is very different from being a player. I'm trying to see that side of it, and taking in everything. And when I decide to hang up my shoes, hopefully I know what I'm going to do.
"If I want to go into coaching, Jose would be the first person I would pick up the phone and call and get some advice. I played with some top managers, so I can pick up the phone and call any of them and I'm sure they would help me out, they would give me some guidance and take it from there."
If the Ghanaian does opt for life on the touchline, it would make obvious sense for this to be his primary point of contact. Jose Mourinho has been a father figure to Essien since his arrival at Stamford Bridge 13 years ago. When signing for Real Madrid on loan, another chance to play together, the midfielder repeatedly referred to him as "daddy" during his first press conference. Mourinho has even ventured back to Essien's home in Accra to meet his real family. There is no doubt of a special bond with the special one.
Despite this, there was a resistance to talk about Mourinho at first. The Man United boss is notorious for his refractory attitude with the media, and Essien clearly doesn't want to comment on anything that may add to the build-up of negative headlines.
As he ponders his next move, Essien's former Chelsea colleagues have also made significant career decisions. Joe Cole and Didier Drogba, who were at the club when he arrived, have both announced their retirement over the last fortnight. And Frank Lampard, who Essien says was the best player he'd ever appeared alongside, made the switch to management this summer.
"It's a big surprise for me," he says, letting out a short chuckle again, "because if somebody asked me when I was a playing if Frank Lampard would be a manager I would say no, because he's very quiet. He would say something if he needs to. But he would come in, train well, plays football, and just goes home. But I know he's a very intelligent boy. So yeah it's quite a big surprise for me, but he's been really good."
When explaining why being a pundit has never crossed his mind, Essien admits something that is already quite obvious – "I'm a man of few words," he laughs, "I don't really like talking." It's true, his softly-spoken and mostly laconic answers had been an onerous task to draw out as he was cross-examined for thoughts on his future.
But even if Essien isn't cut out for the world of post-match analysis, that doesn't seem to bother him. Not many things do. For now, he's still got an eye on his immediate plans. As he continues to keep up his fitness, training regularly at Chelsea's Cobham facilities, Essien says there are various offers on the table that he's yet to make a final decision on. He's still open to ideas, even admitting he might entertain a contact from a Football League club.
"I want to keep playing," he insists, "I mean I think I still have a year or two in me, but I'm not rushing into anything. If something comes up and it's interesting I might consider it. I think that's what I'm trying to do really, and we'll see what happens.
"I just want to enjoy the few years ahead of me playing football. It's something I love, it doesn't really matter [where]. I've played at the highest level, so I'm just looking forward to enjoying the football, so anywhere there is interest, then yeah. I will consider it."
Essien is taking part in the EE Wembley Cup on Sunday, November 25, playing with the likes of Robert Pires, Cafu, and David Trezeguet. Tickets are available via www.ee.co.uk/wembleycup
Join our new commenting forum
Join thought-provoking conversations, follow other Independent readers and see their replies