exclusive interview
Michael Shields 10 years on: 'You don't want to be angry. There's no point in being angry'
In 2005 Shields was jailed in Bulgaria for a crime he did not commit. A decade on from his release he speaks to Tony Evans about putting the nightmare behind him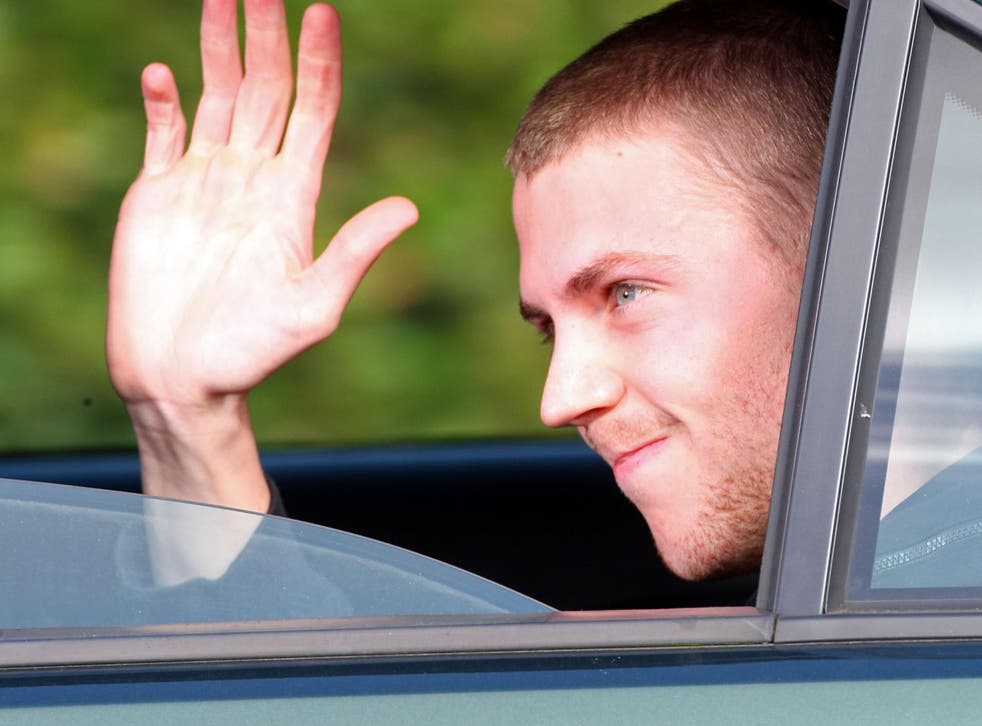 Michael Shields has never read Kafka. He does not need to. He has lived the nightmare of being jailed in an eastern European country for a crime he did not commit. A decade on from being granted a Royal Pardon, the 33-year-old is pausing to reflect on the events that changed his life.
"It doesn't feel like 10 years," he said. "There are weeks and months when I don't think about what happened and then something will come on the television about prison. I'll say to my wife, 'It's not like that.' She'll say. 'How would you know..? Oh.'"
Shields was on his way back from Istanbul, where he had watched Liverpool win the Champions League in remarkable circumstances, coming back from 3-0 down at half time to beat AC Milan on penalties. The journey home in May 2005 went through Golden Sands, a Black Sea resort in Bulgaria. Many Liverpool fans took tortuous routes to the final. Some of those staying at Golden Sands became involved in a drunken brawl outside a cafe and Martin Georgiev, a barman, was beaten up, hit on the head with a stone and seriously injured. Four men were arrested. Shields was dragged from his bed by police, told how to dress and taken into custody.
"I was so naive," he said. "All I could think was, 'Let's get this over quickly.' When you're young you're a bit unaware about what's happening. I look back and think how stupid that when a policeman woke me up and told me to put on a certain kind of shirt I just did it. I was a teenager."
Confused, isolated but compliant, Shields was taken to a police station. He was later convicted of attempted murder on the basis of eye-witness evidence. Bulgarian police procedures left a lot to be desired, though.
"The ID parades were bizarre," he said. "I was sitting in the reception at the station handcuffed to a pipe with all the witnesses walking past looking at me. Then they were asked to pick me out in a lineup. There was no lawyer, just 18-year-old me thinking, 'Let's get this finished so I can get out.'"
It would be four years before he was free again. Georgiev was in a coma but when the barman woke, he too said that Shields was his attacker. "I had mixed feelings when the victim pointed me out," he said. "I could see the scar on his head and it looked horrific. Then he pointed a finger at me and I couldn't believe it. He sat by me in the court and I was trying to get his attention and say, 'You know you're lying.'"
On reflection, Shields understands why Georgiev believed he was looking at his attacker. "When he woke up in hospital my face was all over the papers," the Scouser said. "The police told him it was me. People had identified me. I was angry at him at the time. That's sad because he was the biggest victim of all."
One of the men arrested with Shields, Graham Sankey, had been released without charge – the other two were convicted but given non-custodial sentences. Sankey returned to Liverpool where he confessed to being the perpetrator. He later recanted and refused to return to Bulgaria, give evidence from Britain or cooperate with Merseyside Police.
"My uncle was sitting behind me in court and he said, 'Sankey's confessed.' I was certain I was getting acquitted," Shields said. "I was stunned when the verdict went against me. The lieutenant at prison was good and allowed me a three-hour visit with the family. I needed that to process what happened. It was a godsend. I said, 'How can we fight this?'"
Shields was given a 15-year sentence. While his advocates back home galvanised for a campaign to highlight the flaws in the case, he began to adjust to life in the Bulgarian prison system. "The detention centre was archaic," he said. "There were no windows and conditions were bad. It was like Midnight Express. My dad kicked up a fuss. My skin was yellow. Prison was better but the worst thing was moving jails, going into the unknown. Any prisoner will tell you that.
"For the first few years I wasn't angry. It was more, "Shit, how has this happened?"
Support on Merseyside was strong. Local politicians got behind the campaign and there were two mosaics on the Kop highlighting Shields' plight. The FA reprimanded Liverpool but decided against sanctioning the club for flouting Fifa rules on political protest. Meanwhile, two appeals failed in the Bulgarian courts, although the second reduced the sentence to 10 years.
"I got letters detailing the support back home but I was on the flip side," he said "In Bulgaria I was the villain. When I learnt enough of the language to read the newspapers I'd see myself described as a monster and hooligan."
The low point came when a further appeal to the European Court for Human Rights was rebuffed in 2007. "Each appeal was blow," he said. "It grinds you down. That's why I gave up. Apathy took over."
For the family it was anything but apathy. By now Shields had been transferred back to the UK to complete his sentence. It was a very different environment. "All rules and regulations," he said. In 2008 the Bulgarian government confirmed that Britain had the right to pardon the prisoner but Jack Straw refused, saying it was beyond his authority but a judicial review disagreed. The Home Secretary became the focus of the campaign.
"The family turned the spotlight back on Straw," Shields said. "When the judicial review came back in my favour, he said there was no new evidence. In reality he hadn't looked at the original evidence."
On Merseyside people know how to put pressure on elected officials. The long battle for justice over Hillsborough showed it was possible to fight back even against seemingly insurmountable odds. "It's a city where we don't do campaigns quietly," Shields said. "You don't get anywhere knocking on doors, you have to kick them down. Dad threatened to stand for election against Straw in Blackburn. It got people's attention. It was a circus he didn't need."
The breakthrough came when one of Shields' siblings doorstepped the Labour MP. "He met my sister outside his office and tried to shake her hand but she refused," Shields said. The rebuffed worked. "So he got her to come inside and she explained what had happened."
On September 9 2009 Shields was pardoned, becoming the first Briton to be exonerated after being convicted abroad. The news came as a shock. "It came out of the blue," he said. "I had two hours notice. Then I was out."
Freedom brought its own demands. "I was still 18 in my head," he said. "Everyone had moved on apart from me. I got a job by November. I needed it. In prison there's structure and suddenly there wasn't any. Even now I need regimentation.
"I was moving at 100mph for about a year. I couldn't sit down and watch the telly. I couldn't settle. My parents wanted me to go and talk to a therapist about the experiences but I was a bit pig-headed."
The attention was onerous, too. "I hated the fact that when I came out people wanted to speak to me about the experience," he said. "I was trying to get away from it. I thanked everyone for their help but didn't want to go over it. No one had bad intentions but I didn't want to talk about it. I just wanted to blend into the background. When it became yesterday's news I was glad.
"I went to speak about miscarriages of justices in Leeds but it was all too much. Afterwards I said, 'I can't do this. Never again.' Why would you want to relive it every day? I know I should have been helping people but I couldn't handle it. It threw me into depression. It's selfish but it was the only way to cope."
Slowly but surely he has rebuilt his life. "I'm the happiest I've ever been," he said. He has married and has two children – a four-year-old and one-year-old – and wonders how, when the time comes, he will explain his experiences. "When they're old enough to know I'll tell them," he said. "I don't want them to be bogged down by it.
"I remember looking at fellas in prison who were the same age as my dad. I couldn't imagine my dad in jail. I wonder will my kids think the same?"
He still thinks about Georgiev, the other person whose life changed that night in May 14 years ago. "He was the victim," Shields reiterates. "We paid £80,000 in fines. The family were constantly raising money. I wonder how much of it he saw? And how it affected his life?
"Bulgaria was a very money-driven place. Everything in prison was about cash. Their society is built on that. I hope the cash didn't put a target on his back."
Memories, like his grasp of the language, are beginning to fade but some friendships remain. A Bulgarian fellow former inmate still visits Liverpool. He rarely thinks about the other actor in the drama, Sankey, and is genuinely surprised when asked what he would say to the man who confessed to the crime, refused to give evidence and then denied his involvement. "What would I do if I saw him?" He ponders the thought. "I'd try to put a positive spin on it," he said. "I'd thank him. My life is great now. It took this path and it's worked out well. You don't want to be angry. There's no point being angry."
A decade on from his release, Michael Shields could not be happier. Or freer. The nightmare is behind him.
Register for free to continue reading
Registration is a free and easy way to support our truly independent journalism
By registering, you will also enjoy limited access to Premium articles, exclusive newsletters, commenting, and virtual events with our leading journalists
Already have an account? sign in
Register for free to continue reading
Registration is a free and easy way to support our truly independent journalism
By registering, you will also enjoy limited access to Premium articles, exclusive newsletters, commenting, and virtual events with our leading journalists
Already have an account? sign in
Join our new commenting forum
Join thought-provoking conversations, follow other Independent readers and see their replies