As English football's longest-serving academy director retires, he leaves behind a much-changed game
Dave Parnaby will call his time with Middlesbrough to an end soon, and he leaves with a message to players and coaches alike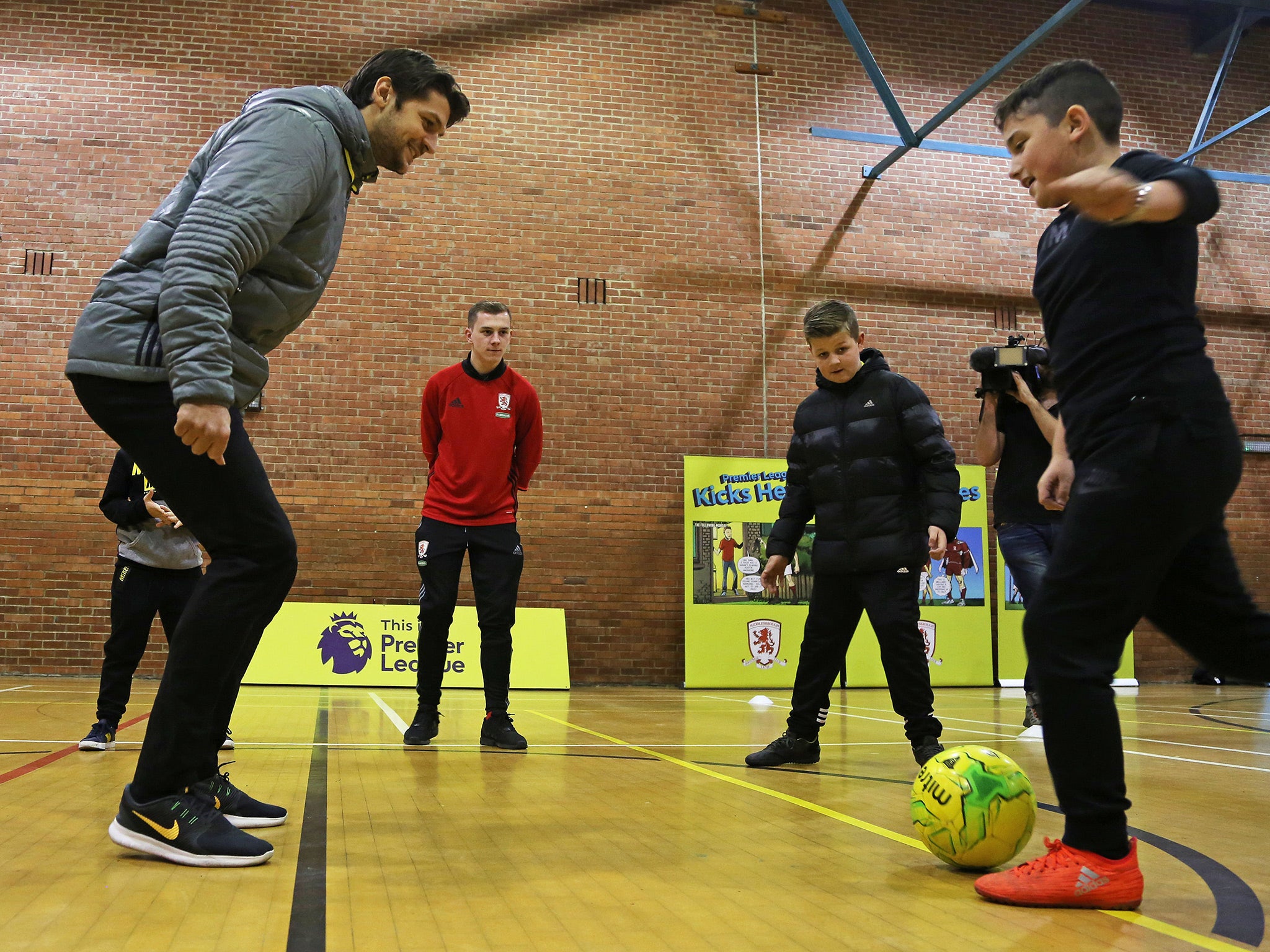 Out by Cold Knuckles quarry in rural Co. Durham, in the old mining village of Kelloe, Dave Parnaby approaches a beaten-up metal container that passes for facilities and says matter-of-factly: "This was a lovely pavilion, that's the changing room now. You can see the demise.
"The Working Men's club always played here, this is the first year they've not run a team. It was a really good pitch. They've won a few prestigious local competitions."
Parnaby looks around. "That was the cricket field, there was bowls here and a beautiful brick-built pavilion."
What happened?
"What happened? Neglect, money, vandalism, drugs, you name it."
Parnaby purses his lips. A very young-looking 62, he is about to step down as the head of Middlesbrough's academy where for nearly 20 years Parnaby has moulded Teesside and Durham youth into first-team players for Boro and England internationals across all levels.

Two of them, Stewart Downing and Ben Gibson, have been regulars this season, while 19 year-old defender Dael Fry, part of England's European Championship-winning Under-17 team from 2014, has played in two FA Cup ties. Another academy graduate, Adam Reach, was sold last August to Sheffield Wednesday for an estimated £5m. All part of an academy's remit.
In those two decades Parnaby has witnessed changes in society that have led to changes in boys that have led to changes in football. He is a man who can draw a line from the disappearance of the street game of his own village to, for example, the rigid style of football played by England at Euro 2016.
When Parnaby refers to former North-east – and England - playmakers such as Bobby Charlton, Colin Bell, Bryan Robson and Paul Gascoigne, a key word is "imagination". When he speaks of modern youth football, Parnaby dwells on "formalised". This is no things-were-better-in-my-day critique, it is an experienced coach reflecting on change.
"I'm not saying it's better or worse," he says, "I'm just saying that's how society has gone."
Parnaby walks up the street where he used to play, to the grass expanse at the top.
"This is the green," he says, "where we congregated every night. There were no pathways through it, these trees weren't here. In the summer it was our 'Lord's'. On Sunday afternoons everyone congregated for a mass game of football.
"You just don't see it any more. Today football is provided. There are volunteers; we were self-sufficient. We played on that green morning, noon and night – no adults, no bibs, no markers. It was fun. We invented our own games.
"A good word is formalised, you've got quite big clubs with lots of children affiliated. There's lots and lots of provision for formalised football, where there are lots of people in tracksuits who call themselves coaches. Lots of cones, high-class equipment, and we've been lucky at Middlesbrough that we have had access to that.
"Society has moved and it's taken street football away, that element of play. At Middlesbrough we've consciously tried to take that formalised football and make it play. In terms of youth development Man United have done that best, made it playful, not too much influence from people called adults.
"In the old days the great players from the North-east like Bobby Charlton weren't interrupted by adults saying 'do this, do that.' I don't think Paul Gascoigne was. They just created their own games from their own imaginations with very little intervention from adults.
"We're now in an era of sports science, coaching, psychology. It's coached, boxed, scientific. That freedom of expression, freedom of play, has gone."
Kelloe offers some proof. When Parnaby grew up, this corner of Co. Durham's economy was built on coal and stone. But the East Hetton pit where Parnaby's father worked was closed down in 1983 and the quarry is now disused. That in turns leads to shifts in the developed order.
"You can imagine," Parnaby says, "nearly everyone in the village worked in the mine or the quarry or something around it. There was income, always food on the table. My mam knew everyone in the village until not so long ago, now she knows very few.
"Up there, that's where me granddad and grandma are buried. That line at the top is the pit railway. That's where my dad worked all his life, the pithead was up there. East Hetton colliery. The coal was cut there, then taken down the rail line there.
"There were houses here, the pitwheel was over there. There was a goalkeeper from that house, Bobby Orton, he signed for Doncaster under Billy Bremner. That chapel there, that's just closed, the last congregation was seven people. The Greyhound pub, it's a sad sight now. There was a butcher's there, a general store. Kelloe was thriving. No more. The social change is huge.
"Social demographics: the loss of the mining community, the quarry. Then you lose the structure around that employment."
Eventually the loss of village infrastructure reaches football. Hence the loss of the local team, though neighbours Coxoe Athletic sometimes use the Kelloe pitch where Parnaby began playing and which led him to Stoke City as a youth and then onto Gateshead in non-League. Parnaby played with Bryan Robson's brothers Gary and Justin at Gateshead, then joined Middlesbrough when Robson was manager.
"When I was playing at junior level, Under-18s was the age group everyone was measured by," Parnaby says. "That U-18 level barely exists now. At 6,7,8 year-old level there's loads of football. It's very difficult to run an U-18s team.
"It's social attractions. The social attractions for us when we were kids were football and cricket, playing out. Today it's totally different. To get an 18 year-old, who's not in the professional ranks or at a good level to play U-18 football, it's not easy.
"There are other attractions – temptations. Those were not there before, the social scene, the social media scene, that takes them away from the green.
"It's a different world and that is the word to use – different."
Coaching has had to try to keep track, it is now a commonplace remark that boys lack the mental strength exhibited a generation ago. He holds up Bryan Robson as an example: "Bryan would count himself as a Co. Durham boy.
"It was the environment that was the coach, the environment enabled them to express themselves. The characteristics of those players [Robson, Gascoigne] – they were tough individuals. I'm no expert, but was it not the environment that created the person who shone through on the pitch? Tough, resilient, talented. All those things.
"The level of technical ability is as good as it has been for some time, that's what I see across academies in England. But there's a constant mention of lack of leadership, toughness and responsibility.
"If this formalised football wasn't there, would children play it at all? Would they go and create games themselves? Are there the facilities? Therefore, decision-making, do we give them enough responsibility? The Charltons in the back street, Gascoigne with a ball under his arm in Dunston, they were making all their own decisions. I suppose that creates leadership in itself."
Over two decades Parnaby has seen the trends in coaching - "When I first started it was all about the French model, Aime Jacquet, Clairefontaine. Later on we had Barcelona, the Spanish influence, Italian tactical appreciation has come in."
Today, he says: "We're now being encouraged to give ownership of the game back to the players. We're trying to create, or re-create, an environment where decision-making is there.
"Our acronym is BORO and the first 'O' is for ownership – 'it's your programme, you drive it.' The 'R' is for responsibility – take responsibility for your own actions on and off the pitch.
"Coaching is developing. We do play-led tournaments, where the boys do the half-time team-talks and stuff. That's common across the county."
One Boro player Parnaby views as a self-starter is Ben Gibson – "Now there's a very driven individual, a leader, made his own decisions about going on loan and such like, carved out his own career path without too much influence from ourselves. He's a shining example of a modern, driven player."
And there are also two exciting younger Middlesbrough talents, Harrison Chapman (19) and Stephen Walker (16) – age-group England internationals – who have been developed by hands-off coaching.
"We haven't intervened a lot with either player," Parnaby says. "They have exciting ability with the ball. They have a natural way of playing, a freedom. I don't think any of the coaches at Middlesbrough have taught them how to beat a player the way they do. They've done it, they've found something within themselves, in their psyche: 'I'll try this.'"
An irony Middlesbrough fans will point out is that under Aitor Karanka, 'playful' was just about the last description used.
And playful is not the mood as Middlesbrough prepare to host Manchester City at the Riverside, with Steve Agnew's side six points adrift of safety and only four games to save themselves. Boro look certain to drop.
And Dave Parnaby will retire. The world around him has changed dramatically in his lifetime and football has been central to that. His legacy is not just the players coached – and un-coached – to professional careers, it is a level of thoughtfulness not always prominent in English football.
Join our commenting forum
Join thought-provoking conversations, follow other Independent readers and see their replies