Nani wants Manchester United exit following Real Madrid snub
Midfielder unhappy at missing out on place in side for Champions League match at the Bernabeu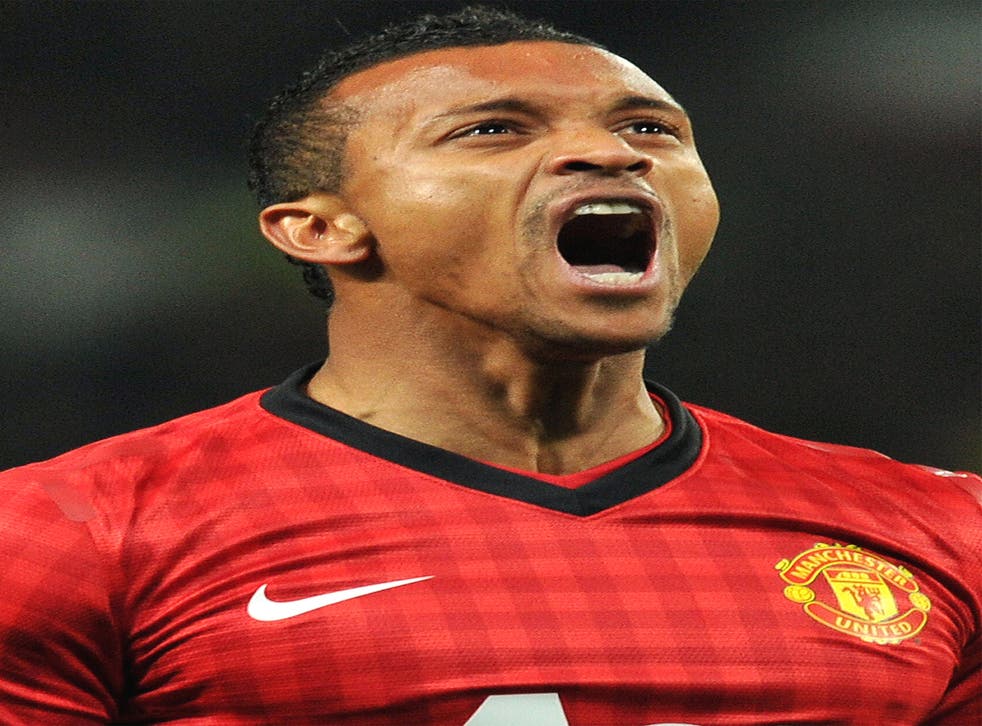 Luis Nani's starring role in Manchester United's FA Cup win over Reading has done nothing to convince him that he has a future at Old Trafford, with his omission from Sir Alex Ferguson's squad at Real Madrid a crushing personal disappointment.
The 26-year-old is understood to have left a meeting with Ferguson two weeks ago convinced that he would feature in the manager's plans for the Champions League tie at the Bernabeu, having assured him that he felt fit, despite starting only four matches in three months. His exclusion from the squad, which came as a surprise to him, only reinforced his determination to leave at the end of this season, despite the new contract on offer to extend his career beyond the summer of 2014..
Nani is also understood to view Wilfried Zaha's arrival from Crystal Palace as another sign that his United career, which began with his £17m arrival from Sporting Lisbon in July 2007, is over. It will clearly take an integral role in the last third of United's season to convince him that he should accept the new deal Ferguson has asked him to sign, and to stay. Ferguson said after the player helped secure a potential FA Cup Quarter Final tie with Chelsea that his display might present a selection headache.
Sources in Portugal consider it inconceivable that Nani will be a makeweight in any deal which brings a Portuguese player to Old Trafford, despite suggestions that Porto's James Rodriguez may be of interest. Nani is motivated by money and since the highest wages he could demand in his own country is the 150,000 (£130,000) a month commanded by the Portuguese league's top paid player – Benfica's Pablo Aimar – that would represent a substantial pay cut, which he would not take midway through his career.
Russian clubs Anzhi and Zenit St Petersburg are likely to be interested in the player, whom the Portuguese public considered a more consistently good asset for the national side than Cristiano Ronaldo. But it would take a substantial six-figure salary to lure him there, rather than Italy, which has always been his preferred next destination. His agent, Jorge Mendes, his understood to prefer Italy for him to the prospect of him coming up against Ronaldo in Spain. The two players are not close.
Anderson, who has also struggled to nail down a United career since arriving in the same summer as Nani for a little less than £18m, said that the problem for a player at the club was where to go next. "The only places you could go to from here are Real Madrid and Barcelona," he said. "You can't have another choice. The level at Manchester United is so big and so massive. You come here and you are definitely going to win titles."
The 24-year-old dismissed reports that he had almost left the club on three occasions, having made 63 Premier League appearances in five years. "When I want to leave I will have to talk to the boss first. I don't have any issues," he said. But he admitted that holding down a United career was difficult for both Nani and him. "It is hard because there are 25 players here who can play for any team in the world," he said. "Everyone knows Nani's quality can be high. He came into the game [against Reading] and won the game for us. That could be me, Nani, anyone. It is not easy to play for Manchester United. A lot of top players came here and couldn't do it – [Juan Sebastian] Veron - some big players. Kleberson came here and didn't play. I have stayed for five years."
Join our new commenting forum
Join thought-provoking conversations, follow other Independent readers and see their replies