After years caught in limbo, Nathaniel Chalobah is ready to spread his wings with Watford
Exclusive interview: The Watford man talks to The Independent about the career-changing decision that took him back to Vicarage Road this summer
Jack Pitt-Brooke
Thursday 10 August 2017 17:51 Comments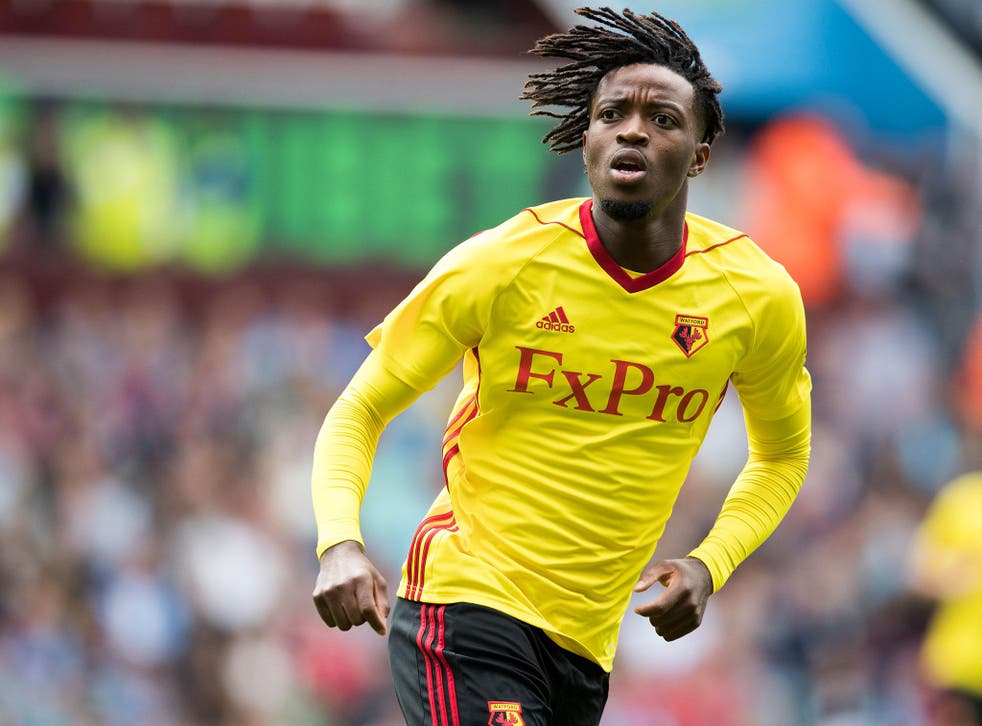 After 12 years at Chelsea, six loans, one first-team season and one Premier League start, Nathaniel Chalobah had a decision to make. When he came back from the European Under-21 Championship one month ago, there was a new contract on offer for him. But it came with the recommendation from Antonio Conte that he go out on loan for the seventh time. With another season of Premier League experience behind him, Chalobah could come back and compete again next year.
That would have been the familiar path for Chalobah, the one he has trodden since 2012. But he said no. It was time, at the age of 22, to make his own way in the game.
So Chalobah was sold to Watford, where he enjoyed his first and best loan. And now he is explaining to The Independent why he just took the most important decision of his career.
It came down to playing time, of course, and the recognition that he wants to be more involved than he was last year, when he started five games, just one in the league. With Chelsea spending £40m on Tiemoue Bakayoko last month – Chalobah's position, Chalobah's age – it was not going to get any easier.
It came down to the fact that a loan player always feels transient, neither one thing nor another. Chalobah often speaks about how he felt "in limbo", between Chelsea and his other clubs. Moving permanently was his chance to "belong" again.
And it came down to an opportunity for Chalobah, a strikingly inquisitive, curious young player, to find out how good he really is. Can he cut it week-in week-out in the Premier League, or not?
"I was in a hard position because I had one year left on my deal," Chalobah explains, always thoughtful and honest. "But I really had to think hard because I wanted to play. I realised that my chances were very slim at Chelsea. You've got players who are big names and, at the time, 'Chalobah' is not the biggest name in that midfield. So it's very hard for me to get in the team. It just hit me that I needed to go out and try to play games. Really let myself go and see how good I really am."
Chelsea did not want to lose Chalobah, and offered him a new deal, but they did not want to play him much either, and that helped to make up his mind. "I had a few discussions with the manager, and he wanted me to stay and sign a new deal," Chalobah says. "But he did say he wanted to me to go on loan, get experience and then come back. But I had done that for four years already."
Because life as a loanee means never feeling at home anywhere, neither at your parent club nor your loan club. It was time to settle down. "I felt like I needed to belong somewhere now, and be part of something," Chalobah explains. "And not to be always that person who is in limbo between Chelsea and another club. 'You're only here for a few months, you can leave after, you don't care.' That is the pressure that you have when you go loan, you feel in limbo all the time. I thought to myself, I really need to belong somewhere."
And where better for Chalobah than Watford? That is where he spent the 2012-13 season, playing for Gianfranco Zola's team in the Championship. He arrived as a skinny 17-year-old, who had been playing for Chelsea Under-21s at centre-back. But Zola saw how good he was on the ball and that was the end of that.
"After my first training session, Zola said 'you're not a centre half, you have to go and work with the midfielders.' He must have seen something that he liked and thought I could push forward and help the team out." Watford, as Chalobah admits, did have more conventional Championship centre-halves to choose from: Tommy Hoban, Nyron Nosworthy, Lloyd Doyley and Fitz Hall, Chalobah's mentor and now his agent.
Chalobah had been told that for most youngsters their first loan was their worst one, but that was not what he found at Vicarage Road. He settled instantly and played brilliantly, making 34 league starts and driving his team to the play-off final at Wembley. Jose Mourinho, then Chelsea manager, came to watch one of his star prospects, but Watford lost 1-0 to Crystal Palace. "I can honestly hold my hands up and say the nerves got the better of me that time," Chalobah admits. "I didn't have the best of games and got dragged off after 70 minutes."
If Watford had won and been promoted then Chalobah would have joined them in the Premier League, but they did not, so he said goodbye. He loved his time there – "great club, great people, brilliant staff, unbelievable manager" – and no other loan was quite as good.
The next season Chalobah started back in the Championship with Nottingham Forest and Billy Davies, not quite as friendly and helpful as Zola. Chalobah was often told he would be starting only to find out before kick-off he was not. It was the opposite of Watford, and not an easy time.
But looking back now Chalobah says that it was an invaluable learning experience. "This was the season when I really grew up, I started to learn the ins and outs of the trade that we don't really get to see," he says. "I was playing every week at Watford, and I had to deal with the fact I wasn't playing at Forest. I had conversations with the manager, was told things, then they would change the next day. For me, I'd like to call it 'mental growth'. I stuck in and didn't give up."
That is typical Chalobah: self-aware, desperate to learn, eager to take even more from the bad experiences as the good ones. He learned just as much the following season where he started in the Premier League, with Sean Dyche's newly-promoted Burnley. Even though he did not make a single start.
"I found it very hard to get in the team there," Chalobah remembers. "It was a very fit squad with players like Dean Marney and David Jones who'd been there for years. There was such togetherness in that squad, even the little forfeits they did. The club was well-run and the manager was very, very forward with his players. He always gave them the idea of being positive, there wasn't an ounce of negativity around the club. And that was another thing I took with me: when things weren't right I had to try to stay positive."
The greatest learning experience of all was yet to come. Chalobah had always wanted to go abroad, and after leaving Burnely he flew to France to join Bordeaux on loan – he wanted to learn from Willy Sagnol – only to be stopped by a Fifa technicality. But in the summer of 2015 he had another chance, when Napoli tried to take him for the season. And after three seasons in the Championship, Chalobah was keen to try something new. He flew over, tried the pizza, and made up his mind.
"I fell in love with the city," smiles Chalobah. "I was in the centre, in Posillipo. It's a crazy city, very hard to go outside without a hat and sunglasses. But my hair was obvious, I had dreadlocks at the time, so I got spotted quite easily. 'Can I have a picture, can I have a picture'. It was a wicked experience."
It could have been daunting but Chalobah threw himself into the experience and soon enough he was speaking Italian, something he had always wanted to do. "It was like your first day at school, except you don't understand what anyone is saying, so it's even harder," he remembers. "But I wasn't scared. I really wanted to learn the language, so I took lessons at home and at the club. I learned quickly because everyone at Napoli only spoke Italian. I picked it up after three or four months, I could have a fluent conversation after about six."
On the pitch Chalobah was not a regular but he learned plenty from the prescriptive tactical detail of manager Maurizio Sarri. "Of the loans I'd been on, this was the biggest learning curve in terms of really learning about the game and positional play," he says. "We would have a session for 25 minutes of the manager just saying 'this is where you press, this is where you move'. Hands-on with everything, every single day."
Napoli wanted to buy Chalobah last summer but Antonio Conte, newly installed at Chelsea, wanted him back at Stamford Bridge. Chalobah was pleased to have his first shot at the Chelsea first team, his first senior season not on loan. "It helped that the manager was Italian, and the way he worked was very similar to Sarri, so I slotted in quite quickly with that."
And of course Chalobah and Conte had two languages in common, rather than one. "When he got there, I spoke a bit of Italian to Conte, but he wanted to speak English to me," Chalobah says. "He only ever spoke Italian to me when he was shouting instructions, just before I came on the pitch. But because I wasn't speaking Italian every day, I'd have to stand there and think what he just said, staring at him, trying to process it."
Chalobah did not play much but he did play enough to get a Premier League medal. And he got the chance to learn from top players - N'golo Kante, Cesc Fabregas and Nemanja Matic - in an elite environment.
It has all been a learning process for Chalobah, ever since he first left Chelsea for Watford five years ago. And while there have been some difficult moments since, he has been determined to take as much from them as good ones. No regrets, no complaints.
"Watford was about playing, enjoying myself and learning from Zola," he looks back. "Nottingham Forest and Middlesbrough was the mental side of it. Burnley made me stronger in terms of my character, because of how Sean Dyche was. And Reading was an opportunity to get minutes and learn from Steve Clarke. Some of the experiences I've had have been brilliant. It's been fun, enjoyable, even the bad ones. When I look back, it's made me a stronger, better person."
Register for free to continue reading
Registration is a free and easy way to support our truly independent journalism
By registering, you will also enjoy limited access to Premium articles, exclusive newsletters, commenting, and virtual events with our leading journalists
Already have an account? sign in
Join our new commenting forum
Join thought-provoking conversations, follow other Independent readers and see their replies