Newcastle strike deal with West Brom and Swansea City for cheap away days for supporters
The Tyneside club have agreed that away tickets will cost £15 when they face West Brom and £20 for their match against Swansea. Concessionary away tickets for both matches will cost £5
Ian Herbert
Thursday 17 October 2013 12:02 Comments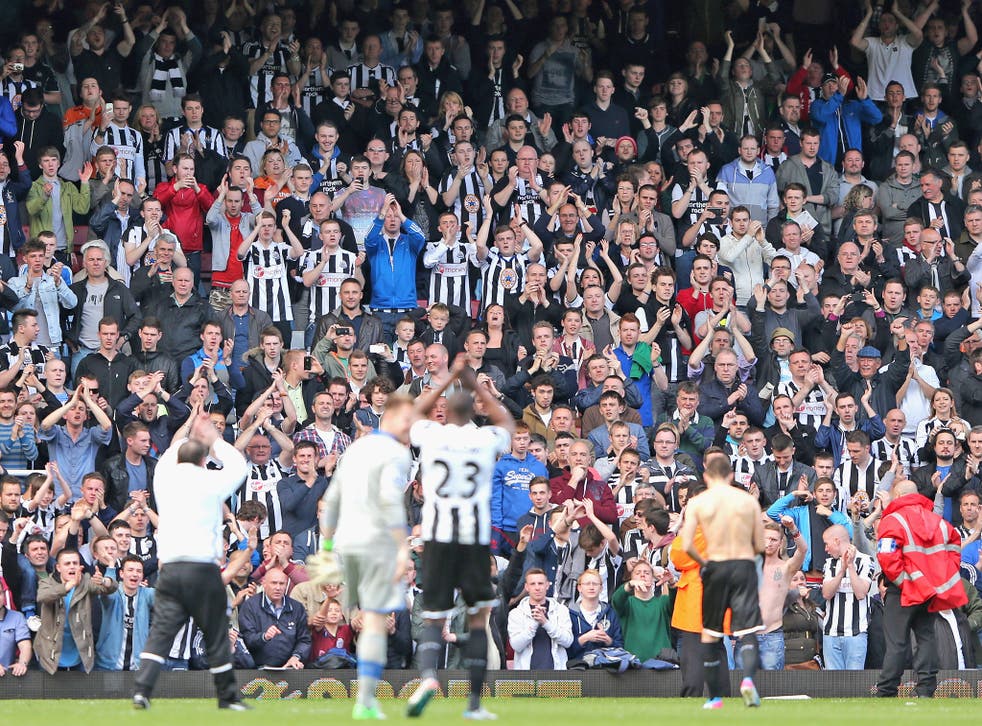 Newcastle United have called on other Premier League clubs to join them in a highly imaginative ticket pricing deal which makes the prospect of £20 admission to many of the elite division's top grounds a genuinely achievable one.
As The Independent disclosed last week, Newcastle will today announce that they have struck a major blow for the campaign to make away travel affordable for fans by revealing agreements with two other clubs in the division to make away tickets £20 or less when they play each other. One of the Tyneside club's deals is with West Bromwich Albion – who have agreed that away tickets will be £15 when they play Newcastle. The other is with Swansea City, who have signed up to a £20 agreement. Concessionary away tickets for both matches will cost £5.
Manchester United, Arsenal and Liverpool have said they will knock between £2 and £4 off the prices their fans pay them for all away tickets. But Newcastle's finance director, John Irving, declared last night that these will deliver only a "very small" reduction, with supporters of those clubs already being asked to fork out £50 or more for away tickets.
The price reductions – announced under the auspices of the Premier League's Away Fans Fund which compels all 20 top-flight clubs to ring-fence £200,000 each in order to enhance away support – are eroded because many home clubs ratchet up costs when so-called "Category A" clubs like Manchester United, Arsenal, Liverpool and Newcastle arrive in town.
"While we respect the right of clubs to choose options which suit their individual circumstances, we believe there is room for clubs to work more closely to try to charge a fair amount rather than discounting very small amounts on match tickets in isolation," said Irving, whose club is deeply frustrated by the ticket price inflation its fans face. "We are delighted to have reached an agreement with two of the first clubs we spoke to, and we applaud them for taking part. As prices indicated last season, fans of some clubs continue to pay far more than those of others and we hope this initiative will lead to a fairer system which can ultimately benefit all supporters."
Today's deals reveal the substantial savings that reciprocal pricing can deliver for Category A clubs. The agreement with West Bromwich will result in a saving of £24 (61.5 per cent) for Newcastle fans from the £39 they were charged for an adult away ticket when the sides drew 1-1 at the Hawthorns last season. Albion fans will save £11 (42.3 per cent) compared to the £26 away ticket price at St James' Park a year ago. Newcastle's deal with supporter-owned Swansea – their longest return trip at 719 miles – will save £15 (almost 43 per cent) on the £35 charged at the Liberty Stadium last season, with Swans fans receiving a third off the £30 they paid on Tyneside.
The Premier League's biggest clubs are being asked to set the benefits that reciprocal pricing will bring to their own supporters against the loss of match-day gate receipts. Manchester United, for example, would lose an estimated £90,000 if the 3,000 spectators in a full Old Trafford away end had been charged £20 rather than the current £50. But United's own fans would benefit hugely. Those supporters paid over 200 per cent more for entry to some away grounds than Wigan Athletic's fans did last season.
Newcastle fans are victims of the same extortionate price hikes. While away paid an average of less than £30 for an adult match ticket at St James' Park last season, the club's fans paid out vastly more on their travels. The club estimate the average adult away match ticket was just short of £40 (based on the lowest-priced available ticket) – despite their fans already facing the longest average round-trip in the top flight at 447 miles per game. The cheapest adult away match ticket for Newcastle fans was £25.
Kevin Miles, chief executive of the Football Supporters' Federation, called Newcastle's announcement "a significant breakthrough in turning the concept of affordable prices for away fans into a reality", adding: "We would urge all other Premier League clubs to follow the lead of these clubs, both by taking up this offer and extending similar arrangements to other fixtures too".
Register for free to continue reading
Registration is a free and easy way to support our truly independent journalism
By registering, you will also enjoy limited access to Premium articles, exclusive newsletters, commenting, and virtual events with our leading journalists
Already have an account? sign in
Join our new commenting forum
Join thought-provoking conversations, follow other Independent readers and see their replies